Some Great Knowledge Management Books For Spring Reading

My son is in the 7th grade at Houston's First Baptist Academy, home of the Warriors, and one of the school's marketing posters that I used to love walking by in the school hallway was a sign with smartly dressed, fresh-faced FBA students and the caption "Begin Well." I love this slogan – in only two words, it managed to convey the idea that by investing in your child's early education at FBA, you are providing him or her a solid foundation to succeed later in life.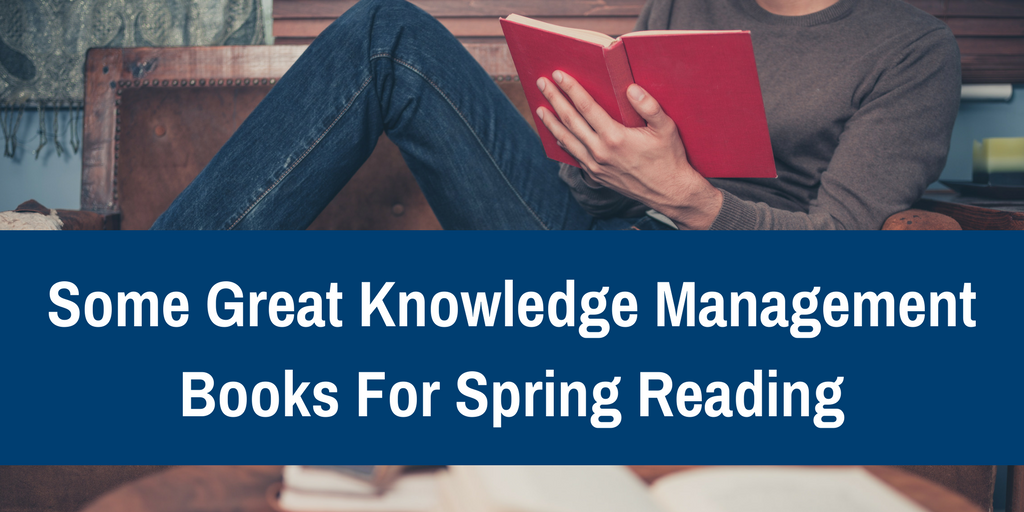 But what about finishing well? Many of us (football fans or not) were probably inspired by the Patriots' epic Superbowl comeback and quarterback Tom Brady's post-game news conference quote: That's why you play until the end. How do we continue to "fight the good fight" throughout our careers and lives with endurance and renewed vision, despite setbacks, ups, and downs? (By the way, for a really good blog by leadership gurus Jack and Suzy Welch on this topic, see http://www.cnbc.com/2017/02/06/how-thinking-like-a-business-leader-helped-tom-brady-win.html).
Those of us reading this blog are probably well beyond our school beginnings and somewhere in the mid-points of our careers. I am always in search of inspiration in my career and in life in general, and I thought I would share some professional reading resources to help us carry on with renewed gratitude and energy and, whether we had a strong beginning or not, finish well in 2017 and beyond.
Recommended Professional Good Reads (Non-fiction):
These noteworthy, non-fiction books have been vetted and recommended over time by participants in our knowledge management advanced working groups. Every year, we have a group of typically 7 to 10 Fortune 100 organizations whose KM team representatives band together to advance the state of knowledge management and innovate in the field. Here are some of the KM AWG top professional "book club pics":
* One of my favorite quotes from this book is –"And in the long run, research shows that the mistakes we regret are not errors of commission, but errors of omission. If we could do things over, most of us would censor ourselves less and express our ideas more."
* One note on this one – I was so inspired by this book that I made laminated wallet cards with select quotes from throughout the book. If anyone is interested in these, send me a note and I will e-mail them to you.
Recommended Professional Good Reads (Non-fiction) – KM Focus:
The following books were also recommended by the KM AWG, and have a specific KM focus -
Bonus Pics:
Here are some inspirational bonus (non-fiction) professional book club recommendations, not KM AWG nominated, but nonetheless worthy for your consideration:
* We did not read this book as part of the KM AWG, but as part of a departmental organizational book club. It is very useful, not only for business but for life.
* This book is a timeless classic, and really something that you can read in different seasons of life whenever things seem overwhelming.
If for no other reason, read this book because University of Houston professor Dr. Brene Brown named it after a quote from a famous Theodore Roosevelt speech: "It is not the critic who counts; not the man who points out how the strong man stumbles, or where the doer of deeds could have done them better. The credit belongs to the man who is actually in the arena, whose face is marred by dust and sweat and blood; who strives valiantly; who errs, who comes short again and again, because there is no effort without error and shortcoming; but who does actually strive to do the deeds; who knows great enthusiasms, the great devotions; who spends himself in a worthy cause; who at the best knows in the end the triumph of high achievement, and who at the worst, if he fails, at least fails while daring greatly, so that his place shall never be with those cold and timid souls who neither know victory nor defeat." Is that not beautiful?
* Very appropriate recommendation for a blog about "finishing well."
As you read one or more of these books, one thing I recommend you consider is keeping a "quote sheet" – a list (electronic or handwritten) of inspirational or especially impactful quotes that moved you, and can be visibly displayed on a daily basis, or perhaps just during times when you most need it, to help encourage you or inspire you in work and in life. My college roommate and I used to keep a quote sheet of things we read or that people said hanging up in our dorm room, and you really wouldn't believe the truly amazing and beautiful insights that people shared that we captured over the years.
Also, one final "good read" recommendation, but I have to warn you that this is from the world of fiction and is not a business book:
My colleague Lauren and I were talking about this book just the other day, and I swore that I had to mention it in a blog. This fictional book was a National Book Award and PEN/Faulkner Award finalist, and will remind you that everything around you (plane travel, computing, the Internet, modern medicine, etc.) is, truly, a miracle.
For those of you who love to read and to learn, these are some terrific reading resources to help you finish well this year and beyond. And remember, regardless of the state of your beginning, we always have the power to start right now and finish well: "Nobody can go back and start a new beginning, but anyone can start today and make a new ending." (Maria Robinson). Add that one to your quote list J.
Tweet