An informal poll conducted during
APQC's July 2011 Human Capital Management Community Call
found that when it comes to managing technical talent organizations' top challenges span the entire talent management life cycle—from sourcing to developing employees to rewards and recognition and knowledge retention.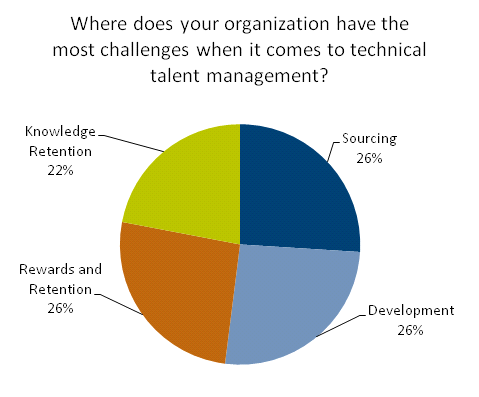 Recent News Headlines Pronounce the Problem.
New APQC Research Reveals Real-World Solutions.
APQC's recently concluded Collaborative Benchmarking Study, "Technical Talent Management: Sourcing, Developing, and Retaining Technical Talent," studied the human capital practices of organizations that excel at managing technical talent.  
In anticipation of the upcoming release of the study report, APQC's March Human Capital Management Community Call on March 27th introduced a model for understanding best practices in technical talent management.
The study's subject matter expert Bill Rothwell, professor of workforce development at Pennsylvania State University, presented the model which can be used to compare your organization's technical talent management program to the programs at best-practice organizations Caterpillar, General Mills, IBM, Lockheed Martin, and Schlumberger.
Click here to listen to a recording of the presentation or view the presentation slides.