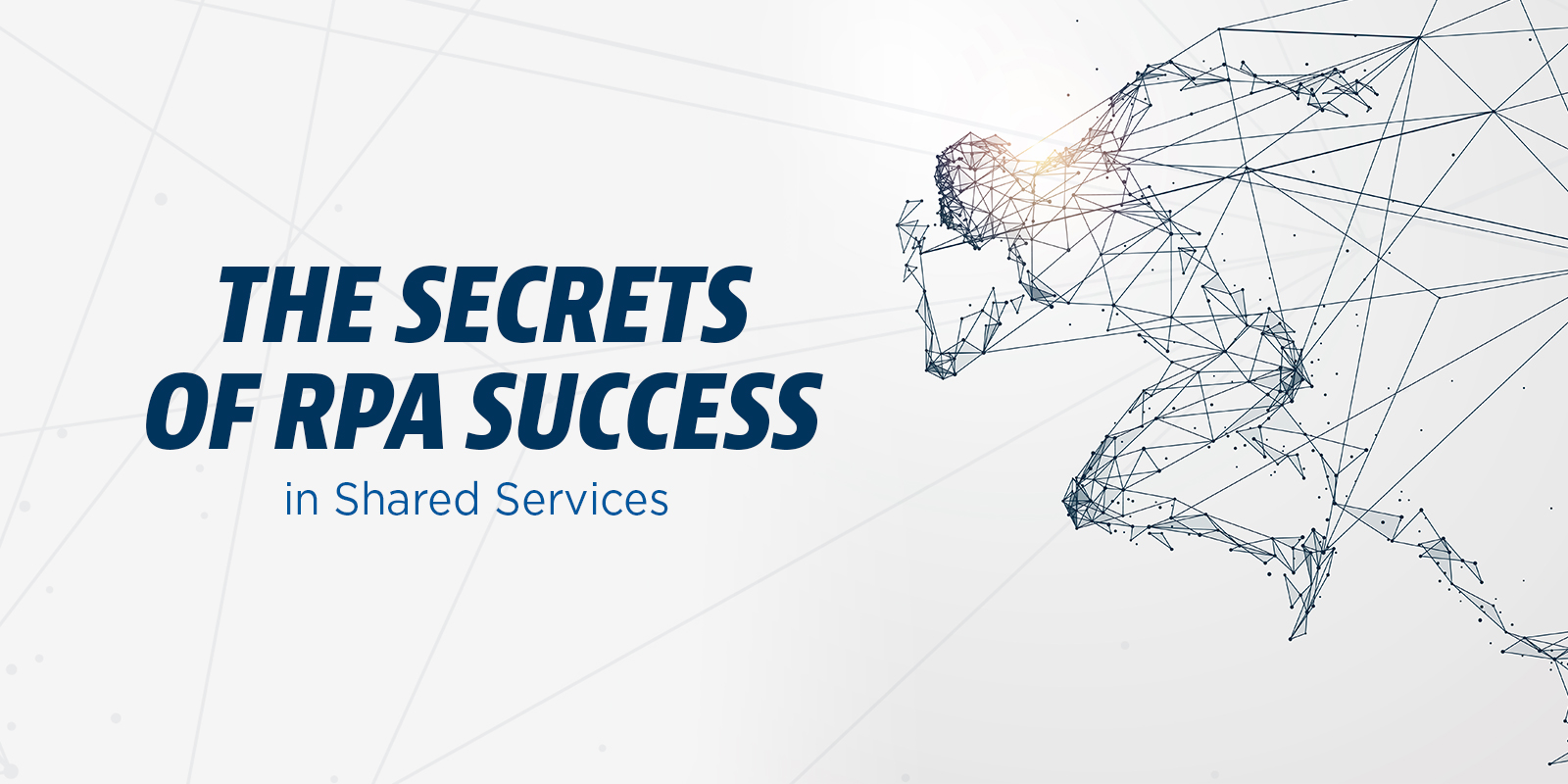 Robotic process automation (RPA) has the potential to elevate the performance and contribution of shared services organizations. Yet, fully realizing the benefits of RPA in shared services requires a thoughtful and measured approach. In an email interview, Anshu Gupta, head of global people services at Swedish Telecom company Ericsson explained to APQC how Ericsson leverages RPA in shared services and what steps he attributes to the organization's success.
Learn more about RPA in shared services by watching APQC's on-demand webinar in which Anshu Gupta presented: How Robotic Process Automation Can Transform and Accelerate Shared Services.

APQC: How does Ericsson use RPA in its shared services centers?
Gupta: We have always aspired to make ourselves much more efficient, reduce non-value add manual activities, and achieve high stakeholder satisfaction. We are using RPA in high-volume, non-seasonal, and low/no decision-making processes as it allows us to systemize simple and repeatable tasks. Early wins have been made over the last couple of years with many simple processes being automated. We use high domain/subject matter expert (SME) knowledge to create RPAs which are front loaded (i.e. configuration changes can be made by the end users in real time, based on the changing needs of the process/stakeholder). We are seeing a good uptake of this in our delivery areas.
APQC: What benefits has Ericsson realized from using RPA in its shared services centers?
Gupta: We have been able to focus more on strategic and tactical support by working closely with our stakeholders in finding solutions to our business needs and we see a reduction in lead time and improvement in data quality. In our digital strategy, we firmly believe in RPA "as A tool, not THE tool" and it has helped us in many ways, such as improving employee productivity around tedious, repetitive, error-prone tasks, thus freeing up time spent on fixing issues for more tactical support. On our quest for easy, we are trying to "do it small, do it fast" and streamlining complex processes, which has helped us to align to our business goals.
APQC: What are some key factors behind Ericsson's success in using RPA in shared services?
Gupta: There are numerous factors which have led to success, a few of them being listed here.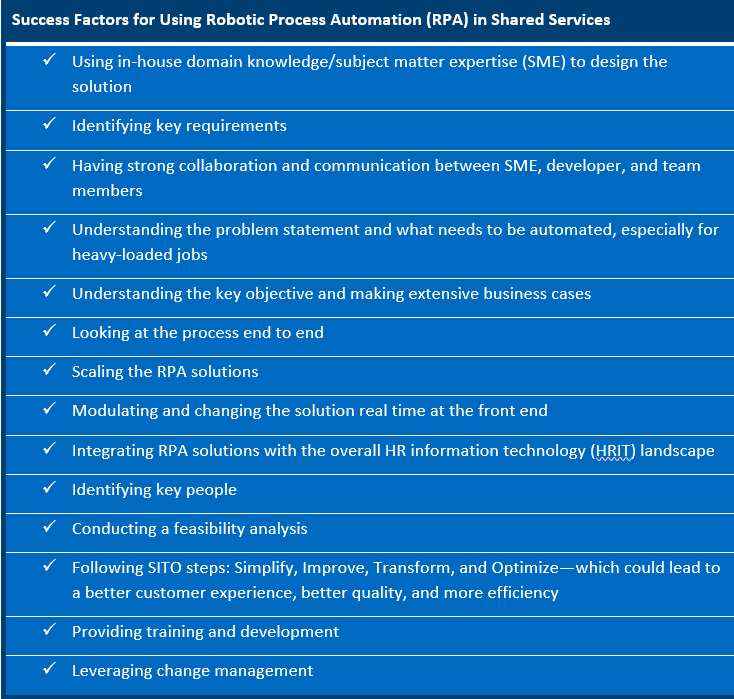 What advice would you give to a shared service center looking to get started with RPA?
Gupta: First, teams should understand the business impact and set objectives (e.g., if the objective is customer satisfaction, reduced cost, or both). Then they need to re-look at the process end to end and identify patterns. Once this is done, measurable steps should be taken to integrate with the overall HRIT landscape. Make solutions which are scalable and tailorable. Teams should work extensively with process experts at the solution stage and focus on project governance. Plan for roadblocks and chokepoints where the RPA solution can bog down. Early identification of exception handling is a key to success. Be aware that ineffective change management and project design can lead to delays. Build an RPA center of excellence staffed by people who are responsible for making efficiency programs a success within the organization
APQC: What advice would you give to a shared service center that already uses RPA but wants to increase the benefits it realizes from RPA?
Gupta: Delivering excellent customer service is at the heart of every shared services center. I believe companies should look for cross-process and cross-system linkage. They should start looking at the end solution and work backwards to create the design and set the framework. They should work in an agile way by implementing smaller parts and making it front-end heavy so that changes can be done in real time. It is important to consider the right technology, or process and technology mix, for the organization and/or the project. And, it is important to understand the company's broader and futuristic take on automation as this can help in driving discussions and garnering internal support for the project.
 
Learn more -- watch APQC's on-demand webinar featuring Ericsson's Anshu Gupta. During the webinar, Gupta talked about how RPA can help shared services organizations achieve cost reduction, faster processing, and improved quality.