If you're like me, or any of the other folks responsible for running some part of a growing concern, you probably spend a lot of time in performance dashboards like this one.
Traditional Performance Dashboard

I hate files like this.
I hate them because they feel so… disconnected. I have to go fetch the data from a variety of operational systems and even then, after I've walked around to these various systems, I can't see the results in the context of the process that I'm supposed to be running and/or improving. What may be the cause for that sparkline blip? Was it related to a process change or something else? Are we really doing better? How do I compare to the rest of the world on my common measures? What if my management or stakeholders want to comment on something here? These files are just so… one dimensional.
One of the things MosaiQ™ (a little something available to APQC members in March 2016 to help them take better advantage of APQC's products and services like the Process Classification Framework®, the benchmarks, and our best practice repository, the Knowledge Base) aims to improve over the traditional performance dashboard is embedding measurement directly into the flow of process management. Performance management will no longer a second-class citizen when it comes to overall business improvement: MosaiQ intuitively integrates process management and performance management.  In MosaiQ, measurement is directly integrated with process. When you navigate through your process framework in MosaiQ, you're not only looking at the process configuration, but also the measurement configuration, including your business entity's performance against the measures.
MosaiQ Snapshot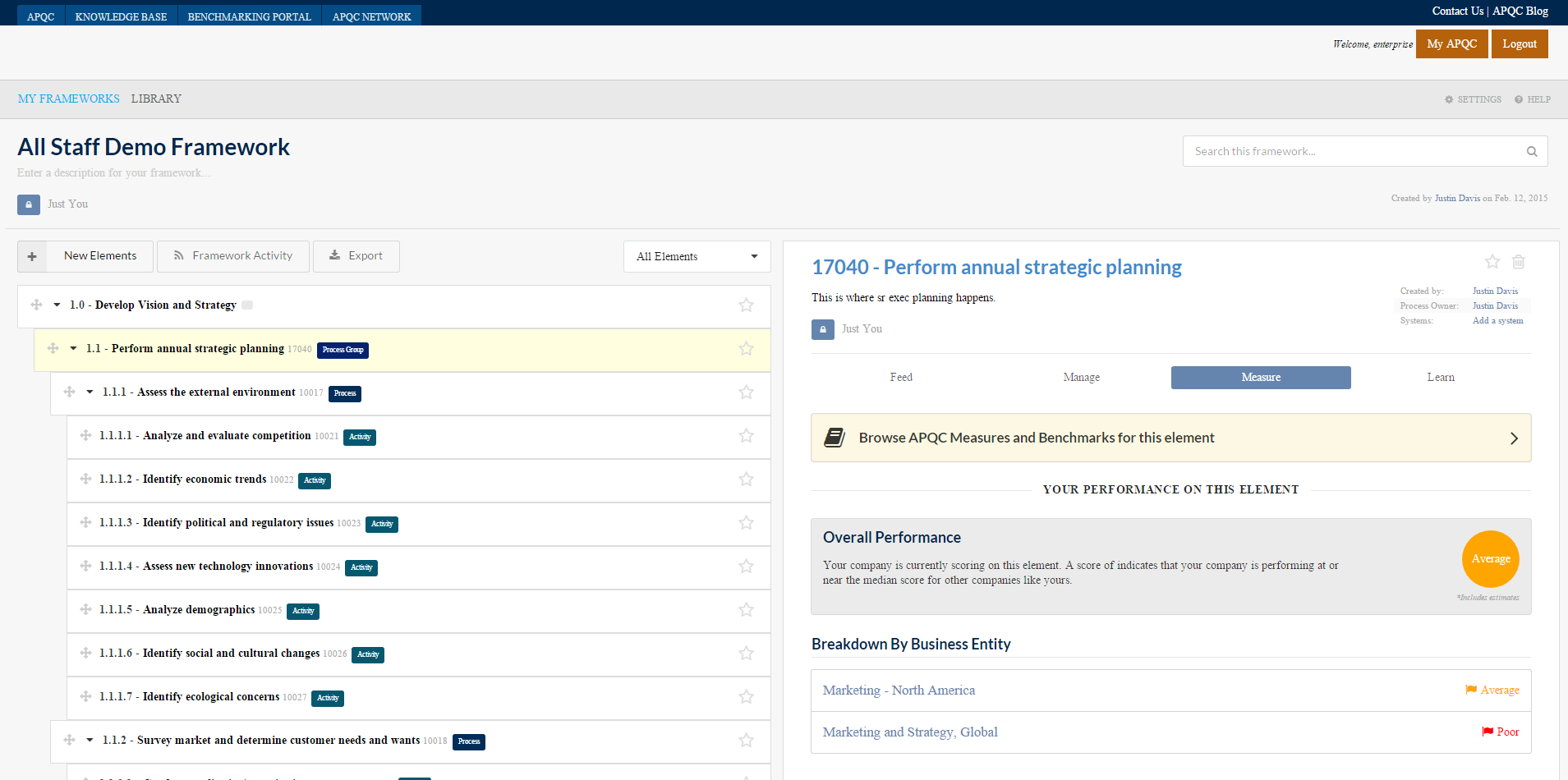 When you click on a process element in the framework, you see the measures rolled-up for your business entity. Here's where things can get uncomfortable, fast.  Just ask the people running the global marketing and strategy group. They're about to get a strongly worded email from the boss.
As you drill down into the business entity, the source of performance woes can become more evident. The MosaiQ tool integrates your existing and future benchmarking data into the context of the processes – into the work that's actually being done.
This integration is easy to manage and implement. If you don't participate in benchmarking activities – no worries, as a member you can still navigate through our library of benchmark data and best practice research, but now with even more detail.
Example Benchmark Measure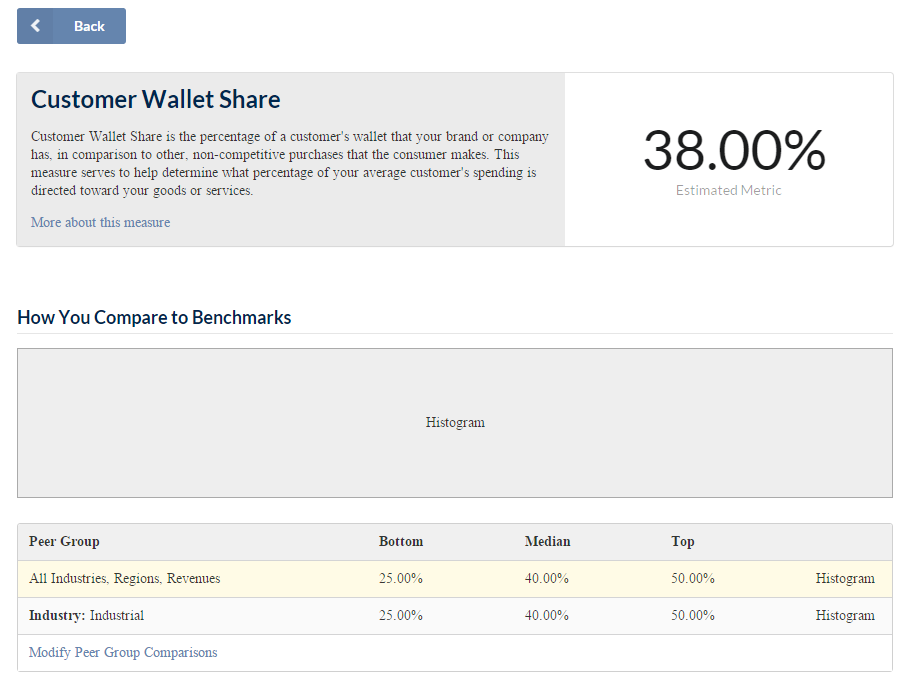 Note that the measures now include descriptions, histograms, and additional peer-group benchmark data. A single tool has never provided so much integration between process, benchmarks, and best practices before. Even more interesting is how MosaiQ integrates conversations about process into the fabric of getting work done. When you update benchmark data – people who are interested in the relevant processes are notified. If you upload a new process document to a framework element – the people who care the most are notified. Each process element has its own activity feed and helps you to keep track of who did what, and when. This should help to better understand if those sparkline blips are related to process changes or not…
You can follow John on Twitter @JohnGTesmer and join APQC's Process Classification Framework LinkedIn Group