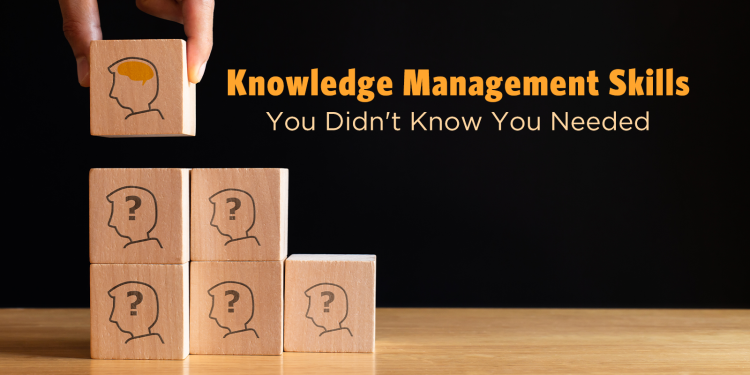 The knowledge management field has become increasingly professionalized in recent years, with more standardized job requirements and degree programs targeted at KM roles. But a lot of KM is about creative problem solving, relationship building, and trust—and there's no step-by-step handbook to get those right. 
When we survey KM professionals about the skills their teams need to develop, they tend to cite tangible methodologies like change management, analytics, and design thinking (see chart below). Yet, when I look at successful KM programs, it's usually attitude—not expertise—that sets them apart. Effective KM professional exhibit certain traits that, while not easy to impart, are still important to cultivate. Trendy methodologies can reinforce and augment these competencies, but they cannot compensate for a lack of core skills or the wrong mindset.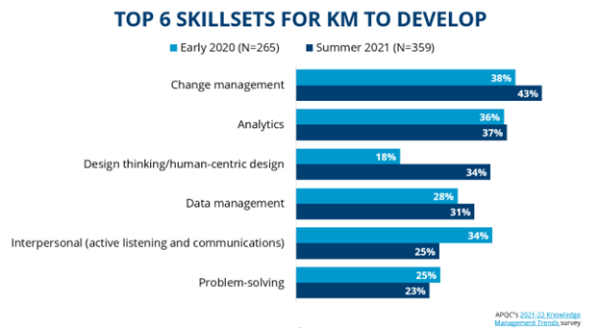 Below are three characteristics for organizations to seek out and nurture as they build their KM teams: curiosity and empathy, digital bridging, and change aptitude. 
Curiosity and Empathy
There's been a lot of buzz around design thinking lately—and rightly so. Design thinking is a human-centric approach to problem solving that helps teams ask better questions and develop more compelling solutions. The methodology contains useful techniques for innovating and prototyping, but it starts with exploring end users' needs and scoping each problem from their perspective. 
Most KM teams can benefit from this outlook, whether pursued organically or as part of a formal design thinking exercise. KM participation tends to be voluntary, so employees only adopt KM tools and approaches if they see inherent value in them. Recognizing this, the best KM teams are relentless about understanding end-user pain points and alleviating them in appealing, intuitive ways. 
Countless methods can help KM professionals zero in on problems and solutions, but the process works best when the people involved are genuinely interested in solving puzzles and helping people. KM team members need to be curious about the business areas they support and considerate of how internal customers want to interact with knowledge in the course of their work. If not, the solutions KM provides are likely to be ill-conceived and underutilized. 
An example of getting this right comes from Jones Lange LaSalle, a leading real estate and investment management firm. This two-person product management KM team knew it wasn't connecting effectively with its 600-employee target audience, so it started experimenting with design thinking and service design. In-depth stakeholder interviews allowed KM to identify common complaints and develop onboarding and training paths aligned with how people work and interact. (See Scaling Knowledge Management Through Service Design at Jones Lange LaSalle for the full story.)
Digital Bridging 
Over the past few years, KM teams have increasingly evolved from back-office functions managing documents to internal consultants and strategic partners to the business. KM staff collaborate with business stakeholders to understand their knowledge needs and then build, buy, or configure appropriate solutions. 
In addition to the curiosity and empathy described above, this work requires a skillset I think of as digital bridging. KM professionals don't need to be experts in IT or supported business areas, but they should know enough about each to tease out business requirements and then match the right capabilities to each. Digital bridging requires a mix of active listening, strategic problem solving, digital literacy, persuasion, and mediation. IT controls the supply (systems and capabilities) and the business controls the demand (knowledge needs), and KM must bridge the gap and help the two understand each other's perspective.
Grant Thornton's KM team is particularly skilled at digital bridging. The team calls its approach to developing new KM solutions "productizing" and the resulting solutions "knowledge products." To explain this concept, Head of Employee Experience and Knowledge Management Doug Kalish compares the KM environment to a smartphone. The KM platform is the operating system, and the organization's collective knowledge is the phone's data. KM products are apps that solve specific user needs, such as content discovery and collaboration.
Before developing a knowledge product, Grant Thornton's KM team verifies that it will meet a tangible user need. It must address a clearly defined business problem backed up by a core organizational driver, and it must improve the end-user experience in some way. The team uses these criteria, along with its knowledge of how technology can best support the business, to ensure KM is focused on the right problems. The team then applies Agile methodology to gather iterative feedback and ensure the resulting solutions truly meet business and end-user needs. (Learn more about Grant Thornton's approach and example knowledge products in Delivering Agile KM Solutions at Grant Thornton.)
Change Aptitude
Good KM teams are familiar with formal change management, especially if the organization adheres to a particular change model like Prosci ADKAR. But the relationship between KM and change goes deeper than following a rote process. KM teams thrive when they don't just accept change, but also embrace it as a vehicle to propel their work forward. This perspective helps KMers advocate for change and position it in a compelling way. 
The best KM professionals continually interrogate the status quo, both in their own operations and their internal customers. They routinely scrutinize KM strategies, tools, and approaches to ensure they stay aligned with the business landscape. They're also first in line to volunteer as beta testers and change champions for new enterprise platforms and capabilities. This type of change aptitude is particularly powerful when combined with a willingness to coach and encourage those more hesitant to take a leap.
U.S. Navy Carrier Team One (CT1), which supports aircraft carrier maintenance and availability, exemplifies the role of KM as organizational change advocate. CT1's KM program dates back to the late 1990s, but it overhauled itself in 2016 to better meet stakeholder needs by focusing on project-centric knowledge sharing. As the Navy migrates to Microsoft 365, the CT1 KM team is at the forefront of working through challenges related to sharing sensitive materials and bringing contractors onto the platform. Team members are also positioning themselves as 365 early adopters and super users. "We were one of the first to really embrace the platform, and people across CT1 are coming to us asking for help," said Carrier Team One Program Director Kelly Souders. (Read the full story in Excellence in Knowledge Management at the U.S. Navy Carrier Team One.)
More on KM Skills
To learn more about identifying and building KM competencies, see APQC's Knowledge Management Recruiting, Careers, and Professional Development collection. It includes a competency list, job descriptions for KM roles, and information about KM professional development.