Managers, You've Got a Bigger Productivity Problem Than March Madness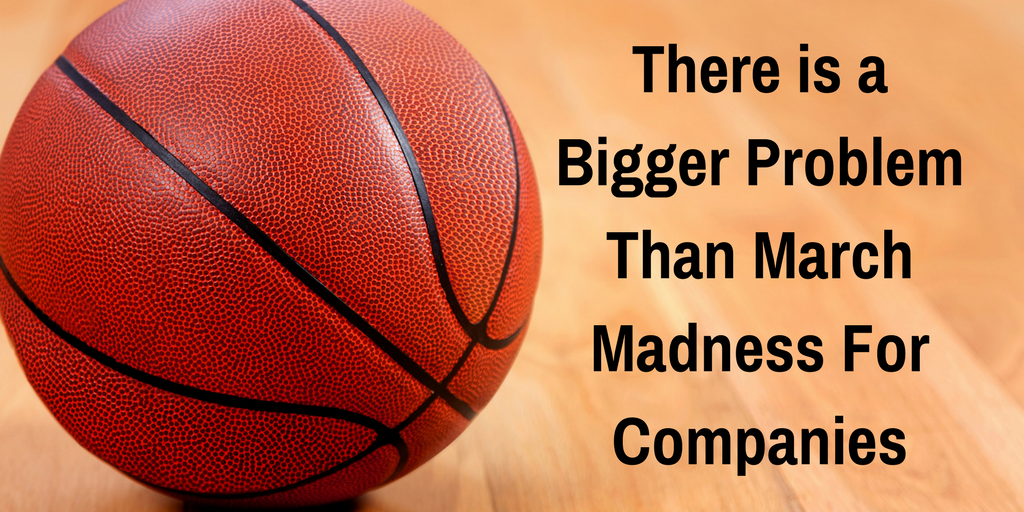 This is the best time of the year if you are a college basketball fan and the worst time of year if you care about organizational productivity. We are at the beginning of a three-week period called March Madness where college basketball takes center stage. Even people who are not typically fans are filling out NCAA tournament brackets and watching to see if the Division I men's college basketball team that they picked to "win it all" is indeed progressing towards a national title.
Yesterday alone there were 16 games. It was a day filled with incredible finishes; underdog teams knocked off power schools, resulting in busted brackets.
For my husband, a Division III college basketball coach, these are literally the best days of the year. As I write this blog from my home office, my husband sits two stories below in our basement. Different games are projected across the walls in what he has proudly named "March Madness Headquarters." Throughout the day, friends are coming in and out, playing hooky from work to join in the excitement.
Not all workers go so far as to play hooky. But enough stream the games on their laptops at work that tournament broadcaster CBS created a "boss button." No need to worry if you're watching the games and your manager walks in. Just click the "boss button" and an important looking slide deck will appear on your screen.
For many, March Madness is a welcome distraction from the challenges of everyday life. But for organizations and managers, it can be a cause for concern—concern that a fun distraction will become a major diversion from business critical operations.
This is a valid concern. Organizations and managers are right to try to assert balance – embrace the fun but encourage moderation. However, there is a much bigger threat to productivity that organizations and managers need to be concerned about. In fact, this threat not only affects organizational productivity, but also hinders quality as well as employee wellbeing and engagement.
What is this threat?
It's people challenges. People challenges are instances where the action or inaction of other people at work gets in the way of an individual worker achieving his or her work objectives.
In one of our latest human capital management research studies, APQC uncovered three types of people challenges that are responsible for drains to organizational and worker health. And, we learned that leaders and managers hold the key to addressing this issue. In our People Challenges at Work research report, we describe three practical approaches—and many daily actions—that leaders and managers need to take.
So, people managers: If you're a basketball fan, embrace the fun in moderation and use halftime to check out our report. Not a fan? Not a problem. While your basketball loving competitors are distracted, get a jump start in learning how to address this productivity issue that's even bigger than March Madness.
*Stay up to date with APQC's human capital management research, webinars, and more by visiting our HCM expertise page.
Follow me on Twitter: @ElissaTucker
Tweet