Some folks just have a knack for knowledge management. They see the inherent value of sharing and reusing knowledge, they love learning about new KM tools and approaches, and they welcome opportunities to collaborate. Fortunately, almost every organization has at least a few of these KM "super-users." But can organizations do more to capitalize on them? To find out, we turned to a panel of KM experts. These KM experts will be speaking at APQC's Knowledge Management Conference, April 29 – May 3, 2019.
When you have an active group of super-users, how can you capitalize on that and spread that enthusiasm to the rest of the organization?
Nicole Balliette: Tell their story! Capture the key aspects about a successful community or group and highlight it on the intranet or other internal platform. The important thing is to focus on aspects of the story that show the value of their success, both to individual employees and to the organization. And if it can be done in a fun and engaging two-minute video, even better!
Rachel Happe: Super-users can be incredibly effective at modeling and norming new behaviors, and at coaching their peers how to use a community of practice effectively. There's a caveat, though: If super-users are selected only on the quantity of their engagement, they may be popular but not actually influential. Identifying super-users by who receives and contributes the most value to communities is a much better way to find the true influencers—those engaging in the flow of their work and making their processes more efficient and effective. Those individuals will naturally influence those around them, because they're really getting value out of communities and will refuse to do work in any other way.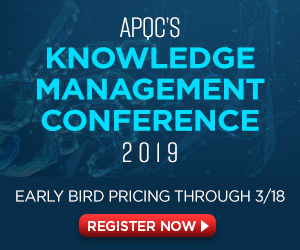 Antonio Moneo: Expose your super-users. Give them a special place in the community of practice structure by, for example, creating an advisory board or stewards group. This group can dig deeper into the needs of their specific community. Every member of a community needs to know that their requests are heard, discussed, and if possible, implemented. As long as users understand that the community is actively listening, their engagement will grow.
Lauren Trees: Success stories and peer endorsements are among the most effective promotional vehicles for KM. If you can identify groups out in the business who are using KM tools and getting value, document their experiences and promote them as role models for others. In addition, encourage early adopters and super-users to tell their friends what they're using KM for and the results they've achieved (which hopefully justify any initial input of time and energy). Combined with data, this kind of anecdotal evidence can convince leaders to continue and expand funding for KM while encouraging new users to get out of their comfort zone and experiment.
Hanan Al Mheiri:  Working in the KM department at Dubai Water and Electricity Authority, we initiated our first communities of practice in 2018 on the topic of hydraulic modeling. We created a community charter template that defines accountability, and we helped community owners formulate clear objectives and guidelines. Then, we got people from another core function who were interested in the topic to join the community. This was a great success, and we shared those stores. And now, we have five more communities in queue.
I think the main key is to have topic experts involved in managing and moderating discussions. There's a misconception that KM is responsible for managing knowledge. In our case, we only have 18 KM employees in an organization of 13,000 people—so managing knowledge is everyone's responsibility. KM's role is to guide. Therefore, we see that the best approach to engage people in communities of practice is to create communities in response to the business' requests, then help initiate, manage, and measure the impact and effectiveness of these communities.