Our smartphones are constantly buzzing, alerting us about everything from political blockbusters and celebrity scandals to Twitter mentions and Instagram tags. Certainly, this can create distraction at work. But the bigger story is that smartphones and social media have fundamentally changed the ways we create, share, receive, and use information. APQC asked a roundtable of KM experts about the impact of these consumer trends on enterprise collaboration. These KM experts will be speaking at APQC's Knowledge Management Conference, April 29 – May 3, 2019.
How have social media, smart phones, and other consumer trends changed how people collaborate at work?
Hanan Al Mheiri: Many enterprise collaboration tools have been adapted to mimic social media in an effort to make them feel more natural to employees. There are many collaboration tools and trends out there in the market, but organizations need to ask: What do we need these tools to do? What is this tool going to help us achieve?
Tools such as Slack, WhatsApp, LinkedIn and Skype are being used heavily between employees. For example, you'll find many employees using several WhatsApp groups for different projects. But while these tools improve collaboration, we cannot deny the risks associated with sharing potentially-sensitive information. A lot of organizations need to play catch up when it comes to their requirements and policies. We also need to bear in mind that some collaboration tools don't help us manage knowledge, because knowledge isn't stored in places where others can find and reuse it. Organizations that follow trends without strategy will fail, and their organizational knowledge will become weaker over time.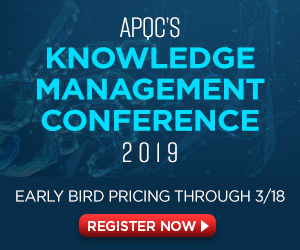 Lauren Trees: Technology adoption almost always happens more quickly in the B2C space, with new tools spreading to the business world as users demand the same capabilities at work that they enjoy in their personal lives. Over the past decade, social media and smart phones have strongly influenced how people want to collaborate and learn, and many organizations now offer employees mobile apps and collaboration tools that closely mirror Facebook, Twitter, and other consumer social sites.
Although consumer media trends can help organizations connect with employees, they also mean that people are juggling more messages and updates across a variety of channels. The result is that it's harder to get—and even harder to keep—their attention on something like a community of practice or KM platform. A good communications strategy reminds employees about KM offerings at the exact moments when they're most likely to have questions or something useful to share. It also helps to embed KM recommendations where employees are doing their work so that they can access contextually relevant knowledge and expertise in one click. Fortunately, integrated digital platforms like Office 365 and G-Suite make it easier to do this without investing in custom systems and algorithms.
Antonio Moneo: Social media helps to connect communities across countries and is helping employees identify valuable information recommended by their colleagues. However, the ease of sharing is creating a surplus of information that some employees find overwhelming. Communities should be open and dynamic, but key messages need to stand out and remain clear.
Rachel Happe: Consumer trends impact enterprise collaboration in very positive and very negative ways. First, people have access to so much information. Depending on how they manage their information access, this can cause immense anxiety or it can give them incredible power. If individuals use their 24/7 phone access to be "always on," they will likely be overwhelmed, anxious, and perhaps even resentful. If, however, they use that flexibility to balance work with personal demands, and intentionally think about its use, that can be incredibly freeing. For example, an employee with a sick pet can respond to emails while he waits to be seen at the veterinarian's office, keeping projects and initiatives moving while taking care of important personal responsibilities. The great thing is, everyone gets to choose. You can use it mindlessly and be at its mercy, or you can use it intentionally to build a valuable network, increase your flexibility, get critical feedback, and save yourself time.
Nicole Balliette: As a member of a nonprofit, international, humanitarian and development organization, these trends have affected us in a net-positive way. In the early years of my overseas work, we used faxes for communications that couldn't wait the weeks or months of regular mail. Now, staff working in the most remote locations use their smartphones to check email or participate in meetings. As internet connectivity continues to improve, staff in different locations are better able to communicate, collaborate, and share/access knowledge. Our challenge, now, is balancing the interests of those staff who prefer to explore and use a myriad of tools that they learn about on their own, and the requirements of others who prefer to be told what few tools to use (and when) and be taught how to use them.