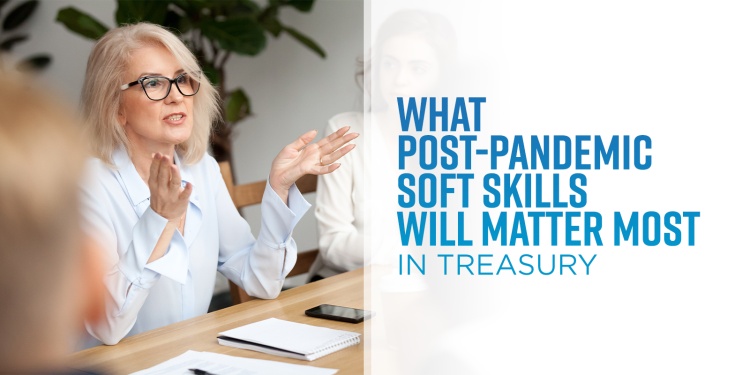 The pandemic has resulted in increased pressure on finance functions for more accurate forecasting, ready liquidity, and better working capital management. In order to better understand what success looks like for treasury during the COVID-19 pandemic and what it may look like in the post-pandemic environment, APQC recently partnered with Ernie Humphrey (CEO, TreasuryWebinars.com) on a "Delivering Treasury Success in the 'Next Normal'" study. Along with survey research gathering data from more than 200 participants across industries and regions, APQC interviewed a range of treasury professionals about: the key drivers/success practices for treasury success in the new reality; how organizations are currently measuring treasury success and how success measures are evolving; key skills for treasury in the next normal; and success stories demonstrating treasury's resilience and innovation.
The study found that treasury success in the next normal will involve a continued evolution in people, processes, technology, and measures, beginning with ensuring you have the right people and skills in the right roles. As stated by one of the interview participants, "Future success really does come down to people. You can set up whatever systems and structure you'd like, but they're not going to be successful if you don't have the right team and if they're not ready for it."
In terms of people, a key question the research team explored in the participant interviews was what skills will be highest priority for treasury in the "next normal." And interestingly what we heard was that technical treasury and finance knowledge and skills are a satisfier (e.g., assumed); beyond that participants are really focused on a base level of tech and data savvy, soft skills, growth/learning orientation, collaboration/partnership, and agility. Here were some of the key insights and comments from the interviews in terms of what study participants believed to be the most important treasury skills moving forward.
A Base Level of Tech and Data Savvy
Interview participants reported that, while treasury professionals didn't have to be IT experts or software programmers, nonetheless a foundational level of technical and data familiarity, in particular in Excel and treasury software, are needed in the next normal. Some of the specific tech and data-savvy skills mentioned by survey participants include: 
•    Familiar with treasury tools/software
•    Ability/Willingness to learn new technology
•    Skilled in Excel
•    Analytical
•    Ability to think through data strategically
Example interview quotes follow: 
"The ability to learn new technology is a key skill. We can't all learn to be programmers, but we need to be able to use the technology and answer questions that other people might have about it."
"You need to have the ability to think through data strategically, which has always been a key skill for treasury and the finance functions. Understanding technology is important too—you should have a solid understanding of what the technology can do so that treasury staff can make it work throughout the institution and in treasury's areas of responsibility."
"You need to understand IT systems a bit, but don't need to be a programmer. You need to understand what the systems can do."
Beyond the base level of tech/data skills, interview participants emphasized the importance of soft skills for treasury professionals in the next normal. As stated by one interviewee, "I can teach anyone about banking and even about Excel, but developing these soft skills is something that comes more from the person than the department managing them." Important soft skills cited include:
Communication
Interview participants emphasized the importance of clear communication, and the flip side – good listening skills - in this time of change, such as: 
•    Storytelling
•    Listening
•    Clarity in communications
•    Executive-level communications
•    Running a good meeting/phone call
•    Writing a good business e-mail
•    Impactful communication
•    Virtual communication
Example interview quotes include the following: 
"One thing I think we've learned in the last year is to pivot quickly. We're all being required to change on a dime, and with that comes the need for great communication skills. That's going to be critical, not just for treasury, but for any department. You need to ensure the communication you are giving as a treasury leader or professional is simple and clear, because as times are difficult right now, we need stability and clear direction to pivot quickly."
"Another thing that has come up in the last year is a need for people with good storytelling abilities. When we're having C-suite meetings or board meetings, you only have a certain amount of time to get your point across to that audience and you have to get it across really well."
"I think being a good listener and collaborator are very important. Going forward those skills are going to be even more essential because we don't know what's coming down the pike. So, I think listening to what's happening and collaborating through the processes are necessary skills."
Partnership/Collaboration/Teaming
Similarly, partnership, collaboration, and teaming skills were cited as essential for treasury success in the next normal as treasury continues in its journey as a valued partner, skills such as:
•    Partnering with the finance function
•    Collaboration
•    Strategic thinking
•    Teaming
•    Consensus building
•    Relationship building
•    Ability to delegate to other internal experts
Example interview quotes illustrating the importance of these skills follow:
"It's critical to be able to integrate with the finance profession. In the past, treasury has been separate from FP&A, but it's increasingly becoming part of the same skill set to be good in both treasury and finance."
"Relationships are very important–Relationships within the company and with suppliers, banks, and customers. A successful treasurer is someone that has the people skills, not necessarily someone that has all the technology skills."
Growth Oriented for Self and The Business
Interviewees also reiterated the importance of having a growth mindset personally and professionally within treasury, and the criticality of ongoing professional development for those in corporate treasury. Specific skills mentioned here include:
•    Continuous learners
•    Willing to stretch outside their comfort level
•    Driven toward continuous improvement
•    Capable of finding opportunities for more value-added work
•    Committed to lifelong learning
•    Take a long-term perspective
Example interview quotes include:
"Top of mind for me is a continuous improvement mindset, which really sets the stage for things like RPA. You need to be able to elevate yourself above your current level to see what needs to be done at the next level. For example, how does my CFO see things and how can I deliver and make his job better? How does the superintendent see things and how can treasury deliver and make things easier for the superintendent or a CEO?"
"I'll take someone who sees learning as a way of life any day over someone who is an expert in a TMS system, because that TMS system might be all they want to do."
"A successful treasury professional should be a continuous learner because things are changing constantly."
"As far as surviving and thriving in the next normal, education is critical. I think we as treasury professionals are in an environment where we need to continually reach out and educate ourselves. For example, what KPIs are others using that we're not? What do I need to be mindful of that I'm not? Continual learning will help me see that there's something coming and be able to take appropriate action."
Agility
Finally, and related to the growth-orientation mindset, interview participants reiterated the importance of agility, flexibility, and responsiveness to change in the next normal for treasury professionals, including:
•    Deep generalists
•    Cross-trained in a variety of tasks
•    Strategic agility
•    Willingness to try to go find the answer if you don't know it
Example interview quotes: 
"We need somebody who can be asked to do something they haven't done before and at least know how to find the answer or who to ask for help. A successful treasury professional should be a continuous learner because things are changing constantly."
"We're all being required to change on a dime."
"Just since 2014, three more things have landed on my plate that support regulatory compliance for debts, so there's always something new, different, or changing in a treasury role."
Corporate treasury is a challenging yet rewarding role, with many facets. And while doubtlessly treasurers need that foundational body of treasury and finance knowledge and skills to get a leg into the profession and to perform essential day-to-day tasks, it is the skills beyond that which differentiate the best from the rest in corporate treasury going forward. And if these are areas that perhaps are not your current strengths, don't worry–APQC is a constant believer in enormous ability and potential for people and organizations to change and improve, and it is part of our mission to help you. 
For more information on these topics and this project, visit our latest "Delivering Treasury Success in the Next Normal" research collection.