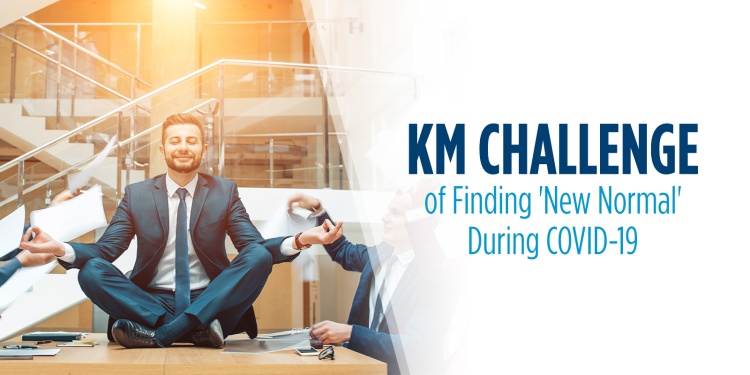 In the last couple of weeks, the on-going theme I hear from APQC's members, clients, and staff is "we are just trying to get back to normal". While I don't think anyone is feeling normal yet, I am seeing how quickly we are embracing the "new normal" that has been thrust upon us. And underlying all this new normal is the "digital experience". Yes, what was once the horizon and all the hype is here!
Luckily, APQC and our members have been talking about KM's role in the digital experience for years. Organizations that have already embraced and adopted digital capabilities and moved towards virtual approaches and offerings have a head start on this new normal – and are now streamlining processes and getting everyone comfortable in our virtual new world. If you haven't started the journey towards digital, chances are this disruption called COVID 19 is getting you started…and fast.
I've always been a fan of the KM enduring truth that says accelerating knowledge creates value. Right now, we are presented with an opportunity to use technologies to accelerate knowledge, bringing great minds together to collaborate and innovate, and create value as defined or needed by our customers. It's exciting to see so many organizations getting really innovative; and it's even more exciting to see how quickly those ideas are being implemented. If we pay attention, we have an incredible opportunity to learn from what others are doing and apply them to our unique situations. Here are a few that got me thinking.
The Houston Livestock Show & Rodeo (HLS&R) is a mission-driven organization supporting youth with scholarships. The HLS&R is a high-touch event that lasts ~ 4 weeks and includes rodeos, concerts, carnival, petting zoo, interactive experiences, and auctions of show-worthy livestock. The proceeds from these events fund scholarships. Due to early precautionary measures against COVID19, the entire event was cancelled after only 8 days and before the auctions started. Shifting their thinking and moving to a digital environment, the HLS&R is conducting the auctions on-line and encouraging a broader group of interested people to participate. While we don't know the end results, all will not be lost.
Work from home is a phrase so many of us liked. The peace and solitude of getting things done without travel to an office. Until your children joined you due to schools being closed. The Houston Children's Museum went digital quickly providing virtual storytelling for parents needing to fill their young children's time with opportunities to learn. Zoos around the country are not to be left out and are providing virtual tours for interested guests. Even Buckingham Palace is offering virtual tours where you can pretend to be the Queen.
Finally, some American craft distilleries switched gears, broke down regulatory barriers, and moved their operations to make hand sanitizer to battle COVID 19. The advancement in enabling technologies and deep expertise of applying knowledge in a new context allows these innovative ideas to accelerate to meet the needs of our nation. My unanswered question: "Will it taste like vodka? Kidding, of course."
At the end of the day, I don't think that the HLS&R will go completely digital. It wouldn't be much fun to virtually watch others ride Ferris wheels or pet the lamb in the petting zoo. Physically going to the children's museum lets you experience all the senses, not just sight and sound. And I have to believe that distilleries prefer making vodka over hand sanitizer.
People are resilient if you let them be part of the solution. Working together makes us feel better. KM's challenge is to continue to facilitate bringing know-how together through digital capabilities that will allow our organizations to expand its markets or delight its customers. This window of opportunity won't stay open long because we'll all be back to normal soon!
Accelerate knowledge. Create value.