Finding qualified talent is one of the biggest challenges for employers today. Our research shows that employers are in search of innovative ways to fill open positions. Chemical company BASF has found, and is having success with, a number of talent acquisition innovations. Recently, I interviewed BASF's Heidi Gerhard, director of leadership, organizationl capability and culture, about how the organization has transformed its approach to hiring in ways that allow it to secure the best talent in a tight labor market.
Learn more from Gerhard by viewing the on-demand webinar: Impact-Based Hiring: How BASF Uncovers High Performers.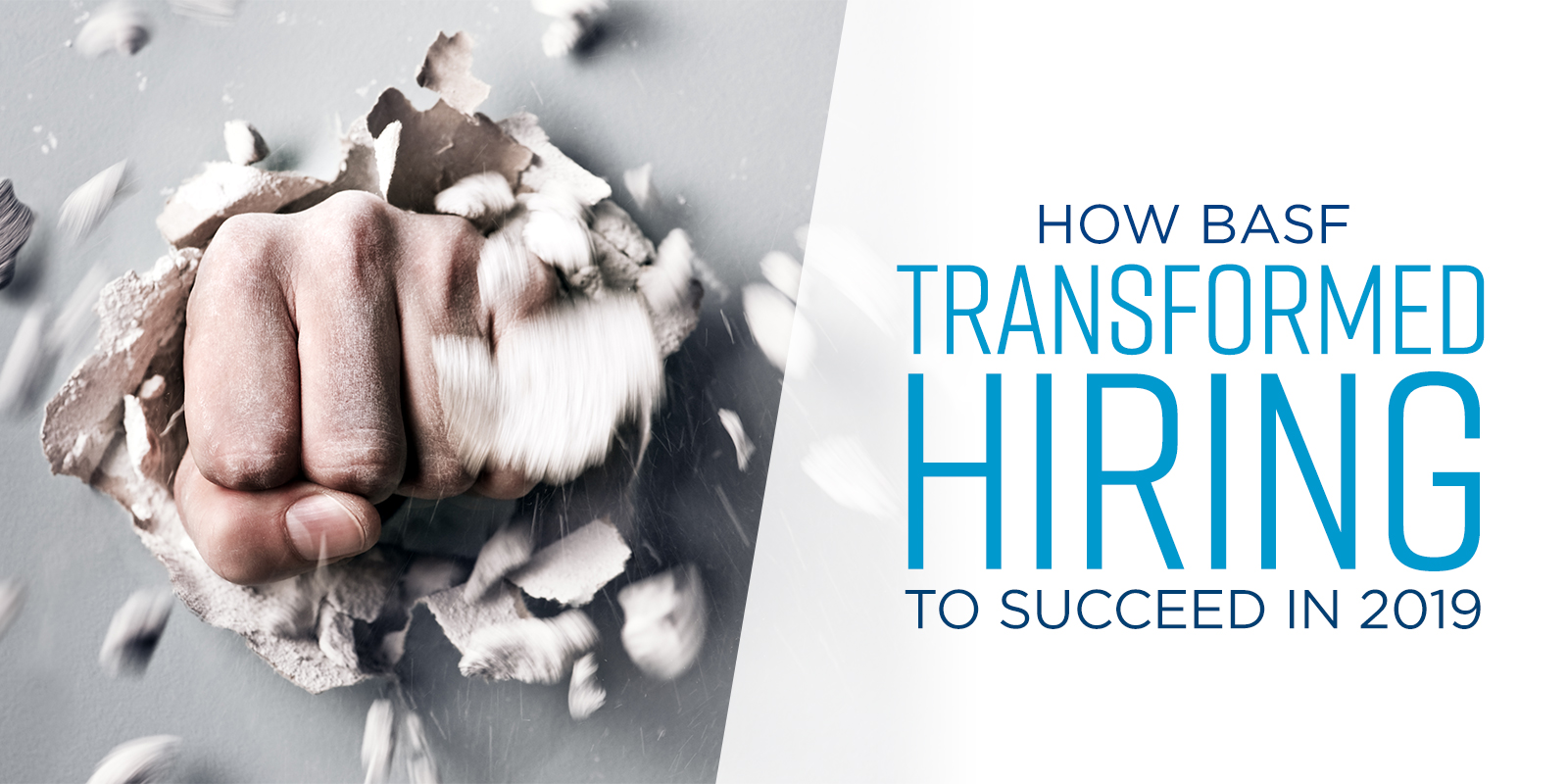 Why did BASF transform its approach to hiring?
With the rapidly changing external talent landscape, an even greater need for agile talent who can adapt to the VUCA world, and the dynamics of the digital workplace, we needed to change the mindset of our leaders on what "qualified talent" looks like. Grounded in technical expertise and specialization, our hiring managers have historically operated with very rigid target profiles—often describing the incumbents in the job and not necessarily the true experiences and competencies required to be successful. Impact-based hiring was the circuit breaker that allowed us to rewire our sourcing, interviewing, and selection approach.
What is impact-based hiring?
Impact-based hiring is an inclusive, transparent approach to hiring that focuses on job success outcomes rather than traditional job requirements or qualifications. Our job postings detail what successful performance in the role looks like—rather than what the individual hire looks like. This enables candidates to articulate their transferable experiences, achievements and motivations for impact in the job and allows us to consider the holistic individual. By recognizing the value of different perspectives, backgrounds and experiences, we can attract a more diverse talent pool and enable a culture of diversity and inclusion.
What steps did BASF take to implement impact-based hiring?
As this was an incredibly large change for BASF, it required executive support and a value-proposition that connected to our inclusion strategy. From there, we built capability within the talent acquisition team to understand the approach, methodology, and target outcomes, so they could champion as change agents during each requisition strategy call. Implementation consisted of:
First, defining target profiles based on outcomes rather than competencies or "years' experience";
Then, leveraging this insight to create descriptive, not prescriptive, job postings;
And finally, adapting the role design and assessment methodology based on a variety of internal and external data points to ensure we find the best talent for BASF.
What results has BASF realized since moving towards impact-based hiring?
The initial results have been impressive! Our enhanced strategy call methodology has improved the effectiveness of our candidate screens, resulting in greater process efficiency. In addition, we have made over 200 new hires within the first year who we've identified as having the "Impact Quotient" – with over 60 percent diversity. Our next phase includes correlating this data (including source of hire) with performance over time, engagement, internal mobility, and retention to identify trends and further optimize our sourcing and assessment approach.
Learn more by checking out Gerhard's on-demand webinar today: Impact-Based Hiring: How BASF Uncovers High Performers.