Last week, Cindy Hubert and I presented a Webinar on making knowledge flow through organizations. We talked about APQC's seven-step Knowledge Flow Process and how to deal with glitches and bottlenecks as you move through the cycle. As part of the call, we asked you which part of the knowledge flow process your organization finds most challenging. Here are the results: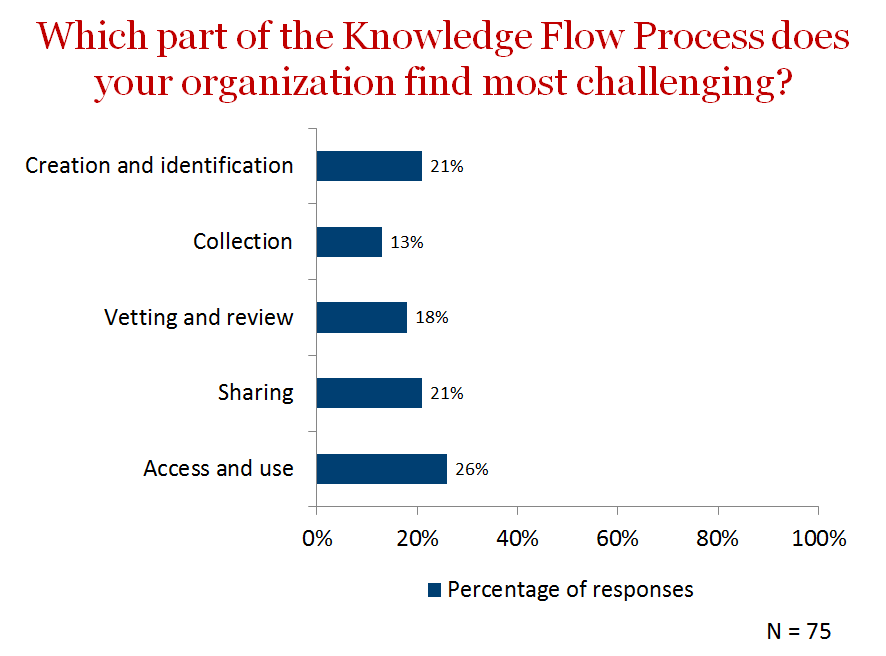 It's no surprise that many organizations find access and use to be the trickiest part of knowledge flow. After all, people are more inclined to share what they know than to trust and rely on others' knowledge. But I was interested that several other steps received similar numbers of votes. I think it all comes down to what type of organization it is, the maturity of its KM program, the resources it devotes to different aspects of knowledge flow, and the cultural backdrop. For example, some organizations are great at the front end of the Knowledge Flow Process—they identify what knowledge is critical and collect it effectively—but don't have cultures that support and encourage sharing. Others have very open, sharing environments but don't invest in the underlying structure to determine what's important to share. Collection received the smallest number of votes, and I would guess that's because it's tangible and relatively easy to measure. There are also a lot of well-defined, proven collection processes out there that organizations can adopt wholesale.
If you're interested in knowledge flow but missed the call last week, you can check out the slides or a full recording in our Knowledge Base. I've also published a one-page Knowledge Flow Process Framework with definitions and recommendations for each of the seven process steps. All these resources are available to non-members through the end of the year, so happy holidays!