Not long ago, I launched an APQC research study to examine how organizations were using big data in human capital management. I had read many articles on the topic. In the Workforce Management article "Big Data, Bigger Deal," Michelle Rafter defines HR big data writing: "The term 'HR big data' gets tossed around to mean any number of things. Students of the discipline generally take it to describe a massive amount of information with a large number of variables that is quickly processed and analyzed so results can be used to make faster, evidence-based decisions." 
As I shared my research idea with APQC members, I found HR big data was not the topic of most interest to them. I heard that dealing with vast amounts of real-time, unstructured data from a variety of sources (e.g., employee sensors and social media) was a future concern.
I saw that most organizations today are learning to leverage the workforce data that they already have (e.g., HR information systems data, engagement survey results, and performance ratings). They are in the HR reporting and workforce analytics stages, looking to expand their capabilities to predictive workforce analytics. In fact, half of the 383 registrants to APQC's September 2015 webinar on predictive workforce analytics said that when it comes to this topic their organization is "Just beginning. Learning."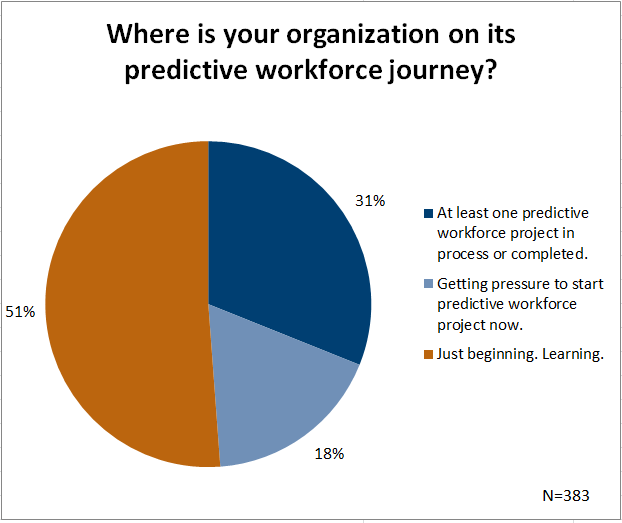 Yet, Greta Roberts, CEO of Talent Analytics, Corp.—APQC's research partner for this study—observed: "Today's business executives are increasingly applying pressure to their Human Resources departments to 'use predictive analytics.'" For those feeling the pressure to get predictive, Roberts has authored The Beginner's Guide to Predictive Workforce Analytics. In this guide, Roberts describes:
Why HR needs to change its approach to predictive projects;
What HR can learn from the marketing function's already successful predictive analytics journey;
How to get the greatest ROI from predictive workforce projects; and
Which roles to include on the predictive workforce analytics team.
Download a complimentary copy of the guide and checkout the other resources produced as part of the joint APQC-Talent Analytics, Corp. research study: Getting Started with Predictive Workforce Analytics.
Not yet an APQC member? Check out these free resources:
APQC and Talent Analytics, Corp. researched the pioneering work and best practices of five organizations using predictive workforce analytics to enhance talent acquisition and management—Cargill, Gap Inc., IBM, Johnson Controls, and SAS.  The findings are contained in APQC's report entitled Getting Started with Predictive Workforce Analytics.