Much has been made of getting Millennials to see supply chain as a rewarding career option. Efforts such as the 30 Under 30 Supply Chain Stars recognition program promote the career possibilities of recent graduates entering the supply chain field. These programs also highlight the potential of younger professionals.
Organizations recently gave APQC their thoughts on the supply chain talent shortage and the potential impact of generational differences. As shown in the chart below, organizations moderately agree that there is a current shortage of supply chain leaders driven by the retirement of Baby Boomers. Organizations also moderately agree that a supply chain talent shortage has been caused by downsizing.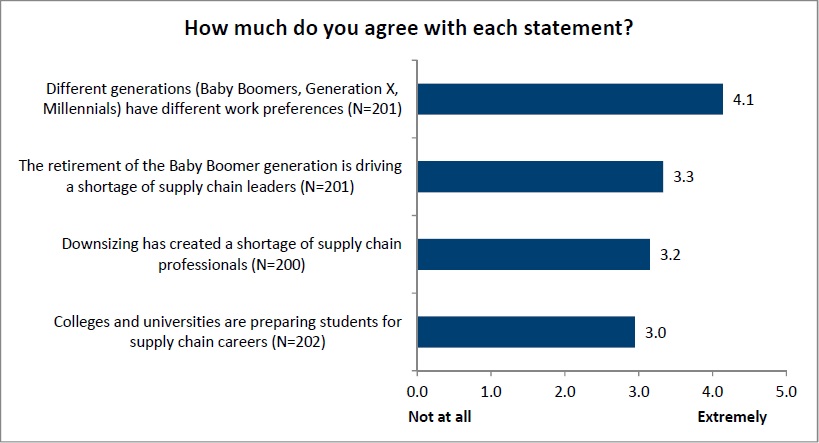 Regardless of whether organizations are directly experiencing a talent shortage related to retiring Baby Boomers, they are feeling the effects of Millennials entering the workforce. On average, they agree quite a bit that work preferences vary among different generations. To add to the potential complications of integrating new supply chain professionals into the workforce, organizations only moderately believe that college and universities are preparing graduates for supply chain careers.
So what can attract new professionals to the supply chain field? And what can organizations do to make sure they fully use the strengths of Millennials? On January 28, APQC's Andrea Stroud and Oliver York of The Coca-Cola Company will present a webinar on attracting talent to the supply chain. They will also discuss Oliver's experience as a Millennial supply chain professional. 
Stay up to date with our upcoming supply chain management and product development research, webinars, and more by visiting our expertise page.
This webinar is now over. To learn more, access the slides here.