Is Attending Aspen Ideas Festival on Your Bucket List?

If attending the Aspen Ideas Festival isn't on your bucket list, you might consider adding it.
Every summer, one thousand movers and shakers, CEOs, authors, politicians, pundits, and artists gather to share the biggest ideas of the day and seek solutions to the world's pressing problems. I had the pleasure of attending this year in late June and wasn't disappointed.
Among the themes and buzz this year were Brexit (the stunning "leave" vote had just been counted), reimagining capitalism (the ever-widening and volatile income gap between the top one percent and the rest of us), terrorism and the age of insecurity, Sex in America (I missed that one but Caitlin Jenner was there), philanthropy (what's working and how to measure outcomes), the Millennials, Mysteries of the Universe (new discoveries in space and astrophysics), the human toll of the disasters of Syria and Daesh (the terrorist group formerly known as ISIS or ISIL), and many more.
Three tracks that especially resonated with our work at APQC were "Connectivity," "Industries of the Future," and technology and the future of work (i.e., Virtual Reality (VR), machine learning).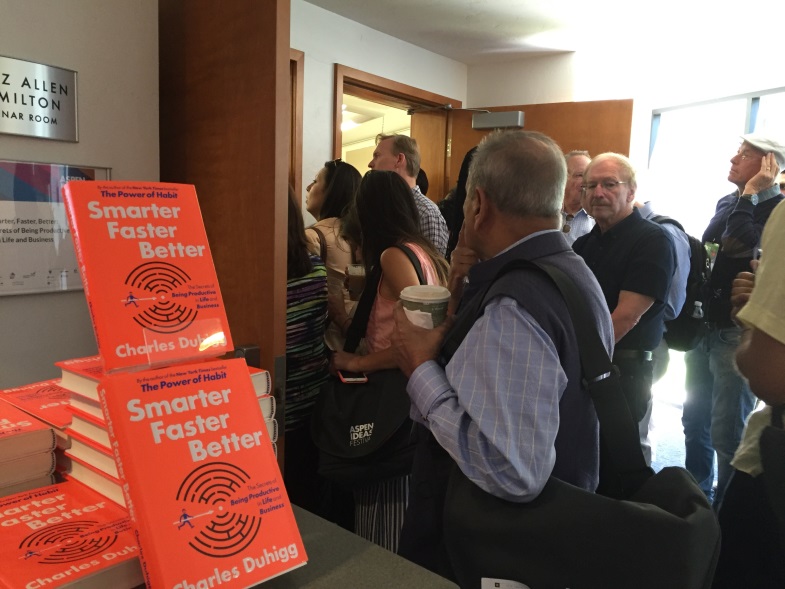 Friends of APQC (FOAs)
Speaking to standing room only crowds were FOAs (Friends of APQC) Adam Grant, Wharton professor and author, and Charles Duhigg, NY Times Pulitzer Prize winning author. (More about Adam in future posts.)
Photo at right: Crowds standing in line to hear Charles Duhigg. You don't have to do that. Go here for my interview with him last month.
While it is impossible to share everything I learned, let me set the stage with my short interview with Sarbjit Nahal, Equity Strategist with Bank of America/Merrill Lynch (sponsored by US Trust) who spoke on 15 macro trends that will dramatically shape our world now and in the future.
Three trends were of particular interest to the future of work: Millennials, Longevity, Robots and AI. By 2020, the number of aged 65+ is expected to outnumber children under five for the first time in history. If you believe demographics are destiny, dire forecasts are that robots will take knowledge worker jobs at the same time more of us want or need to keep working. Or, the alternative is that robots will be our companions and care givers in our golden years.
In my next post, I will share Adam Grant's terrific lecture on the five habits of highly original people who are effective at getting their idea adopted.
Check out my Big Thinkers, Big Ideas interviews on APQC's Knowledge Base.
Subscribe to the Big Thinkers, Big Ideas podcast on itunes or on APQCPodcasts on Podbean.
You can connect with me on Twitter @odell_carla
Tweet