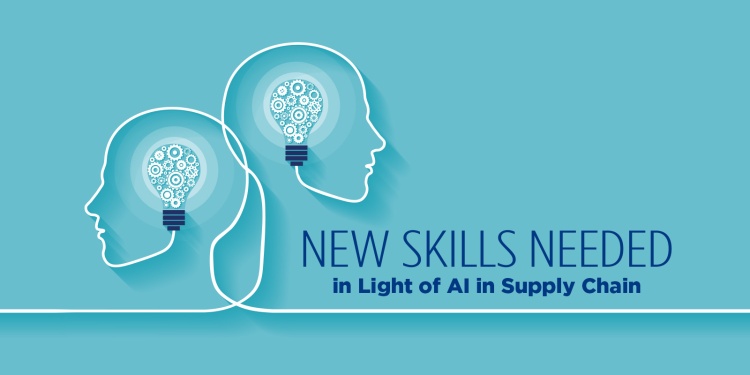 Many organizations believe that AI drives value through its impact on the number of employees needed for the supply chain. Of the organizations surveyed by APQC, 46 percent consider a reduction in headcount to be a top driver for deploying AI. A slightly smaller percentage, 44 percent, consider headcount redeployment to be a top driver. As AI takes on more tasks previously completed by employees, organizations expect to be able to reduce the number of employees working in supply chain or redirect their skills to other areas.
A very interesting finding from APQC's research is that, at the median, organizations are actually adding more FTEs as a result of AI than they are eliminating or redeploying. At the 25th and 75th percentiles, there is no difference between the percentage of FTEs added due to AI and the percentage of FTEs eliminated or redeployed.
This data is almost counterintuitive to the widespread expectation that the use of AI will eliminate the tasks undertaken by some supply chain employees and thereby eliminate the need for these employees altogether. Rather than replacing employees, however, AI is changing the skills needed by supply chain professionals. It's not that people are being replaced by AI—it's that the skills they need are changing.
New Skills Needed For the Coming Age of Artificial Intelligence in Supply Chain
APQC has investigated the shift in skills needed among supply chain professionals as a result of the adoption of AI. Supply chain professionals are taking on tasks that require more social and deep work skills (i.e., those enabling workers to focus intensely without distraction). AI and its resulting automation of tasks leaves the humans on staff to engage in work involving analysis and insight. Technology is no substitute for the relationship-building skills that support listening to stakeholders, communicating effectively with business partners, innovating, and thinking strategically about how to approach challenges.
Of the top six skills organizations need their supply chain employees to develop or enhance because of the adoption of AI, most are softer skills related to building relationships and solving complex problems.  
Top Skills Needed as a Result of the Implementation of AI in Supply Chain

 
Communication and active listening are among the most needed skills. Supply chain employees must be able to discern the needs of their stakeholders and business partners, maintain positive relationships with partners, and succinctly and clearly convey expectations to suppliers and other service providers. 
Creativity and innovation are among the most important skills because of the shifting nature of the modern supply chain. With supply chains forced to address previously unheard-of situations and disruption, such as the global pandemic, professionals must be able to identify novel solutions to keep the business running.
Related to innovation and creativity is the ability to think strategically and solve complex problems. AI can use data to predict any shifts necessary for manufacturing operations and planning. However, the technology should support smart decision making and problem solving by employees. This is where the soft skills of employees become critically important. Supply chain professionals must be able to look at evidence and make the best decision for the business, especially in situations in which there is no evident "right" answer.
Despite the overwhelming need for strategic and relationship-building skills, supply chains still need employees with more technical skill sets, such as in data science and analysis. These skills are necessary to adopt, maintain, and support AI and its outputs within supply chain. 
Looking Forward
As the skills needed by supply chain professionals working with AI continue to change, companies are investing in training and development to help their employees reskill and upskill. It is reassuring to see that employees are not being left to fend for themselves when it comes to honing the new skills and capabilities needed. At the median, organizations are investing in seven days of employee learning per employee to ease this transition.
Organizations are also adjusting their learning budgets to ensure that their employees get the skills development they need. APQC sees that this support is true regardless of industry.
The impact of AI on the supply chain will only continue to increase in coming years. With an growing percentage of organizations considering or evaluating the use of AI for supply chain, there is a good chance that a company will be adopting it soon if it has not done so already. The key to retaining employees who will thrive in future supply chain roles is to ensure that they have the right mix of skills to support this technology and leverage it strategically.
Although AI does not appear to deliver the reduction in headcount some companies believed would come with it (yet?), helping employees develop or enhance critical skills prevents skills shortages and is a smart investment in a tight labor market. APQC encourages organizations to consider employee learning as part of the business case for investing in AI.
To Learn More