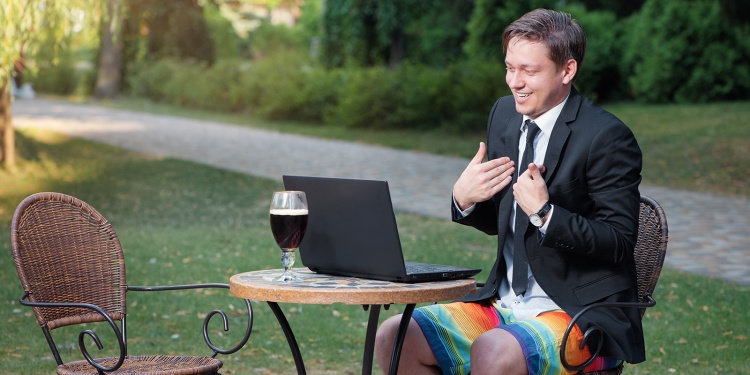 Many employees are experiencing major disruptions to their routines and daily life, while remote work is becoming more essential every day. But with such a sudden change in routine, workers who have little or no work-from-home experience can end up feeling a sense of chaos on top of the already immense turmoil experienced from the COVID-19 crisis. The following are some baby steps for those who suddenly find themselves having to work from home. Once the crisis subsides, these steps can be applied for in-office work as well.
STEP 1: Cut out distractions as much as possible. Most standard smart phones include a "do not disturb" or "night-mode" feature. Although this feature is intended to help avoid sleep interruptions, you can use it during the day to limit personal notifications while working. I wouldn't suggest doing this if your job requires frequent calls via your mobile phone, but if your employer provides a separate work-phone or leverages a different tool such as Microsoft Teams or Slack, then you can use the opportunity to keep certain distractions at bay. Non-work-related distractions live and breathe inside of our devices and are begging for our attention—We are bound to get distracted if we aren't intentional about it. Rather than wasting 10 minutes mindlessly scrolling through social media, consider taking that time to work on your to-do list, or ask a coworker how their day is going.
STEP 2: Plan a daily routine. In the initial few days of remote work (or longer if you don't take steps to adjust to the change), you may feel less efficient for one reason or another. To reduce the sense of uncertainty and inconsistency, I recommend planning a work-from-home routine. And, once you have a plan, test it. More often than not, we over-estimate what we can accomplish in one day. Although remote work might help improve work-life balance, it's important to not let us get ahead of ourselves by trying to squeeze in personal chores or errands throughout the day. Once you learn you cannot do all the things you initially longed for, you can move on to step three.
STEP 3: Adjust your routine. This is where you make your routine more realistic and obtainable so that you don't feel rushed or off track. For instance, if you know you're not a morning person, setting your schedule to start work at 7 am every day is probably not ideal. Try to set your schedule in a way that will help you achieve your daily goals. As long as you follow your employer's work-from-home guidelines, how you adjust your specific routine is ultimately up to you—just remember to keep things simple.
STEP 4: Schedule breaks and practice self-care. Incorporate a scheduled amount of time to step away from your computer, or else your day(s) will start to melt into oblivion and before you know it, you haven't brushed your hair in two weeks. Make sure to take care of yourself and set aside time to do whatever it is that takes your mind off work. Scheduled breaks are the perfect time to look at any personal notifications that you may have missed while working.
STEP 5: Manage your time well. Easier said than done, right? There are many factors to consider when it comes to time management—such as work-load, prioritization, procrastination, goals, tasks, distractions, and so forth—but there are a few simple things you can do to help guide you in the right direction. Good time management isn't just for remote work, but it is especially critical for easing stress due to sudden change. The catch here is that managing your time takes… time. And effort. Although that might sound like an oxymoron, if your goal is to better manage your time, then you MUST establish a plan on how you're going to achieve it. Doing so is not only important for the days when you realize you are out of toilet paper, but also the days when you feel like you have your life together.
Time Management Tips: I find that a straightforward to-do list in a Word document, combined with the frequent use and updating of my Outlook calendar to help visually track where my time goes (time-blocking), serves me well with time management. Incorporating a daily to-do list into your routine by frequently adjusting and re-prioritizing as things come up will help you understand what you should be doing at any given moment. By using your calendar to visually track your time, you can easily gauge when an assignment might be at risk, how much availability you might have, or what can be pushed back to a later date—this is crucial when it comes to being able to address unforeseen urgent requests. Whatever method you use to help manage your time, apply it consistently and you will see the benefits as time goes on.
STEP 6: Continue to cultivate relationships with your coworkers. Remote work doesn't mean you should feel as though meaningful contact with your coworkers is not an option. Share memes, pet pictures, success stories, and connect with coworkers on the things that make you human—your vulnerabilities and lessons learned. Use whatever tool or method you have at your fingertips and connect with the people you work with so that when normalcy creeps back and you find yourself at the office, you feel as though you didn't miss a beat.
If you now find yourself having to work remotely or are experiencing sudden work-environment changes, I'd love to hear what you are doing to adapt.