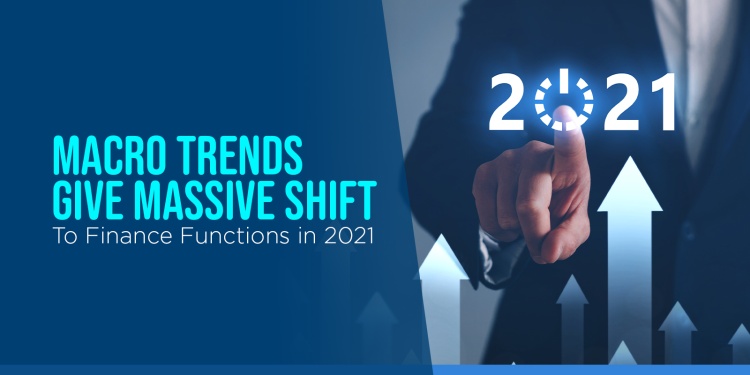 The finance function has become an early testing ground and organizational bellwether for process and performance improvements. In tracking the massive shifts and accelerated trends coming out of 2020, APQC has seen finance functions lead the way on global trends involving transformation, digitalization, analytics and data visualization, upskilling, and remote work. Let's examine key numbers denoting progress for each macro trend.
1. Finance Transformation
The finance function is continuing an operational transformation. The term transformation has been somewhat co-opted by software vendors promoting automation and digitization products, but technology is just one part of how infrastructure and strategic directives are changing for the finance function. True finance transformation involves thinking through all operational elements, from strategy and structure to people, process, measures, and yes, technology. Among these factors, process transformation is an especially pressing imperative for finance functions. 
In a 2020 research study, APQC found that 65 percent of finance functions are pursuing a process transformation for end-to-end order-to-cash (O2C). With cash, liquidity, and working capital of paramount importance since the pandemic, O2C encompasses the key processes that bring cash into the organization. For the majority of organizations, this transformation entails:
process management—standardization, documentation, mapping, governance, etc.;
automation/digitalization; and
process re-engineering—analysis and design of workflows and business processes.
2. Digitalization
For many organizations, the finance function is leading their digitalization efforts, including the implementation of automation, workflow support, mobile technology, cloud computing, Robotic Process Automation (RPA), cognitive computing, and blockchain. APQC's Open Standards Benchmarking (OSB) research reveals the progression of digitalization in finance, indicating large-scale adoption with room to mature. For example, looking at the implementation of RPA in the Accounts Receivable (AR) process, more than two-thirds of the OSB respondents are leveraging RPA; but only 12 percent have yet to fully leverage RPA to optimize the AR process. Along with widespread interest, there is widespread opportunity for finance functions to mature their digitalization efforts.
 
3. Analytics
Logically flowing from the two preceding trends, finance functions are adopting advanced analytics and data visualization tools. Many are now advancing to later stages of analytics maturity. This effort typically begins by adopting trending and descriptive capabilities and progresses to predictive and then prescriptive analytics. For example, for AR and invoicing/collections, APQC finds that 60 percent of the organizations it surveyed are using descriptive analytics, 46 percent are using predictive analytics, and 37 percent are already leveraging prescriptive analytics. APQC also found in 2020 that 53 percent are leveraging data visualization tools for financial and managerial reporting.
4. Finance Upskilling
Management's expectations of the finance function continue to increase, along with the skills needed of finance professionals. In addition to finance and accounting–specific skills, finance staff need capabilities in soft skills, data management and analysis, technology, and business acumen. With staff needing a wide-ranging skillset, finance functions are currently investing in continuous learning opportunities and employees' professional development.
In its recent finance digital transformation research, APQC found that 37 percent of respondents have invested in training employees to engage with digital technologies. And about the same amount have implemented a formal process to identify needed skills in finance. These numbers should continue to increase along with organizational need.
In looking at specific skills needed, APQC's recent research indicates a focus on technological capabilities in advanced data analysis, machine learning, advanced data architecture, and mathematical modeling.
5. Virtual Work for Finance
The final macro trend affecting finance functions involves the tremendous shift to remote work. In APQC's most recent Financial Management Priorities and Challenges survey, it found that remote work and virtual collaboration is the biggest trend, only behind advanced analytics, to be affecting the finance function over the next three years. In that survey, 88 percent of finance professionals reported expecting to work virtually at least some of the time moving forward. This has many implications for finance, ranging from the need for more virtual collaboration tools and technologies to potential changes in expense reimbursement policy and thinking through how to mitigate increased fraud risk.
Together, these five macro trends require attention from finance functions in terms of deliberately planning their infrastructure, process and data management maturity, and continuous improvement journey. Each point should be evaluated in the context of strategic planning. To remain ahead of the curve, check out APQC's Resource Library for detailed advice and benchmarks.