Last month I interviewed the director of one of the longest-standing, most successful KM programs in the world. When I asked her what was new in her program, she mentioned adding a dedicated communications and marketing professional to her team. Despite her depth of experience, she was impressed by the difference this person had made in terms of crafting persuasive arguments and incorporating video and other visuals to get the message across. "We look so much better," she said. "All the materials we put out look so professional, and we get positive feedback on everything we produce."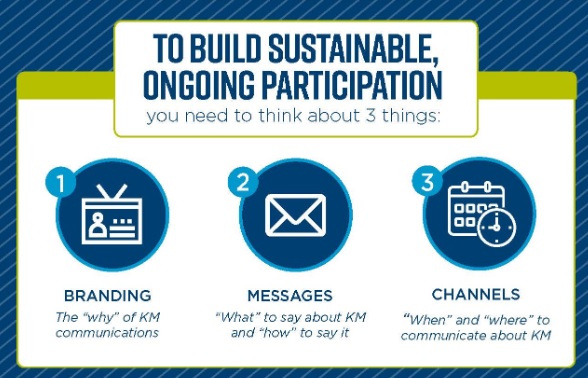 Clear and compelling communication is vital whether you're a KM newbie or building on a mature, thriving program. The people you want to share and apply knowledge need to know what you expect them to do, why it it's important and will benefit them, and how to get started. And KM marketing is never a "once and done" activity. Users have short memories and are juggling many competing priorities: They need regular updates on hot-off-the-press content, newly launched tools and approaches, improvements to existing methodologies and systems, how KM supports the latest business strategy, and how improved knowledge flow is helping the organization meet its goals.
More than half of the KM programs APQC surveyed last year recognize the importance of communications, in that they have formal communications plans and team members assigned to execute them. But even with these investments, teams continue to struggle in this space. Fewer than 20 percent (18 percent, to be exact) of KM professionals reported that their organizations are effective at making employees aware of available KM approaches and the reasons for participating in them. I've chosen to highlight this number as our May KM metric of the month in order to discuss ways to improve KM communications.
Improving How Your KM Team Communicates
Getting through to employees isn't easy, but APQC's research points to some ingredients for success. Messages are most persuasive when tailored to each potential audience and delivered in person by a leader or another trusted source. Figuring out exactly what to say involves an understanding of both psychology and marketing: You need to figure out what makes someone tick and then, if you can, connect KM to those intrinsic motivations.
For example, if senior technical experts are already overwhelmed and can't imagine how you expect them to fit knowledge sharing into their packed schedules, you can show them how documenting some of what they know—or teaching it to others—can actually reduce their workload. Your message might highlight the fact that, if they participate in a community forum, they're answering the same questions they're already answering by email, but they're also creating an accessible record that future knowledge seekers can leverage (or that they can point future questioners to). KM team members can make this argument, ideally supported by data or documented success stories to back up their claims. However, it will have more credibility if delivered by their manager or—even better—other technical experts who are already using communities and experiencing the benefits. Communication is better as a team sport, so engage any early adopters and enthusiasts you can find to help spread the word.
Download the full infographic from our Knowledge Base for some additional tips to jumpstart your KM communication effort. And if you'd like more detailed guidance in this space—including best practices to build a brand for KM inside your organization and develop and deliver KM-related messages—I recommend APQC's new Communicating About Knowledge Management collection. You'll find a guide to communications, best practices articles (check out this one that's free for nonmembers until the end of the month), and even a template to build your own communications plan.