Reverse Logistics: Backward Practices That Matter (Best Practices Report)
Details
Type:
Published:
August 26, 2007
Author:
APQC
Pages:
118
Price:
Your Price: $395.00
Member: FREE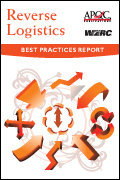 Evolving financial and competitive pressures, increasingly demanding customers, and complex environmental regulations have elevated the attention paid to reverse logistics activities. As product life cycles shrink, many organizations are realizing that reverse logistics is a critical process for increasing quality and profitability.
APQC's report Reverse Logistics: Backward Practices That Matter showcases enterprises that recognize the importance of reverse logistics and have successfully implemented collaborative programs with their supply chain partners. This APQC research was sponsored by the Warehousing Education and Research Council (WERC).
The report includes in-depth case studies of the following best-practice organizations:
Carolina Logistics Services Inc.,
GENCO Distribution System Inc.,
McKesson Corporation (Pharmaceutical Distribution—McKesson Supply Solutions), and
Raytheon Aircraft Company (Raytheon Aircraft Parts Inventory and Distribution).