New Product and Service Innovation: Improving Front-End Effectiveness (Best Practices Report)
Details
Type:
Published:
November 30, 2008
Author:
APQC
Pages:
160
ISBN:
978-1-60197-155-5
Price:
Your Price: $395.00
Member: FREE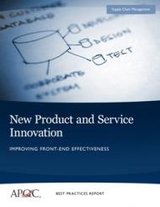 What are best-practice organizations doing to enhance their performance in the early stages of product and service innovation? How do organizations foster ideas and ensure that worthy and profitable concepts make it into development? In this report, APQC has identified 11 best practices to answer these questions, which were grouped into four front-end innovation study focus areas:
Managing the portfolio of concepts
Innovative idea management
Early-stage milestones
Organizational considerations
The classic report examines five best-practice organizations: Computer Sciences Corp., Ethicon Endo-Surgery Inc., Kennametal Inc., Kraft Foods Inc., and Shell International Exploration & Production.