APQC, in conjunction with EPM Channel, conducted a survey this summer to better understand trends in finance talent development. When asked, "what one change would make the most difference to your finance organization and its ability to add value to the enterprise?" 26 percent of survey participants responded with a desire for better technology and information management tools. The second most popular responses (tied at 20 percent) were to change or enhance the role of finance and to increase finance staff. The survey drew responses from finance professionals at 119 organizations, mostly U.S./Canadian and European, and generally medium or large-sized.
Although technology is important, it should not be the primary concern when selecting and integrating it into the work flow. In APQC's Putting Knowledge in the Flow of Work Best Practices Study, a key theme throughout the study worth noting is that knowledge management (KM) programs should focus on people, processes, and technology—in that order. For more information, see When Selecting Technology, Look for Tools That Support Existing Processes and Fit the Culture.
Post-2008 recession, the role of finance within the enterprise has significantly increased in importance. However, only 5 percent of survey respondents believe that finance is currently delivering game-changing value while a staggering 42 percent believe that finance has the potential to deliver game-changing value to the business. The biggest barrier preventing finance from having its desired impact is a lack of time to perform value-adding analytical work (Figure 1). The second and third largest barriers cited are the root of the problem, which feeds into our discussion from above.
What are the biggest barriers that prevent your finance organization
from excelling as a partner to the business today?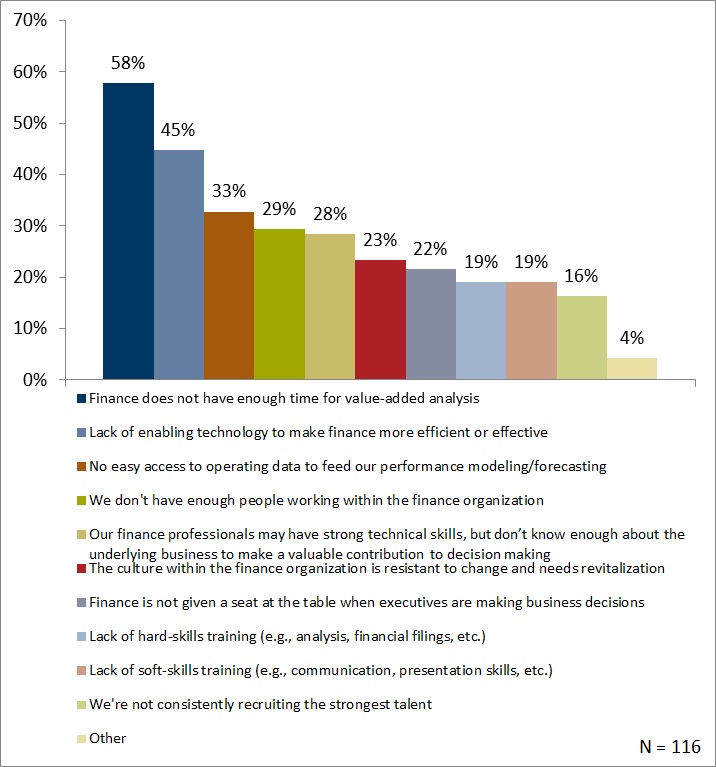 Figure 1
The fourth largest barrier of not having enough people working within the finance organization is congruent with the third aspect respondents would change in their finance organization. Before turning to external sources for recruitment efforts, consider your existing finance talent and what motivates talent flight. Retaining Strong Finance Talent takes a closer look at what organizations that have an excellent of very good ability to retain strong talent do in order to hold onto their finance people. Effective training and development programs not only enhance the value finance can bring to the business, but they also empower finance professionals to advance their own careers within the organization.
For more information on the finance talent survey, download the full summary report A New CFO Priority: Talent Development with a Focus on Soft Skills.