I talked to Danielle Spudich, knowledge management analyst at Liberty Mutual, about her organization's efforts to deliver information to employees at the right time and in a format to enable them to learn quickly.
Danielle Spudich will be a breakout session speaker at APQC's 2017 Knowledge Management Conference April 27-28. You can learn more about APQC's 2017 KM Conference here.
Why did Liberty Mutual start to look at how people were consuming information and learning?
The knowledge management program was formally initiated in early 2015. The KM team was challenged to find an innovative platform that produced just-in-time dynamic and interactive reference material that increased employees' engagement in finding knowledge at their point of need, which allowed them to positively impact the customer experience.
For over three years, internal feedback suggested that processes remained an obstacle to customer service and the success of their employees. There was also a necessity to leverage knowledge and expertise from tenured employees to newer employees. Senior leadership understood the benefits of extracting tenured employees' successful processes and bringing newer employees up to speed in record time in a way they are used to absorbing information.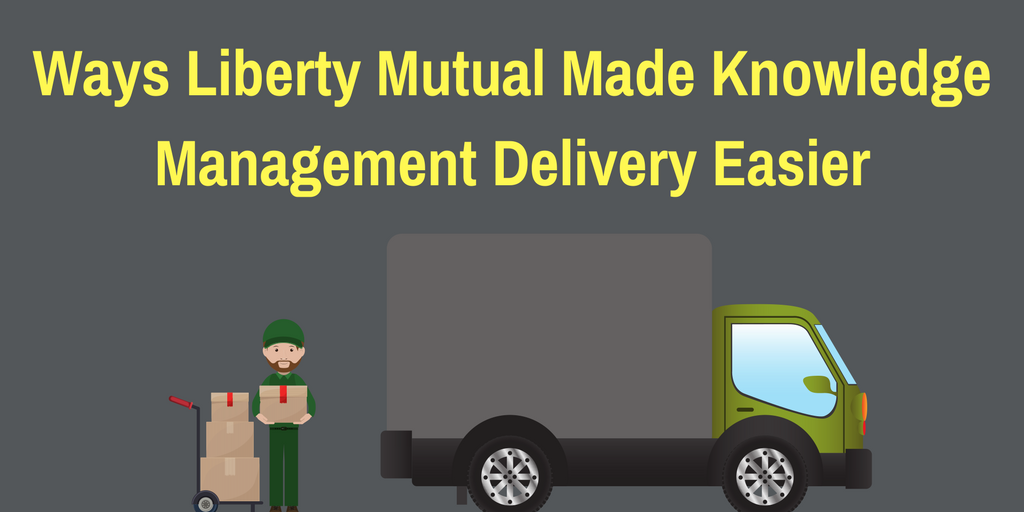 A lot of times people are looking for knowledge to solve a specific problem. How important was it for your organization to provide information in one central location?
Historically, CI Claims stored reference material in a variety of places including multiple SharePoint sites. The sites consisted of drop-down lists of hyperlinks to static Word and PDF files, which were often long and extremely text-dense. We wanted to ensure that there was more consistent governance over this process to avoid duplication and provide updated content.
Gone are the days of providing long, text-dense documents where users have to scroll through thousands of words to find the information they need. How did you identify the new ways employees wanted to consume information, and what did you do to address these needs?
Prior to 2015, the KM team started out as content specialists who worked on a project to reconcile thousands of web pages and documents from multiple platforms due to internal. They worked closely with key stakeholders to successfully manage multiple implementations of content reconciliation, taxonomy creation, content conversion, content design, and user acceptance testing.
Even after all of the time and resources spent in creating a one-stop shop for employee reference material, employees were still having issues absorbing the content. Due to system limitations, content was still being displayed in long, text-dense Word and PDF documents. The information was easily accessible to employees but could have been presented in a more digestible format. It's not a secret or surprise that we learn differently today than we did 20 years ago. There is evidence that shows we retain more information when it's presented in a more visually appealing way (e.g., photos, videos, etc.) CI Claims senior leadership understood the importance of finding an innovative platform that would allow the KM team to present the information just-in-time and in formats we are all used to consuming.
A new process for continuous improvement in creating and governing reference material was implemented. Our continuous improvement team works closely with employees to create clear processes for performing their roles and responsibilities. The KM team works closely with the continuous improvement team to design those processes in easily digestible and interactive content. Our analytics team assists with obtaining metrics on usage of content, which feeds back into the continuous improvement team continually collaborating with employees on improving their processes.
How do you measure success from these efforts?
The KM team is currently working with the analytics team to create a dashboard for viewing usage by operation per month and year-to-date. Prior to this, metrics on the use of reference material were not consistent and nearly impossible to extract. The KM team can not only view content usage metrics, but also start discussions and perform deep dives into the usage of this interactive content and its impact on employee engagement, customer experience, and quality assurance.
Since the ways information can be consumed are always changing, what do you see as the biggest challenge or opportunity your program will need to tackle in the future?
Spontaneous combustion: The KM team continues to assist other Liberty Mutual departments with converting their static content to interactive, more easily digestible content on this innovative, state-of-the-art platform. Because it offers responsive design, employees can access their reference material via a mobile application at any time and from any device. The content is easily searchable and will always be the most current, up-to-date version. Communication to employees is also easier as changes to processes are provided in real time within the platform.
CI Claims understands that the future is now. The next time we need to respond to a catastrophic event like a hurricane, we will have all of the resources needed to assist our customers at their time of need in the palm of our hand. Our biggest challenges are maintaining governance as our content changes and continually enhancing our current content through the use of more video vignettes, infographics, etc.
Danielle Spudich is a knowledge management analyst at Liberty Mutual Insurance where her team is currently transitioning all departments within her organization onto a new content management platform. On the side she enjoys the exciting mom life with her four and five year olds.
You can follow Danielle on Twitter @DanielleSpudic1 and find her on LinkedIn.