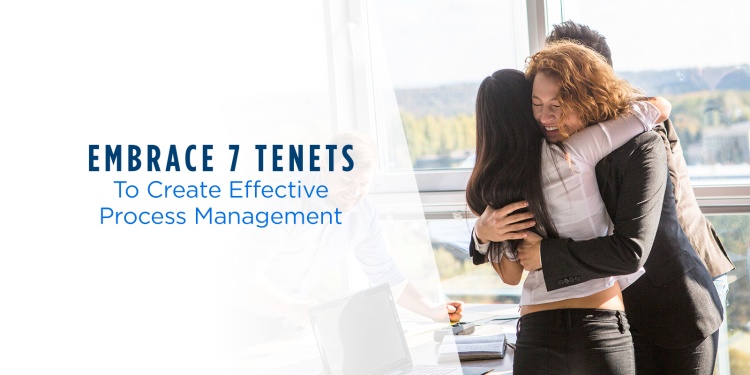 Process management programs/departments are often developed or gain prominence because of an organizational need. Some of these needs could include, standardizing across business lines, urgent improvement, or to support a new technology project. As a result, organizations often fail to establish a sustainable approach that continues to provide value after the initial effort. 
APQC's Seven Tenets of Process Management are tools that can help organizations overcome the issues where so many organizations go wrong: stopping at the design stage or haphazardly conducting one-off process improvements. 
What are the Seven Tenets?
Strategic Alignment
Is synonymous to understanding which activities in your life are important, so you know where to focus your energies for the most value. Consequently, this tenet focuses on alignment between process efforts and organizational strategy, including the execution of key projects. 
Governance
Governance really focuses on the rules of the game. How we ensure a consistent application of process across the organization. Consequently, this tenet focuses on roles, accountability, and consistency in policies and methodologies. 
Process Models
Process models ensure that you have what you need to discover and document your processes. A key component of this tenet is establishing a process framework. Frameworks provide the building blocks you need to piece together your processes. 
Change Management
This tenet looks at taking people along for the ride and finding ways to take them out of their comfort zone and trying something new. Consequently, this tenet looks at the communication, training, and engagement practices for involving employees in process efforts and projects. 
Process Performance
The focus here is on the health of the processes rather than the individual's performance. Consequently, the tenet focuses on measures, control points, and compliance that work like blood pressure monitoring and wellness exams. 
Process Improvement
Like any home improvement job, you must make sure you are fixing the right thing and using the right tool for your project. This tenet helps you look at how to identify, manage, and use a full toolbox for your process needs. 
Tools and Technology
Last but certainly not least is the tools and technology tenet. This tenet is particularly important in the age of digitalization. The idea here is that organizations need to understand the process foundation and its relationship to our technologies. Consequently, this tenet looks at process automation and management tools. 
Strategic alignment, governance, and change management provide the foundation to establish clear goals and a strong infrastructure. These tenets act as guiding principles for prioritization, help reduce risk, and negate resistance due to a clear value proposition and effectively assigned resources. Organizations that adhere to the performance management and process improvement tenets are also less likely to face implementation challenges, including lacking established goals for process efforts and poor executive-level buy-in. 
Though all these tenets are important, the importance of each will vary over time and current focus. However, to keep your program balanced you leverage the appropriate tenets at the appropriate times.   
This is just the beginning of an ongoing series exploring the Seven Tenets in depth. You can expect a deeper dive on each tenet throughout the year. This series will include videos, blog posts, new research, and collaborations opportunities. So please stay tuned. 
In the meanwhile, you can find more about the Seven Tenets in APQC's Seven Tenets of Process Management or join us for a webinar on March 25th, Expanding the Value of Process Management: Seven Tenets, where we will discuss the Seven Tenets, maturity models, and best practices. 
Additionally, APQC has specific training on the Seven Tenets that you might find interesting.  The two courses that really hit on these tenets are:
•    Process Management Essentials
•    Process Framework Essentials