The 5 W's of Learning in 2018 Have Employers Asking—How??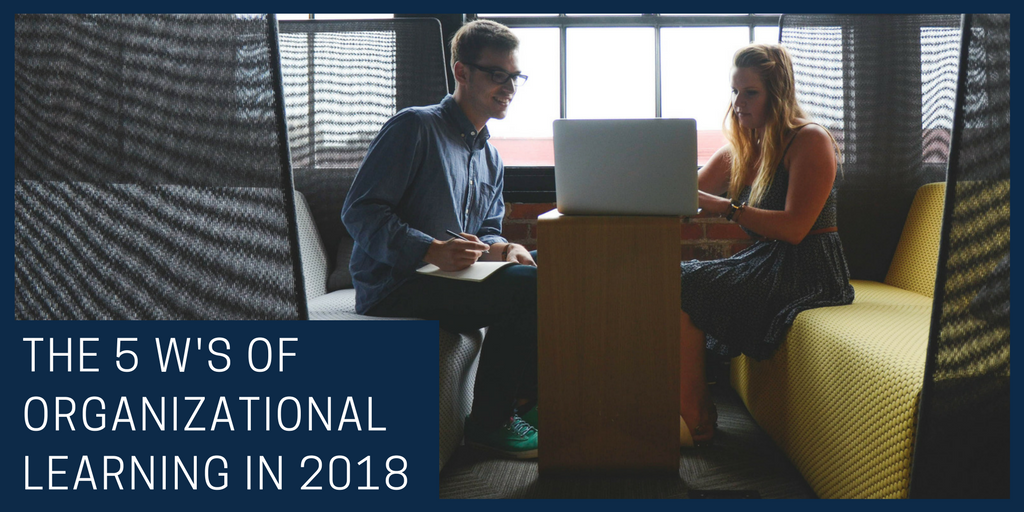 Developing talent is getting complicated. Employers are seeing changes in who needs development, what skills must be imparted, when people are available to learn, where learning can (or must) take place, and why talent development is a corporate need
The 5 W's of Organizational Learning in 2018

Who

Different generations—from Baby Boomers to Generation Z
Different types of workers—permanent employees, subcontracted employees, independent contractors

What

New skills—data and digital
Mixed skills—each worker needs hard and soft, expert and generalist skills
Uncertain skills—difficult to predict future skill requirements

When

No time for learning—lean operations and heavy workloads
Urgent learning needs—innovate fast or become obsolete

Where

Dispersed learners—global, virtual workforce
Mobile learners—transitory work sites

Why

Short innovation cycles—fueled by advances in science and technology
Intense competition— for customers and talent; from across the globe and established and start-up entities
How will we deliver learning that effectively addresses all of these changing organizational needs? This is the question that is emerging with increasing frequency in our ongoing conversations with members.
APQC is working to showcase promising answers. And in the process, we are finding good news. While employers are facing a host of new talent development challenges, they are at the same time gaining access to a suite of new and innovative learning techniques. BAE Systems, Inc., Schneider Electric SE, and The MITRE Corporation provide some examples.
BAE Systems, Inc. is focused on deploying mobile and just-in-time learning opportunities and is exploring breaking down its curriculum into micro-learning modules.
Schneider Electric SE is planning to build out its development and training content to provide more digital solutions for self-service such as mobile training and on-demand modules. Its leadership development app pushes curated content to leaders based on their viewing habits and interests.
The MITRE Corporation has introduced a new approach to performance management that shifts focus from assessment to development. MITRE also supports all employees in taking ownership of their own career development.
Mobile learning and gamification are two technology-enabled learning techniques that employers like BAE Systems, Inc., Schneider Electric SE, and The MITRE Corporation have at their disposal. Augmented reality, simulations, social networking, and artificial intelligence can also be used to deliver learning in new ways.
And technology isn't the only force available to fuel learning innovations. Data and analytics can be applied to identify/predict learning needs, recommend learning activities, and measure learning application. Similarly, advances in neuroscience promise to assist employers in tailoring design and delivery to how adults learn best. 
Throughout 2018, APQC will continue to research innovations related to "how" organizations are rethinking learning. In the meantime, check out these new APQC case studies that illustrate how BAE Systems, Inc. and Schneider Electric SE are tackling learning in 2018. And don't miss our on-demand webinar featuring practitioners from The MITRE Corporation.
Employee Development Best Practices: BAE Systems, Inc.—Read how BAE Systems, Inc. develops employees and leaders through rigorous assessments, corporate functional universities, an integrated learning management system, senior leader accountability, and strategic investments.
Employee Development Best Practices: Schneider Electric SE—Learn how Schneider Electric has built an agile, competency-driven employee development program that provides the entire workforce access to experience, education, and exposure while also targeting specific workforce segments for more intensive support to accelerate development.
Rethinking Performance and Career Management at MITRE—Listen to the recording or view the slides from APQC's January human capital management webinar. The MITRE Corporation's Priscila Metzgar and Lisa Gold talk about MITRE CLEAR Conversations™ and Career Insight™ programs.
What are your organization's 5 W's for learning in 2018? How will your organization deliver on new learning needs? Share your thoughts with a comment or reach out on twitter @ElissaTucker or LinkedIn www.linkedin.com/in/elissatucker.