A Proven Approach for Developing Knowledge Management Strategy for 2018 and Beyond

Welcome to Fall and the Season of Strategic Planning! If your organization is like ours, you may be in the midst of meetings to reflect upon the past year and evaluate organizational performance, as well as planning sessions for a successful 2018. Strategic planning, while vital, can sometimes be a nebulous, overwhelming process, and there are many inputs, tools, and techniques for successfully conducting strategic planning[1].Fortunately, when it comes to building a comprehensive enterprise KM strategy, APQC has created one proven approach for successful KM strategy development.
The approach is outlined in APQC's KM strategy framework, depicted in Figure 1 below.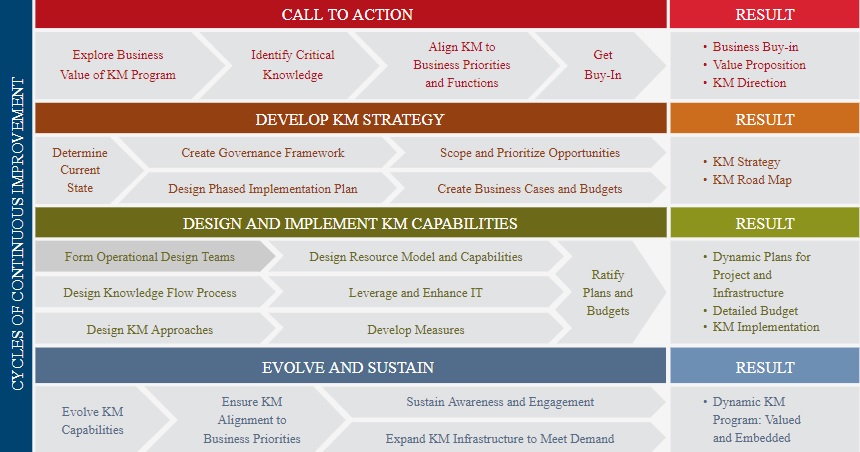 This framework was developed through years of KM research with practitioners across industries and organizational size. As part of our mission to find and disseminate best-practices information, APQC has created an interactive KM strategy framework online whereby member companies can hover over each chevron in the framework which will link to our latest best practice content on these topics. Non-member companies are welcome to leverage the framework as well. However, the majority of this content is behind the APQC Knowledge Base firewall for member access only. For non-members, if there is a particular topic in the KM framework that you would like more information on, feel free to send me an e-mail, and I will email you a copy of one, curated article on that topic to help you further your KM strategy development.
As a compliment to the APQC KM strategy framework, APQC has also created a KM Capability Assessment Tool (KM CAT), a maturity model for KM, also developed based on APQC's years of research. The KM CAT is available online to any organization, member or non-member, as part of APQC's mission to find and disseminate best-practice information. Organizations can download the full assessment in Excel and conduct a self-assessment at no cost[2]. The KM CAT helps guide an organization through what APQC has found to be the 12 capabilities of success, and the maturity evolution within each capability, for building an effective and sustaining enterprise KM program. Many organizations assess themselves via the KM CAT as an important part of their KM strategy development process, as well as on a regular basis for continuous improvement and evolution in KM.
Strategic planning is a vital part of organizational longevity, and there are many ways to arrive at your strategic plan. However, when it comes to developing your KM strategy, why not build on the shoulders of others and follow a proven process? APQC welcomes you to visit our KM strategy framework and self-assess against our KM CAT in order to help your organization launch or continue its journey for better managing, transferring, and sharing knowledge in 2018 and beyond.
---
[1] Sample inputs could include organizational assessments, benchmarking, measurement, and stakeholder interviews; sample analysis techniques could include SWOT analysis, scenario analysis, and opportunity prioritization; sample goal setting techniques could include balanced scorecarding; and sample meeting facilitation techniques/tactics could include off-site retreats, Future Search, etc.).
[2] There is a fee for non-members to receive a custom report showing how the organization's assessment compares to industry peers (there is no fee for APQC members).
Tweet