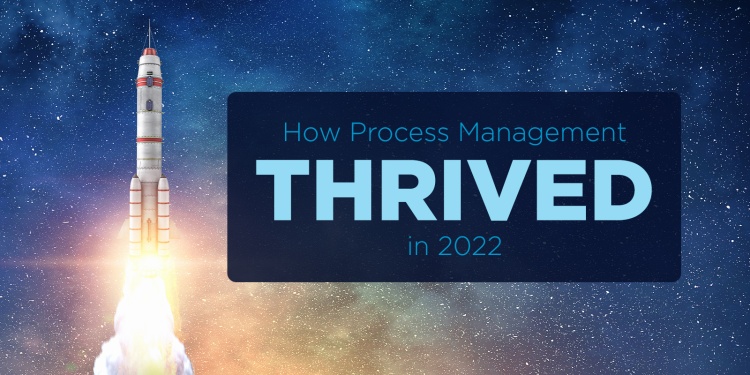 Every year, I like to wrap up by taking stock of process and performance management trends and research we have conducted. Overall 2022 has been a great year for process and performance professionals. Teams have made great strides in how they support the organization, build agility and collaboration into their work, and apply  key technologies. 

That said, the environment these teams work in continues to transform. There were three prominent trends this year that are influencing how process and performance professionals' work.  

1.    Harmonization—In many ways, the days of stringent standardization and complex documentation are fading. Instead, organizations are focused on harmonization which focuses on simplifying process documentation, to ensure alignment and ease of handoffs. In our research on productivity, we found that 45 percent of respondents felt their processes were too complicated and that simplifying or streamlining their processes would improve employee productivity. 

2.    Democratization—process and improvement efforts have traditionally relied heavily on active participation by people in the business (e.g., SME co-development and inputs from frontline employees).  Whether it's digital work, data analytics, or even process efforts, organizations are training and empowering employees to become citizen developers. The applications of low or no code technologies have further enabled democratization by empowering employees to take a role in the design and development of solutions. For example, citizen development has become a deployment method for RPA or workflow automation efforts in organizations. 

3.    Culture—organizations continued to prioritize creating and embedding the "right" culture aimed at their transformations or strategic goals. Whether it's a culture of continuous improvement, data-driven decision making, and/or process-thinking, the goal remains the same: embedding the necessary mindset, norms, behaviors, and skills to drive success. This is particularly important in view of the democratization trend. 
Broader Application and Opportunities

As  noted, organizations have a higher-level of appreciation and understanding about the value process and performance management disciplines provide. Their ability to create clarity around how work gets accomplished, support decisions with data, fix broken processes, engage people in change, and stay flexible enough to support a range of priorities are core competencies these teams can bring to any endeavor. 

Consequently, process and performance professionals are tapped to support a wide array of projects. Moving their scope of responsibilities beyond traditional productivity improvements (e.g., cost and throughputs) to include strategic programs and projects: transformations, strategic initiatives, mergers & acquisitions, and technology implementations. 

Some of the relevant research from this year on ways process teams support organizational goals include:
Tools and Techniques for Process Teams 

Four years ago, process and performance teams realized that they needed to expand their toolbox to include technologies (e.g., automation, process mining, and data tools) and either develop or enhance core methodologies. The reasons behind the need for change varied but key reasons include alignment with organizational goals, shift to end-to-end processes, and expanding toolboxes to include better analytics, people-centric methodologies, and technologies like automation. 
Some of the relevant research from this year on tools, methodologies, and techniques for process and performance management teams include:
Thank you all for another great year of sharing your stories, time, and insights. I look forward to learning more, sharing experiences, and seeing where we all will go in 2023.

As we head into 2023….

Please take a few minutes and share your biggest challenges and priorities for 2023 with us. This information helps us continue to ensure our research agenda meets your needs and understand the common challenges and goals of you and your peers. As a token of appreciation, you will receive a copy of the survey summary report. Individual responses will be anonymous and the survey conducted according to APQC's Benchmarking Code of Conduct.

For more process and performance management research and insights, follow me on twitter at @hlykehogland or connect with me on LinkedIn.