The theme of APQC's 2018 Knowledge Management Conference—Digital, Smart, and Engaging—was a nod to both the technology shifts influencing the KM space and the continuing need to think about KM through a human lens and motivate employees to document, share, and reuse knowledge. The balance between people, process, and technology has always been a tricky tightrope in KM, and many organizations are working to understand how that balance is changing in light of new tools and capabilities.
Key Takeaways from the Conference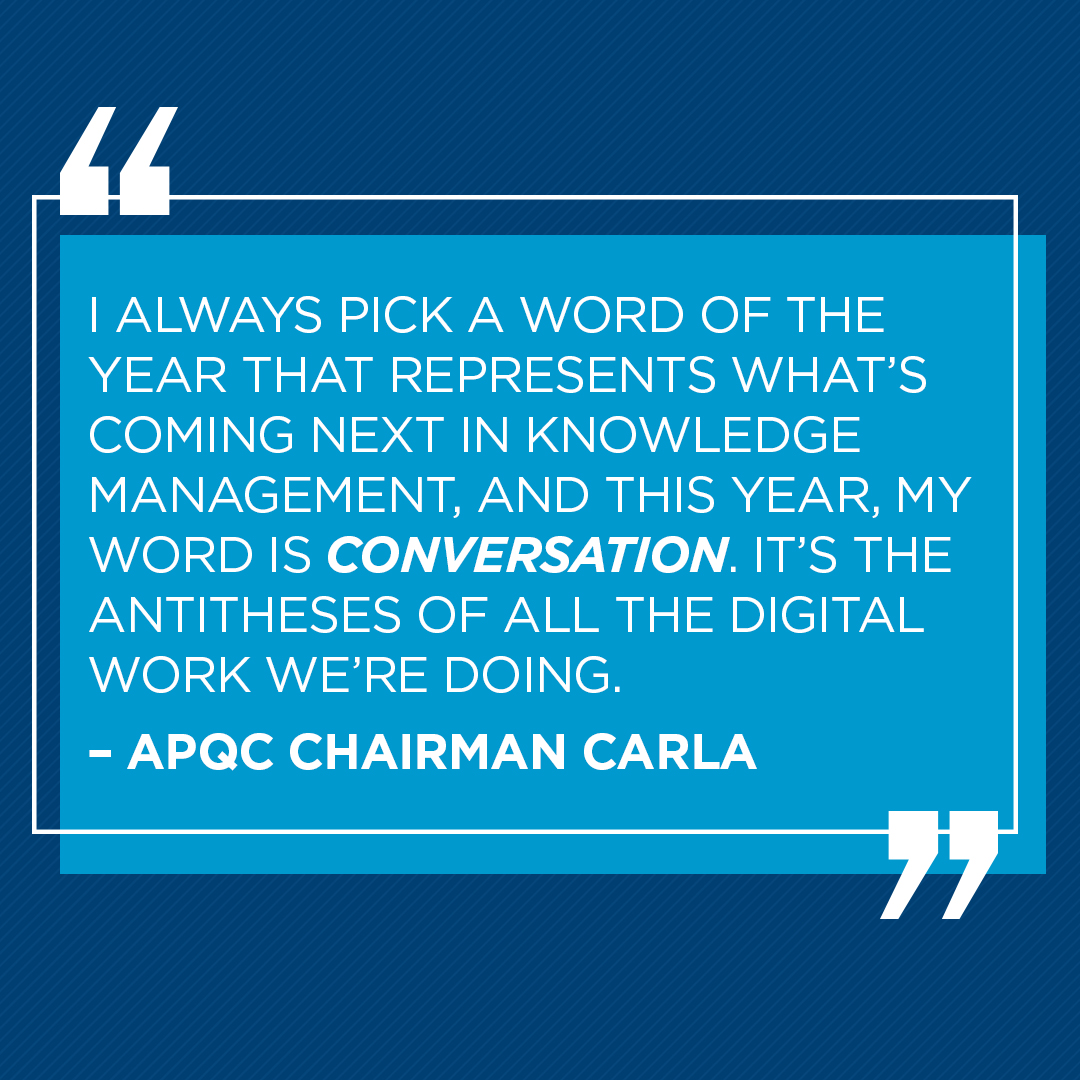 In her opening keynote, APQC Chairman Carla O'Dell talked about 2017−2018 as a turning point for incorporating new technology into KM's portfolio. Cloud platforms are making KM accessible 24/7, cognitive computing and chatbots are improving search and discovery, and robotic process automation is taking over some of the busywork that gets in the way of people contributing their knowledge. However, these new tools cannot deliver on their promise without people to interpret business needs and apply the right solutions to the right problems. In addition to technical savvy, the KM teams of the future will need supercharged people skills, from facilitation and partnering to change management.
Continuing this theme, many speakers aimed to define humans' role in an increasingly digital world.  Professor and author Dorothy Leonard explained ways to protect and replicate deep, experience-based knowledge that defies easy capture in documents and databases. Strategic futurist Nancy Giordano discussed the feelings of disruption engendered by the current pace of change and how organizational leaders can prepare employees to navigate the digital age. And community expert and author Stan Garfield suggested Working Out Loud as a way to leverage social technology to foster trusted relationships among colleagues and usher in a new era of organizational transparency.
While no one has all the answers, O'Dell addressed the tension between the potential of AI and automation and the risk of ignoring human relationship building, which is what spurs us to collaborate and share knowledge in the first place. "I always pick a word of the year that represents what's coming next in knowledge management, and this year, my word is conversation," she said. "It's the antitheses of all the digital work we're doing. We're looking at people with their heads buried in their phones and becoming aware of the dark side of focusing too much on digital. This year is going to be about real conversations with each other."
With more than 350 people gathering to exchange ideas and information, this year's conference was a hub of enthusiastic and insightful conversations. Topics addressed within and between sessions ranged from the building blocks of engaging communities to how early adopters are harnessing disruptive technologies to enhance the delivery of content and insights to their internal customers. And throughout the two-day event, KM leaders could be seen sharing tips and tricks, mentoring one another, and forging real relationships they can tap into for help and networking in the future.
Learning from This Year's Event and Continuing the Conversation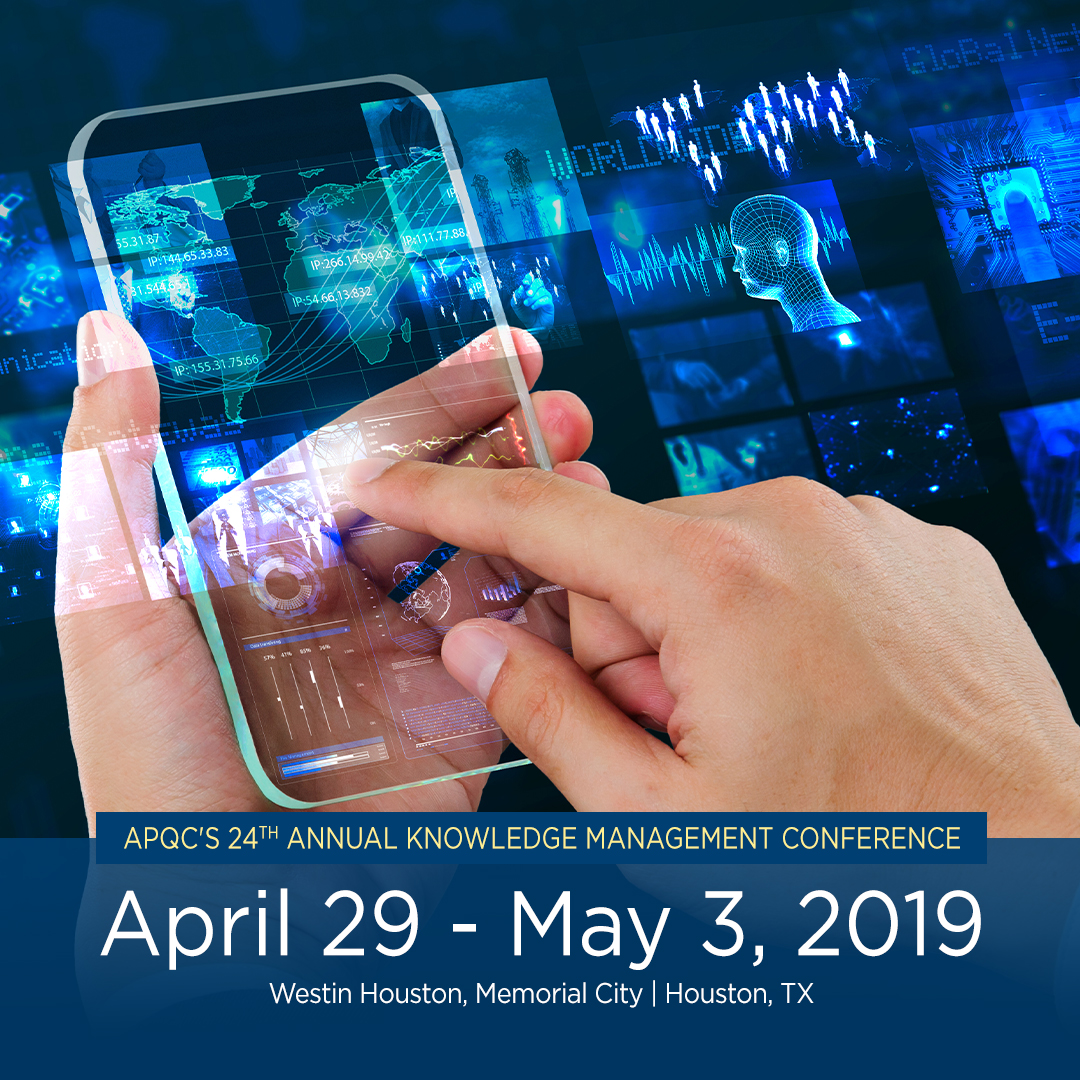 To learn more about the conversations at the conference and the experiences shared, I encourage you to take a look at the presentation slides and written overviews from the sessions. The overviews, which summarize key points and takeaways from each speaker, are available to nonmembers for a limited time. And if you want to see all the fun we had, check out the photos here.
For further insights, APQC Executive Director Cindy Hubert and I will be hosting a webinar on May 31 to discuss the key takeaways from this year's conference, using the conference as a jumping off point to share our thoughts on the current state and future direction of the knowledge management discipline. You can register for the webinar here. I recommend registering even if you can't make it live, as the slides and on-demand recording will be emailed to you.
And if you don't want to miss out on next year's event, you can already register for the 2019 KM Conference.