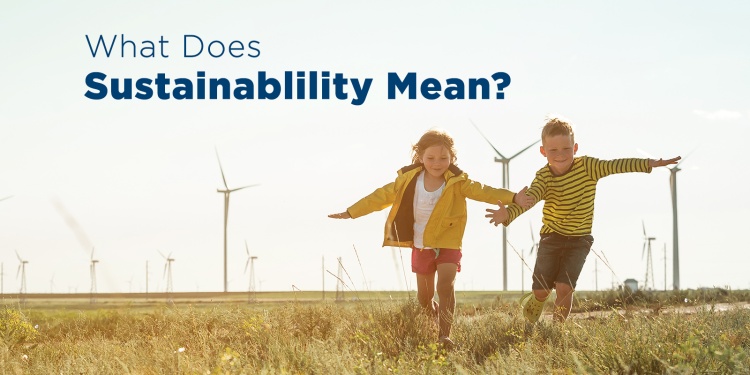 In 2021, the World Economic Forum's Global Risks Report identified climate action failure as second greatest threat to global prosperity in both likelihood and potential impact—following infectious disease. Many of the factors in the high impact and high likelihood quadrant were other sustainability related topics: extreme weather, biodiversity loss, human environmental damage, and livelihood crises.
Consequently, environment has been touted as the next big disrupter organizations should prepare for—often referred to as the Green Swan. Which are different from black swans because there is certainty that climate change risks will, if they haven't already, materialize.
Defining Sustainability
When it comes to sustainability, there are several definitions and buzz terms out there. For some it's the more recent ESG (environmental, social, and growth reporting and investment), while others focus on corporate responsibility, and some continue to refer to the triple bottom line developed in the 1990s.
To create some clarity around this broad term, we created a definition for sustainability at APQC. We looked through the plethora of models ranging from academia to business and boiled them down to a simple statement "sustainability is the capacity to endure" and it's comprised of four key components:
Environmental practices that protect natural resources needed by future generations. Topics include greenhouse gasses (GHGs), water scarcity, carbon footprints, and packaging or solid waste disposal. This aligns with the "planet" roots in the triple bottom line and early environment, health, & safety (EHS) programs. 
People practices that ensure workers within the organization are kept safe and treated equitably. Topics include diversity, equity, and inclusion (DEI) and pay gaps. The people component also has deep roots in EHS but has expanded to include a broader swath of people practices.  
Social practices that promote community development and human rights for people beyond the organization. Social practices take a broader look at people beyond the organization's walls and topics include community engagement programs, philanthropy, and education programs to foster skillsets like STEM. Social started becoming a major component of due to incidents like the Love Canal site contamination disaster in the 1970s. 
Governance, management, and financial practices that promote ethical operations and long-term organizational health. Governance combines the "prosperity" component of the triple bottom like with additional topics like economic contribution, unethical behavior, and anti-corruption. 
All these components help create a holistic perspective of sustainability—because they tie together the many factors that give organizations the "right to operate" and the "capacity to endure".
Drivers of Sustainability
According to our annual priorities research, organizations see environment, social, and climate change as the next big potential hazard that will disrupt businesses. Consequently, the majority (60 percent) of organizations are integrating sustainability objectives or programs into their strategic plans for 2021.
We also asked the survey participants about the drivers behind why their organizations are embracing sustainability and integrating it into their strategy.
The top five drivers were:
Improve corporate reputation—incorporation of sustainability values into the brand to appeal to conscientious partners and purchasers.
New growth opportunities—new product innovations or new places to apply current products or services.
Cost reductions—reduction of expenses along the supply chain.
Green investment opportunities—niche investment market focused on organizations that have environmentally favorable practices. 
Improved productivity—reduction of waste, as well as the positive impact of better work environment on morale and productivity. 
Reporting mechanism like GRI reporting, sustainability indices, and ESG (environmental, social, and growth reporting and investment) have proven, tangible benefits of sustainability for organizations. Specifically, organizations are embracing sustainability in 2021for a mix of brand and revenue opportunities (e.g., reputation and growth opportunities) and internal improvements (e.g., productivity and costs.) However, though sustainability is important organizations still have a lot of questions around:
How should we structure our program?
What types of resources and skills do we need?
What are the best practices for implementing and monitoring our sustainability strategy?
Please take a few minutes to share your thoughts and experiences around your organization's sustainability efforts. This information will help us continue to explore this relevant topic and pinpoint key characteristics and practices of best-in-class sustainability programs. As a thank you all participants will receive a copy of the survey report. Individual responses will be kept confidential according to APQC's Benchmarking Code of Conduct.
Want to be part of the conversation? Share your sustainability experience with us.
For more process and performance management research and insights, follow me on twitter at @hlykehogland or connect with me on LinkedIn.