What do a Ferris wheel, a bowling alley, and a rock wall have in common? Believe it or not, these are office luxuries at companies such as Acuity, Infosys, and Adobe Systems. And these add-ons aren't unusual; there are plenty of organizations that have created jaw-dropping work environments. Need a quick nap at work? No problem, the company Autodesk has rooms designed exclusively for napping. If you enjoy office happy hours consider working at the company Red Frog, which features an in-house bar. For the adventurous employee, the vertical ladder chute at Google might be appealing. The list goes on—whether it's an onsite masseuse or valet parking, companies are sparing no expense to design work environments that are cutting-edge, fun, and functional. For the employees, it's practically Christmas every day.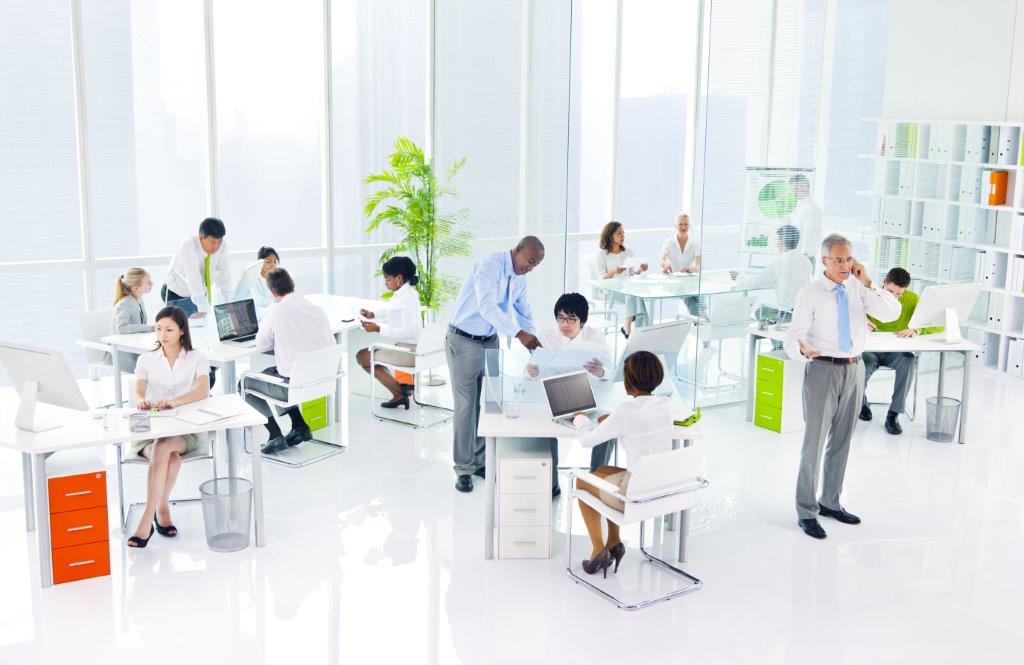 For the organizations, these types of modern day amenities are the gifts that keep on giving. According to an article from The Harvard Business Review (HBR), a cutting-edge office with added extras can improve profits, productivity, and innovation. The Norwegian-based company Telenor, for example, consolidated cafeterias and coffee stations into a state-of-the-art lounge and dining area to promote employee collaboration. The result? Sales increased by 20 percent in just one quarter. Even Santa can't deliver that kind of magic.
Most importantly, employees put leading-edge offices on their Christmas wish lists. This is particularly true for employees categorized as millennials (employees in their 20s and early 30s). One study found that nine out of 10 millennials want the workplace to be social and fun. These are the employees that you're probably hiring, and considering three out of every four workers will be millennials by 2025, it's time to pay attention to what makes them tick.
If you're dreaming of an office makeover this holiday season, the reality is that not every company can provide over-the-top luxuries. But there are some practical things you can do on a smaller budget. If you want to play Santa, here are some ideas to enhance your office environment.
Give the gift of time. The best workplace luxuries are those that save employees time, and relieve stress so employees can focus. Consider finding a local company that offers laundry or dry cleaning services that can be dropped off and picked up at work. Offering home cleaning services is another option, if it's in the budget. Anything that makes life easier will be a much appreciated bonus for employees, saving time and alleviating stress in return.
Throw a holiday party every day. Think about ways to bring employees together on a frequent but informal basis. Why? Because research shows that increasing personal interactions improves profits. One company featured in the HBR article, for example, tracked employee interaction using digital badges and found that a 10 percent increase in personal interaction resulted in a 10 percent increase in sales. Yahoo even revoked mobile privileges in the office to encourage more interaction and discussion. Drastic measures aren't necessary, but think about what might bring your employees together more often to improve profits and productivity.
Put an Anybot in the stocking. Anybots are corporate robots that can be used for many things, including connecting remote employees to the office. According to BloombergBusiness, if your organization incurs significant travel costs for employees to meet face-to-face, Anybots are a much cheaper alternative that can dramatically reduce travel expenses. Plus, employees will spend less time in airports, which is an additional quality of life bonus. An extravagant robot might not be in the budget, but even something simple like a wireless desktop will make an organization more hip and efficient. For inspiration on other tools that can make the office fun and functional for employees, check out the article from Workplace Technology on the 15 Coolest Office Gadgets.
Strategically place the "Christmas Tree." Just as you'd put your Christmas tree in a highly visible location, consider developing a centralized spot in your organization where employees can hang out, relax, and have fun. Food often brings people together as well, so consider offering tasty snacks. In fact, Google has a policy that no part of the office is more than 150 feet from food to encourage frequent snacking, thus enabling employees to bump into each other more often. Can you consolidate cafeterias and coffee stations or repurpose a space into a cool and fresh hangout? The idea is to provide one main area so employees are compelled to gather in the same location to exchange ideas and best practices.
Let employees decorate. The most innovative and creative workspaces encourage employees to express themselves. Let employees customize their workspaces with decorations they love. This creates a funky and fresh atmosphere that inspires the people to be productive as they work within it.
Deliver privacy. Things like Twitter, Facebook, tablets, and smartphones serve a valuable purpose, but they can also be major distractions. And while open offices are nice, they can be disruptive—especially when there's a looming deadline. The solution is to provide ample private spaces so employees can get away and think. Set aside a conference room, library, unused office, or other space where employees can unplug and concentrate. Avoid spaces with fishbowl windows and consider adopting a policy that states that employees using the space should not be disturbed. There's a dual benefit to this approach. For one, employees will be more productive working in an interruption-free zone. Another bonus is that when the employee is finished, he or she will be more engaged with others knowing the mission is accomplished.
Keep it practical. A nap pod is a cool idea, but if your boss doesn't use it, would you? The point is that whatever you do, stay true to your corporate DNA and make sure anything you implement is something employees will value and use.
This holiday season, why not splurge on something new for the office? You don't necessarily need Santa and his elves, efforts can be simple but still have a powerful impact. The idea is to find the right mix of cool, functional, and affordable elements that will increase employee interactions and make life a little easier. In turn, organizations can enhance productivity and innovation—ultimately leading to increased profits. And long after the holiday season ends, this gift will keep on giving.
Have you improved your work environment and seen positive results? Share your story. Leave a comment or send me an email at scarlin@apqc.org.
Checkout some of APQC's resources on how to build a collaborative and productive work environment.