Importance of Regularly Gathering (and Contributing) Employee Feedback

Are you a dog lover like I am? I was very intrigued to read a recent article in SHRM's HR Magazine about the benefits of bringing dogs to the office, something that I certainly am in favor of but our HR director, not so much. According to the recent article from SHRM, a policy of allowing employees to bring their pets to work has resulted in benefits for organizations such as:
increased employee retention,
decreased employee turnover, and
increased employee unity and staff interaction.
As a pet lover, this makes complete sense to me (especially for small, calm pets who are already house-trained)! I would absolutely love the opportunity to bring my adorable little canine, Ace (pictured below in his little doggie stroller at the recent Fulshear, Texas, St. Patrick's Day parade), to work: I would gate off the entrance to our little cubicle with a child-proof gate, and I can promise you that he would mostly likely happily sleep next to my feet all day, while I productively worked without worrying about leaving him at home alone too long without being let outside. (Have you ever looked into the cost of dog walkers or doggie day care? It is not cheap.)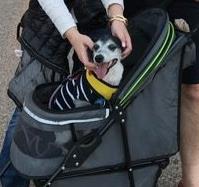 Naturally, according to SHRM, it is important prior to implementing a pet friendly policy to solicit employee feedback and input first, of course (Source: SHRM. March, 2017. "Going to the Dogs." HR Magazine).
To broaden this discussion, APQC's research has found that not only is it important to gather employee feedback about proposed specific HR policies in advance of implementation, it is also important to regularly solicit employee feedback and input via employee satisfaction surveying more generally speaking. The good news is that, according to APQC's Open Standards Benchmarking Research, more than three-fourths of the HCM Organization survey participants perform a formal satisfaction survey at least annually. Examined by industry, leading the pack for this practice is the financial services industry (almost 90 percent of respondents conduct annual employee satisfaction surveying), followed by the petroleum/chemical and utilities industry (86% and 85%, respectively).
This is great news that the majority of the survey participants recognize the importance of employee satisfaction surveys. The benefits of conducting employee satisfaction surveys have been well documented. Employee satisfaction surveys guide organizations in offering employment experiences that engage and ultimately help retain employees. APQC research has additionally found a relationship between employee satisfaction surveying and HR cost (Figure 1):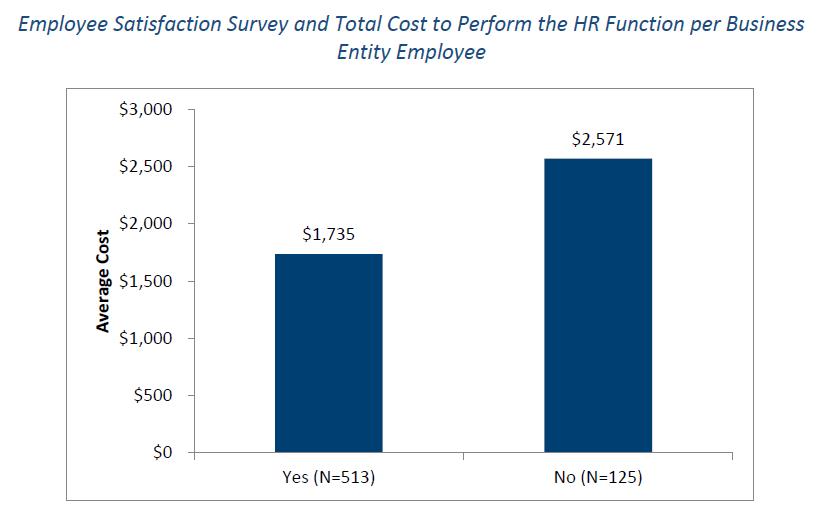 According to APQC's research, organizations that implement yearly employee surveys spend approximately $836 less on the HR function per business entity employee. Ways that employee satisfaction surveying may lower cost include:
To help HR eliminate low-value HR services−HR could use the employee survey to ask employees how much they value different HR services, and then leverage the survey results to eliminate services that employees do not value, thus saving the money it had been spending to provide these services.
To improve upon HR process inefficiencies−HR could use the employee survey to have employees identify inefficient HR processes and share ideas for improvement. If HR makes these improvements, the number of staff hours required to carry out these HR processes would be reduced, resulting in HR cost savings.
To prevent unwanted employee turnover−HR could use the employee survey to ask groups of employees with higher than average levels of voluntary turnover what could be done to engage them at work. If HR takes action and is successful in engaging these employees, turnover would likely be reduced. Lower turnover would mean a reduction in HR spending on replacement hiring and new hire training.
And employee surveying is just one technique for gathering employee feedback: there are certainly others, such as (Figure 2):
town hall meetings,
informal suggestion plans,
focus groups,
formal suggestion plans, and
online communications databases.
For example, APQC has frequently studied oilfield services company Schlumberger, who leverages such tactics as focus groups, interchange forums between senior leaders and employees, and field visits, in addition to formal employee satisfaction surveying to regularly gather employee feedback.
By the way, this blog is not meant to de-emphasize the role and responsibility that employees should feel in communicating their relevant workplace preferences and in their own engagement, as my colleague Elissa recently blogged about in her post "Is the Employee Survey Process Broken Too?" Employees have a responsibility to speak up. Adam Grant says in his new book, Originals, that when we become unhappy with a situation (at work, for example), we have essentially four choices: 1) exit (you leave the situation, which benefits yourself but not others in the organization), 2) voice (you actively try to improve the situation, benefitting both yourself and others at the organization), 3) persistence (you choose persistence because you are committed to the organization), and 4) neglect (you stay in the situation, but reduce your effort). True originals often exercise the voice option (Source: 2016. Grant, Adam. Originals: How Non-Conformists Move the World." New York, New York: Viking).
In summary, there can be great value and payoff for both the employer to actively gather, and the employee to actively contribute, employee feedback, be it about the current workplace or proposed new workplace ideas and suggestions. Per Grant, "In the long run, research shows that the mistakes we regret are not errors of commission, but errors of omission. If we could do things over, most of us would censor ourselves less and express our ideas more." (For those of you who read my last blog, this is a suggestion for your "Quote Sheet.")
Tweet