At one point, you probably read Robert Fulghum's credo All I Ever Needed to Know I Learned in Kindergarten. It illustrates rules and expected behaviors for new kindergarteners. Some say it's relevant at any age, and given the office environment at many organizations, now might be the time to revisit its advice.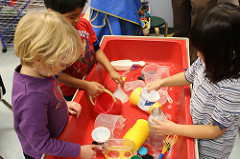 Let's face it, the work environment is pretty much a classroom for grownups. Although there are no cookies and milk, there are a lot of interactions in the office that can benefit from the basic principles of good behavior. However, according to the New York Times, incivility in the workplace is on the rise. Recently, the article "No Time to Be Nice at Work" highlighted the effects of incivility in the office. Not only does incivility have an adverse effect on productivity, but it also can lead to health concerns including increased appetite and obesity. A study mentioned in the article tracked women who worked in stressful environments and found that the risk of cardiovascular events increased by 38 percent over 10 years.
In addition to health concerns, incivility can impact your organization's bottom-line. Research shows that employees who experience incivility tend to be more stressed, spend less time at work, and have lower productivity. And there is a domino effect. These employees start to dislike their jobs and eventually look for employment elsewhere. Believe it or not, one study found that 60 percent of employees believe that co-workers' annoying behaviors negatively impact the workplace, and as a result, 40 percent reported they looked for new jobs.
So why is workplace incivility on the rise? Some blame technology. We're constantly wired to our phones, computers, and other gadgets. This means it takes more effort to engage and really listen during meetings and conference calls. Being inattentive gives the impression that you don't care about the person that's speaking and it can make you appear standoffish. Plus, missing a comment or a body cue while you're plugged in can lead to misunderstandings and eventually conflict. You get the idea. People don't pay as much attention as they used to.
In addition, there are greater expectations placed on employees at many organizations, simply because technology and other innovations make things easier to accomplish; that translates to a bigger, better, faster mentality. This stresses out employees, and they might start to resent other employees if it seems like someone isn't pulling their weight.
So what can you do? Here are some basic tips to make sure your office plays nicely.
Remember your manners. When is the last time you gave someone a genuine smile in the office? It's an easy way to set the tone for a civil encounter and creates a good feeling. In addition, as you were told in kindergarten, manners matter. Remember to say "please" and give a heart-felt "thank you" when someone goes the extra mile.
Use your words. You hear mothers telling their children the same thing, but yes, no matter your age, it's important to use your words. Communicate views on business matters in a non-confrontational but honest way. Don't leave a meeting wishing you'd said something; it could turn into a bigger regret down the road or lead to confrontation. On the same note, think about what you are going to say before you say it. Keep in mind, however, that sometimes what you say is not as important as how you say it.
Listen to the teacher. Put down cell phones, close computers and any other devices you use, and simply pay attention during meetings and conversations. Make eye contact so the speaker feels like you are listening and ask questions that show a genuine interest.
Share your toolbox. Share your talents, resources, and know-how. Don't be a knowledge hoarder. To increase your personal value in the organization, offer your services and know-how, especially with new hires and transfers. Most importantly, share credit when credit is due.
Make friends with the bully. Instead of increasing conflict between you and a coworker, find an opportunity to learn more about that person. Find out how you can be supportive in the situation and apply empathy. View disputes or conflicts as an opportunity to get to know the person better.
Expand your social circle. Be inclusive, not exclusive in the office. Lead by example and invite the newbie to coffee or initiate lunch with someone outside your department. In other words, expand your social circle at work. Make new friends and find out what they do.
It's not rocket science and even kindergartners need to learn the basics. Yet as we get older and enter the corporate world, it's easy to forget the principles of good behavior. Consider sharing Fulghum's credo and this blog post with your colleagues in order to spare your office from some of the adverse effects of incivility.
Are you curious as to whether or not your organization has a high rate of incivility? If so, take the New York Times Quiz: How Toxic is Your Work Environment? You can also learn more about combatting incivility at work from the following APQC resources:
What have you done to address incivility at your workplace? Leave a comment or send me an email at scarlin@apqc.org.