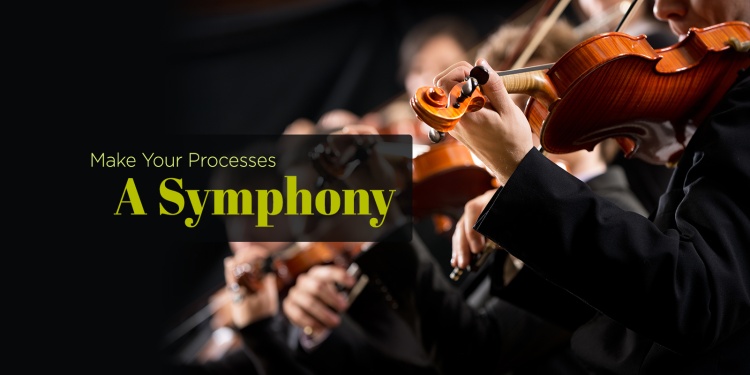 Only 20% of new businesses make it past their first year. This is a statistic that most business founders understand and make every effort to be on the right side of. While it's true that starting a new business from scratch presents with significant challenges, keeping a business running through multiple growth cycles while continuously adapting to market and environmental changes is the ongoing job of a business leader.

Building a successful enterprise is more than just getting funding or ensuring a steady cash flow. The ability to carefully balance the use of your finite resources – financial, physical, or human - is paramount to the sustainability of a business.
One way to be a good steward of the resources is to understand that a highly functional business is a business that runs as a highly functional system of interrelated parts. These parts must run rhythmically like a well-oiled machine, in sync and in the pursuit of one common purpose, to serve the customer.
For a business leader, getting the many parts of an organization to work in sync is like being the conductor of an orchestra. For example, the conductor is in command of the resources at their disposal and leads the orchestra by knowing all the musicians and their instruments and having a plan for how they must work together. The conductor sets the pace and tone, and their leadership is visible to all. By doing her job, the conductor gets the musicians to play in sync, and when this happens, they make music. If they are out of sync, they make noise.
Like a conductor, business leaders are in command of all the resources at their disposal. When they set the tone and pace of work and the workers are in sync, they reduce the waste in the system and produce happy employees and happy customers. However, this can only happen when business leaders and employees understand the relationship among the many factors of productivity across the entire organization.
Business leaders need to constantly dive deeper into understanding how the jobs to be done are all interrelated. They need to understand how jobs sometimes work in series and sometimes work in tandem to produce the desired results. Such a study, inevitably, throws up redundancies, inconsistencies, gaps, and overlaps. Therefore, an enterprise process framework is essential to understanding how to coordinate an organization's resources.
APQC's Process Classification Framework (PCF)® helps organizations quickly and consistently identify and document the many process relationships that enable it to produce value. Doing so, promotes transparency and consistency of how work is done, but more importantly, builds a deeper understanding of value creation throughout the organization.
The world's most successful organizations are constantly in pursuit of ways to become more efficient, productive, and lean. To do so requires a solid understanding of good versus poor performance. If you want to compare performance across your organization or against the best companies, you need to have a clear understanding of the standards of performance. Here again, APQC's PCF provides an avenue to objectively benchmark processes within an organization and against other companies, based on proven process frameworks and benchmark metrics that are refined and enhanced over time. The PCF essentially compiles all the key processes in an organization and groups them hierarchically, building a lucid map of how they all relate to each other.
Orchestrate Process Efficiency with the PCF
Adopting APQC's PCF is like picking up a sheet of music that has been played and refined for years versus writing a new piece of music and working to refine it yourself. The PCF serves as a baseline for organizations to develop their own process framework. It establishes a "common language" based on a pre-defined taxonomy of best-practice, business processes, hierarchically compiled from 13 broad categories into more than 1,000 process elements that can be emulated. One benefit of such a holistic framework is that it allows you to reduce the effort required to establish a process framework by leveraging expertise built over years.
For instance, imagine an organization adopts the PCF in its finance function. If the framework is then adopted in the IT function, no additional context or information is required, because the framework has already considered IT as a subject. It's clear how having a framework like the PCF in place eliminates redundancies between the finance and IT sections of the overall framework. So, the effort invested in the finance section is immediately relevant to work documented in the IT section.
The adoption of such an exhaustive framework allows managers to move from "creating" something new to "refining and extending" something that already exists. It lets you assimilate the process elements that you feel would be valuable and unique to your business. As was the case with Pearson – the company turned to APQC's PCF to standardize processes and create a common roadmap for ERP implementation for two regional teams. The PCF helped the company establish a clear underlying business process documentation framework with process governance for both of their ERP implementation projects. As a result, both the teams were able to implement common process elements for implementation which reduced redundancies and enhanced resource utilization.
Bolster Process Management with the PCF and MosaiQ®
The PCF gives organizations clarity on their most complex operations by linking people, process and systems, together in a comprehensive map. To enhance the scope and capability of the PCF, APQC's MosaiQ® helps organizations to quickly adopt a process framework through a simple drag-and-drop interface. It automates the process of adopting and managing a process framework, allowing users to import template frameworks from APQC or other users, customize the same according to their own unique requirements.
When an organization implements a process framework such as the PCF through a tool like MosaiQ®, it reduces the variables necessary to complete the documentation. Most importantly, organizations are better placed to visualize the relationships between processes across organizational units and systems. All of which, ultimately contributes to the health of your business.
Sign up for an upcoming office hours to learn more about how your peers are adopting and leveraging the PCF in their organizations and to ask your PCF adoption questions to APQC directly.