I talked to Rita Haydar, RWE knowledge management at Eli Lilly & Company, about the challenge of integrating KM into the flow of business and leveraging it to help meet business goals.
Join us to ensure your organization is prepared to empower knowledge workers and compete on knowledge, not just now but in the years to come at APQC's 2017 Knowledge Management Conference April 27-28.
APQC: What drove Eli Lilly and Company to want to customize Salesforce to enable KM and embed it in business processes?
Rita: To those not familiar with Salesforce, this platform is traditionally viewed as a customer relationship management (CRM) tool. As we began our KM journey and established our process and knowledge flows, we explored several technologies that could deliver the functionality we were seeking. Surprisingly for some, Salesforce fit the bill.
Our KM journey began with a learning phase, reviewing KM best practices, surveying existing business processes, prioritizing our needs, and identifying success factors. We then set out to explore the technologies that would enable us to implement our vision for KM. As we reviewed past KM initiatives, we learned from the experiences of others. Along the way, all signs pointed to an integrated KM approach as the most likely path to success.
We adopted the "3CS" model, which brings together content, communication, collaboration, and social building blocks in one ecosystem. Rather than starting with a content management solution, we placed a high emphasis on fostering social collaboration and designing a framework that reflects our processes and knowledge flow. Salesforce as a platform was able to deliver the functionality that could weave these features together for us in one place and allow us to customize it to our needs.
APQC: When integrating KM into the flow of business, what is the first hurdle that needs to be cleared?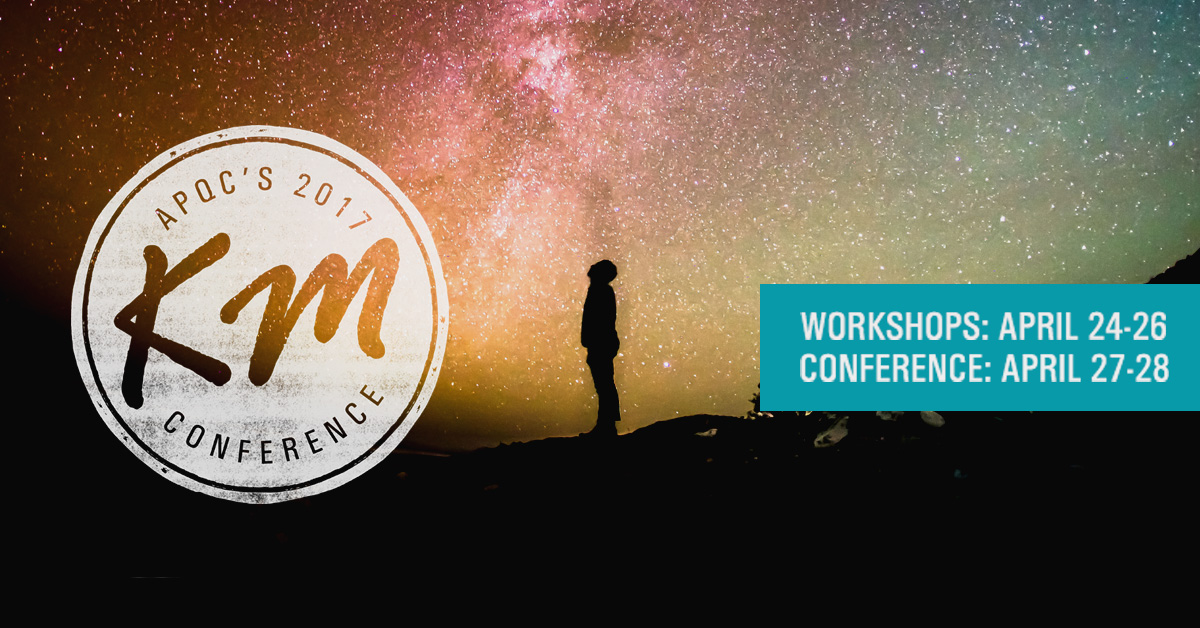 Rita: The first hurdle for any KM program is leadership support and funding. We are very fortunate to have support at all levels of leadership and the resources to execute our vision. The first challenge with integrated KM, specifically, exists before, during, and after design and implementation. It's staying focused on people: those whose workflows are impacted, those who contribute their knowledge, and those who consume it. It's easy to dive into a project and let the processes and tools drive your design. The stakeholders and users of the technology need to be at the forefront of all design decisions; the criticality of frequent engagement and communication cannot be overstated. We have incorporated formal and informal user feedback mechanisms which have already impacted system improvements.
Before we began our search for a platform, our team defined our vision of KM, and designed a graphic to represent it. At the center of this graphic is a person. We felt very strongly that, regardless of the system we create to enable KM, our user should always be at the heart of what we do. We recognized that each person who engaged with KM in our vision was unique. They have a unique role in the organization, they are involved in a variety of processes, and at any given time will have a specific need to contribute or consume knowledge. We set out to develop our own user experience principles that would align with this vision. It has guided every design decision along our KM journey.
APQC: In regards to customizing Salesforce, what was the biggest technical challenge?
Rita: We partnered with an excellent development team that has implemented our vision step-by-step through each release, from a technical perspective. From the viewpoint of the project team, which includes a mix of IT and business roles, one the most significant challenges was setting an agile development cadence that worked for the whole team. Agile development was new to us; the cyclical nature of weeks-lo
ng sprints consisting of requirements-gathering, development, testing, and deployment took some getting used to.
At the heart of this cycle is the effective translation to our developers of the context, business requirements, and functional expectations. The disparate worlds of IT and specific business operations need to come together. Effective communication and conveying context are key. Knowledge transfer, for a three-year project such as ours, is also critical when project team members move in and out of their roles.
APQC: How did embedding KM in the flow of business change the culture inside Eli Lilly and Company?
Rita: Culture shifts, like icebergs, move slowly and have many facets. Only about 10% of an iceberg is visible above water; similarly, many aspects of a culture shift are not readily or immediately observed. Past experiences with KM have not always been positive, so it's not unusual for there to be doubt or resistance to a new program or system early on.
We have seen gradual and steady changes in the ways people share and consume relevant information in the cycle of scientific and business decision-making. As user confidence grows, we gain increased traction with adoption and usage, which continues to enrich the content and climate for collaboration.
With the adoption and engagement curve rising, there is a positive attitude emerging about embedding the flow of knowledge into the flow of work. We've received very positive feedback that our platform is user-friendly, offers time-saving steps with customized guidance, and is leading to insights that are informing the way we execute our work.
"What's in it for me [the user]?" is always at the forefront of our minds. When we answer this question, and demonstrate real value to our user community, the culture shift is propelled. But it's no easy task, and like an iceberg, it moves slowly. Our efforts need to steer it in the right direction.
APQC: What do you expect to be the biggest challenge moving forward, as your KM program strives to sustain the changes and keep KM integrated with the flow of work?
Rita: One challenge we are anticipating, and actively planning for, is managing the steady development of new system functionality along with optimal operational maintenance.  We actively manage our team resources to effectively balance moving forward toward our vision while maintaining what we have created, both from a technology perspective, as well as a user engagement standpoint. Even after we launch our final major release, there will continue to be opportunities to grow platform usage and foster adoption of knowledge-sharing behaviors. The flows of our work are not static; as internal procedures and external regulations evolve, and as we gain insights from our past work, we will need to continue to be agile in our response to adapt the platform and avoid disrupting the flow and cadence that has taken hold.