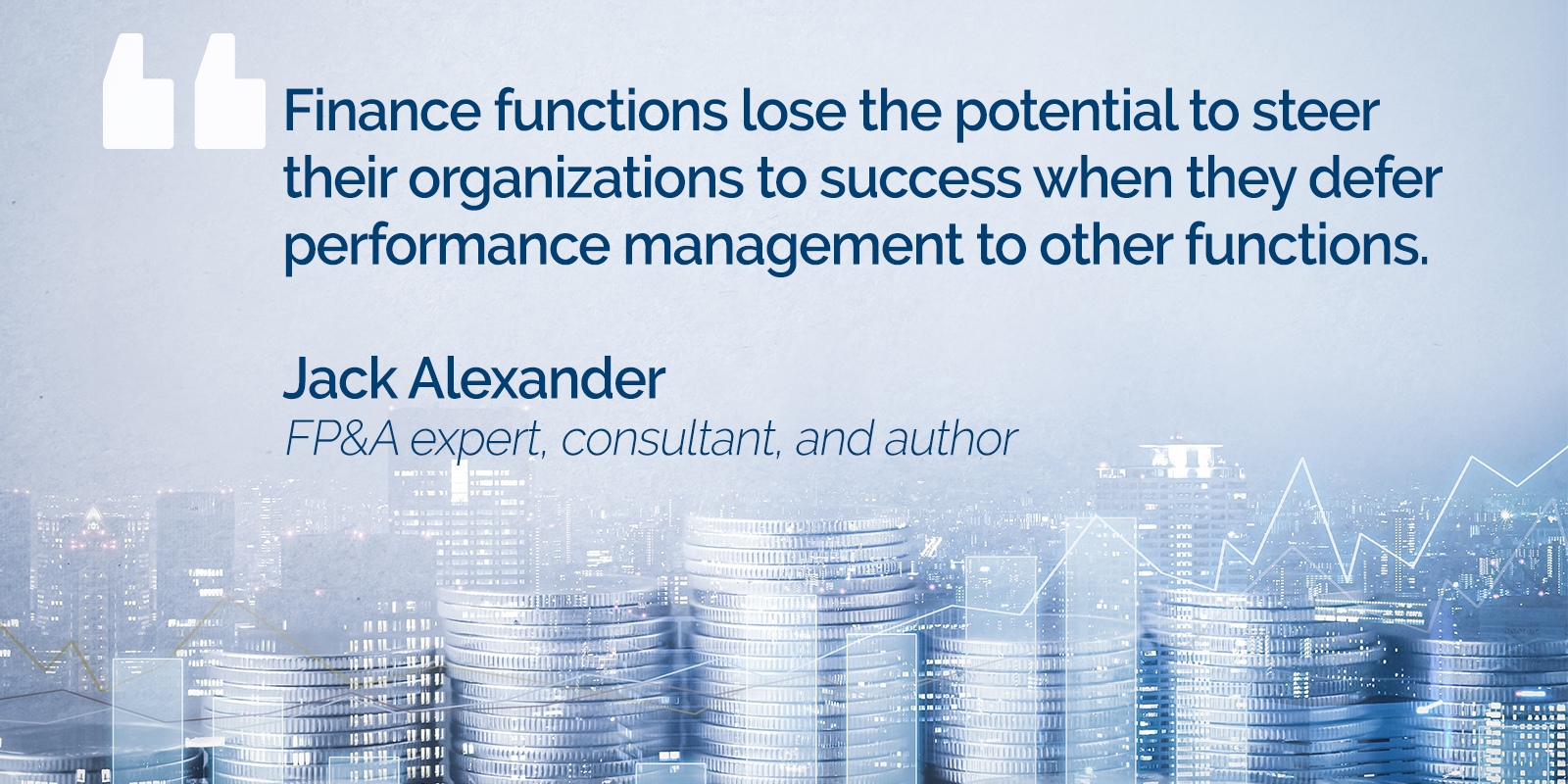 As part of our mission as a nonprofit to find and disseminate best practices information, one of the most fascinating parts of my job as the principal research lead for financial management at APQC is all of the amazing thought leaders that I get to speak with and interview. We regularly tap into a network of thought leaders as part of research projects, monthly financial management webinars, and to help provide insights to the frequent questions on various financial management topics we receive from our members and customers. Over the past few months, we have been focusing on FP&A and performance management, and so I wanted to share with you some of the insights and "notable quotables" that thought leaders in this area have shared with APQC about how to transform FP&A and performance management. We hope you will find these quotes thought provoking as you seek to improve your own organizations' FP&A and performance management initiatives.
On the importance of integration of performance management and FP&A
"Finance functions lose the potential to steer their organizations to success when they defer performance management to other functions. Performance management involves identifying KPIs, building dashboards, and measuring what's happening that will impact future financial performance. So, it's vitally important that it be integrated with FP&A. Otherwise, the finance professional is just a reporter focused on past results. We don't hand aircraft pilots 50 pages of Excel reports after they've landed the plane, telling them they went to the wrong airport or they ran out of fuel. They have real-time insight into the external environment and the aircraft operations. Their instrument panel (dashboard) is a visual presentation without spreadsheets or accounting-ese. So, the question is: Do we have an instrument panel to run the business? It's essential for FP&A and performance management to be viewed holistically like that, because we shouldn't be reporting past performance. We should be helping to successfully land the aircraft."
―Jack Alexander, FP&A expert, consultant, and author of Financial Planning and Analysis and Business Performance Management (Wiley, 2018)
Read more from this SME interview on integrating performance management and FP&A here.
On the role of new tools and technologies for FP&A
"Today, CFOs expect FP&A to do twice as much analysis than is currently being generated. But I don't hear anyone talking about adding twice as much staff. So how do you bridge that gap? It's going to be technology that will enable the capability to collaborate."
"If you want to get beyond basic analytics, then a spreadsheet is not the answer. There's so much data coming in, whether it's structured or unstructured, that we have to change the tools we're using. You can have the right mindset, processes, and people; but if you lack the right technology, you will not get where you need to be regarding decision support."
―Brian Kalish, FP&A expert and consultant
Read more from this SME interview on the transformation of FP&A here.
On critical success factors for creating a strong and innovative FP&A team
"Creating a strong FP&A team comes down to two things: innovation and engagement. FP&A teams have to be staffed by innovative people. Every time the word 'innovation' comes up, it evokes significant investment in big systems, but innovation isn't purely limited to technology. It's also tied to structure, and how much time is being spent on non-value add activities. You have to be willing to break some things to innovate."
"Engagement is also a crucial facet of innovation and comes down to the ability to truly understand the business. You have to get people out of the corporate office to understand what the company does."
―Nevine White, FP&A expert and Executive in Residence, Live Future Ready
Read more from this SME interview on FP&A and beyond budgets here.
On the need for new skills in FP&A
"The talent profile and talent development model must evolve as FP&A embraces the digitally enabled modern finance age. FP&A practitioners will need to leverage their core finance and business acumen skills while increasingly focusing on softer skills including a customer service orientation, flexibility, and collaboration skills. Concurrently they will need to stay abreast of all the emerging leading practices and enhance/extend key skills including advanced problem solving, data mining and data analysis, and ways to drive more predictive analytics. From an associated profile perspective, elements including an inquisitive nature, the ability to deal with and thrive in ambiguity, an insatiable zest for learning, and a positive can-do attitude are all critical ingredients to a successful FP&A practitioner in today's world."
―Philip Peck, FP&A expert and VP finance transformation and advisory services, Peloton
Read more from this SME interview on building the future of FP&A on a strong foundation here.
Also, please visit our web site for more on this topic from SME and author Brian Higgins and Allen Berryman as they guest presented on APQC's recent financial management webinar on "Transformational Performance Management."  Enjoy!