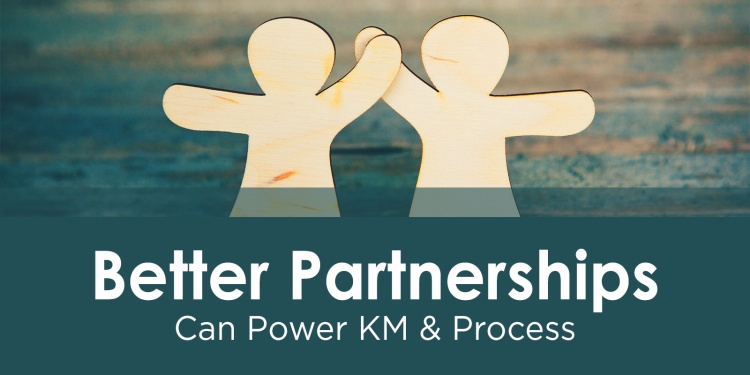 In Mid-May, knowledge, process, and performance management professionals came together in Houston for APQC's 2022 conference. This year's event—Building the Roadmap Together—focused on ways for process and knowledge to solve problems and support new business models, strategies, and organizational needs.  

Knowledge and process professionals are well-positioned to help their organizations succeed with their in-depth experience around problem solving, collaboration, and human-focused design and engagement.

Speakers throughout the conference built on the themes of partnership and human-centricity.

Power of Partnerships

The conference kicked off with a discussion by long-time partners in process and knowledge—APQC's Jeff Varney and Cindy Hubert—on the power of partnering. They emphasized that knowledge is inherently sticky and, without process, it won't flow but will get stuck—whether in databases, repositories, or people's heads. Knowledge is information in action and process drives action.

The partnership between knowledge and process is foundational to APQC's research, as well. Our research partnership (Lauren & Holly's) started—as great partnerships often do— as a casual discussion around the growing intersections between process and knowledge management teams. This conversation ultimately led to several collaborative projects, starting with Managing Project Knowledge—outlined over a napkin at a pub—and culminating in our recent research highlighted during the conference on Fixing Knowledge & Process Productivity Problems. 

We see this same partnership—and its benefits—reflected in many organizations we study and support. At the conference, Elevations Credit Union's Sawyer Hamilton described how his organization paired process and KM in its pursuit of the Malcom Baldrige National Quality Award. Elevations developed a "Special Forces" team, comprised of process and documentation specialists who volunteered to help support goals for improving processes, procedures, and knowledge in specific departments. While the KM team ultimately spun off from BPM as it matured, the two groups still partner closely to ensure employees have the guidance they need to execute their work. 

Human-Centricity 

The success of process and KM initiatives often depends on the strong, symbiotic relationships that process and KM teams build with their internal customers. Effective collaboration with the business requires taking a human-centric approach to understanding problems, engaging employees, and empowering them to solve problems. 

Design Thinking

Design thinking is a methodology to uncover user needs, understand human behavior, and design solutions that reflect what people want—even when they can't fully articulate or anticipate what that will be. 

Conference keynote speaker Dan Kraemer explained that, while design thinking techniques can inform the development of new products and services, organizations also can also apply the techniques more broadly to develop new business lines and operating models. To apply design thinking to business innovation, organizations must determine:
Where to play—identifying unmet or underserved needs and what users really want
How to win—tapping into what the organization is both good at and passionate about
What to build—designing something that is informed by a deep understanding of the customer and the existing business
What to fund—prototyping and piloting to validate assumptions before making a full-scale commitment

Insights from each phase help leaders pursue new growth  in a smart, sustainable way.

In addition to breakthrough innovation, design thinking can also support continuous improvement. At the conference, Endress + Hauser's Barbara Bilyk and Alexander Roettcher explained how their organization incorporates design thinking at the intersection of process management and the customer experience. This combination relies on alignment between business processes and the customer journey—pinpointing improvement opportunities through internal operations and customer experience data. Endress + Hauser then applies design thinking's "double diamond" to dig into the problems and uses ideation, prototyping, and testing for improvement solutions. 

Storytelling 

Storytelling is a powerful means of teaching, absorbing information, and driving collaboration through another's or a shared experience. 
During his keynote, Lance Weiler explored how storytelling inspires and drives collaboration. The underpinning idea behind this is narrative and key components of design: thematic frame (pre-existing knowledge), the trace (contributions to the narrative), granting agency (ability to make decisions that impact the narrative), and serendipity management (moments that foster collaboration in the group). Together, these components help people identify with the narrative (e.g., a project or change) and see their role as agents that can impact the outcomes. 

Organizations understand that good stories drive action. Which is why a core component of engagement for process and knowledge programs is the use of success stories. As part of its efforts TRADOC's KM team is produced a 10-episode documentary series about KM called Mobilizing Knowledge Across TRADOC. KM interviewed senior leaders and soldiers across the command to gather success stories that show how KM helps improve decision cycle effectiveness and achieve results. "Our documentary tells the story of how knowledge management creates a competitive advantage by helping us work smarter and make better decisions," said Pfaff.

Focus on People

Whether its solving problems or supporting new models, strategies or needs—process and knowledge professionals understand that employees are their best allies. Which means engaging employees to garner their involvement and guide them through changes.  

As keynote Bill Benjamin discussed emotional intelligence is vital to recognize, understand, and manage our own emotions to empathize with others and overcome challenges. Change is scary and can often trigger a fight or flight response, what's more it can directly hijack our decision-making capabilities. Hence to lead change and teams requires understanding your own default behaviors so that you don't inadvertently trigger the same response in others and can build a bridge of empathy to drive change. 

CMI focused on people, specifically empowering employees in it Shared Service Center to identify and solve problems by building a continuous improvement culture. At CMI this meant starting with how its shared values (e.g., opportunity to grow together) reinforce or support the improvement culture. In addition to alignment, the improvement team used four pillars—organization, language, technology, and methods—to shift norms and behaviors. 
To learn more about the conference sessions and the experiences shared, check out the presentation slides and overviews. The overviews, which summarize key points and takeaways from each speaker, are available to nonmembers for a limited time.

For more knowledge, process, and performance management research and insights, follow us on twitter at @hlykehogland or @LTrees_KM or connect with Lauren or Holly on LinkedIn.