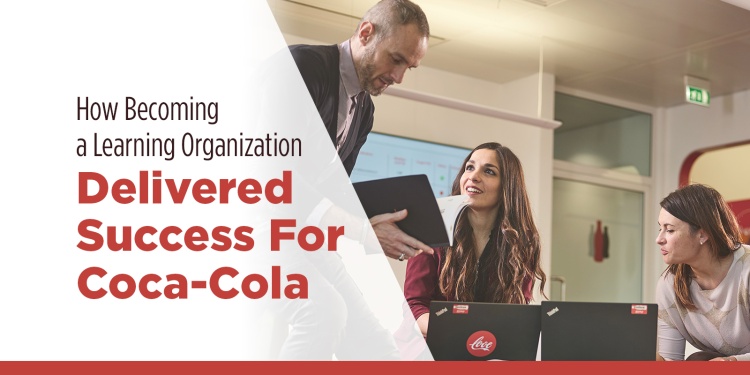 To survive—and thrive—amidst disruptions and unpredictable change, organizations need to foster environments that are conducive to learning. In such environments, employees come together to share knowledge, problem solve, and innovate. Building this kind of learning culture takes intentional and deliberate effort. Recently, I had the opportunity to interview Tapaswee Chandele, Global Vice President of Talent and Development at The Coca-Cola Company, about the organization's efforts to foster a learning culture.  
To learn more from Tapaswee Chandele, register for APQC's complimentary webinar: Coca-Cola's Journey to Becoming a Learning Organization. 
What is a learning organization? 
There are probably many definitions and points of view around the topic of a learning organization. At The Coca-Cola Company, our belief is that as business context continues to change, our ability to unlock growth requires us to become a learning organization. 
From my perspective, I define a learning organization as one that has the capacity to continuously reinvent itself. This is not to be confused with training or learning programs. A learning organization is one where experimentation is encouraged, failures are a normal part of growing, routines and project artifacts allow for sharing and making things better (for example post-project learning reviews or retrospectives) and where you do not wait for a perfect product before going to market. Being comfortable with v1.0, 2.0, 3.0 is part of the journey.  
All of this requires a growth mindset—a shared belief in continuous learning to improve both the business and ourselves. 
Why did Coca-Cola embark on a journey to become a learning organization? 
When our Chairman and CEO, James Quincey, recrafted our company's strategy several years back, we also recrafted the people, talent and culture strategy to enable our growth ambitions.  
During an external conference during that time, he said "We're very clear that we have to start with the consumer and drive our portfolio of brands to be ever more consumer centric," calling out the international rollout of Coke Zero Sugar. "If the consumer moves, we must, too." 
Part of moving with the consumer means experimentation, iteration, risk taking, moving with speed and celebrating the learnings—and failures—along the way. 
What are some of the steps that Coca-Cola has taken to become a learning organization? 
We started with defining our growth behaviors, which set clear expectations for everyone across our organization. We communicated it in a way for everyone to understand, embrace and role-model.   
We also reset our Performance Enablement practice, because we believe that what gets measured gets done. We put into place moments of celebration and recognition of the journey that we are on—artifacts matter.  
We launched a refreshed purpose and a talent strategy that enables growth. And finally, in early 2020, we launched the company's leadership definition—which sets the north star on what we expect from our organization.  
What is one important lesson that you have learned through this journey? 
Just start. If you have one good idea, move on that, and keep iterating as you make progress. Building a learning organization is about being willing to take that first step and knowing that there is a 50 percent chance of failure. And, it's important to be content with that. 
What has been a key success factor in this journey? 
Leadership is the key that will unlock the door. People are looking for continuous role modeling and humility from their leaders. Humility leads to listening, listening leads to learning. We are fortunate that we have had leaders who have led from the front throughout this journey. 
Learn more about Coca-Cola's journey to become a learning organization by registering to hear Tapaswee Chandele present on APQC's October 28, 2021 webinar. Register today for this complimentary webinar.