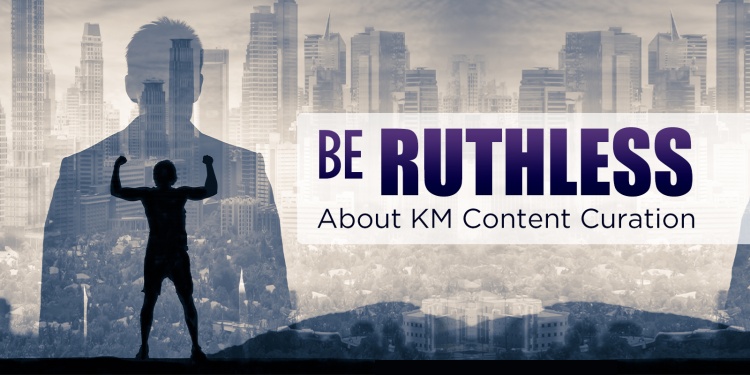 Nearly every organization has a content management problem—and most are looking for a quick fix. The impulse to throw technology at the mess is understandable, especially with so many overeager vendors touting plug-and-play solutions. A good platform can give you a head start when it comes to generating metadata, ferreting out duplicates, and optimizing search. But even the shiniest new tools cannot magically extract order from chaos. To sustainably improve enterprise content management, you have to put some elbow grease into it and tackle the people and process elements.
I was reminded of this when interviewing Allison Wilkins, Director of Knowledge Management at Prudential Financial (read the full case study here). Prudential's U.S. businesses have made major enhancements to their content management processes and workflows in the past two years. Some of this success came from migrating to a new platform—SharePoint Online—and using its cutting edge features, such as machine learning to personalize search results based on users' past behaviors. But Prudential's real secret sauce is not technology. Instead, its KM team focused on strategic alignment, robust processes, and a knowledge-sharing culture to allow the organization to get the most out of its technology upgrade.
Here are five key factors in Prudential's success, all of which echo and reinforce APQC's decades of best practices research.
1. Lead with strategy, not technology.
Many organizations start by picking a content management platform and then reverse engineer their objectives to fit the capabilities of that tool. Unfortunately, when you let the tail wag the dog in this way, you end up prioritizing the wrong things while ignoring essential pain points.
Prudential knew its first step was to articulate a KM strategy. It created a KM advisory committee with representation from all the U.S. business groups. The committee determined that Prudential needed consistent KM processes and a centralized technology solution in order to cross-sell products, help staff service multiple customer groups, and increase customer loyalty. Based on this vision, the committee established 235 business requirements for its desired technology solution. This gave the KM team a clear blueprint to source the right platform.
2. Build buy-in for change at all levels of the organization.
People tend to support what they help create. Thus, seeking input from a cross-functional KM advisory committee strengthened initial support for Prudential's new content management plan. "This allowed us to make sure the KM strategy was meaningful and that each individual business understood what they would get out of it," said Wilkins.
Throughout migration to the new platform, the KM team applied robust change management and communication to encourage buy-in. The team identified target audience segments and then worked with representatives from each audience to understand their change impacts and develop tailored change management strategies. Communications included:
web-based trainings;
open office sessions where employees, subject matter experts, and managers could explore the new platform; and
team meetings to provide side-by-side comparisons of the old and new systems.
Even after the migration, the KM team continues to engage business stakeholders via multiple feedback loops. It maintains an Advisory Board and Business Lead Forum to surface new KM needs out in the business, make decisions about planned projects, and share updates.
3. Establish clear expectations and accountability.
Well-defined roles and responsibilities are the lynchpin of good content management. Technology upgrades will have limited impact if you haven't specified who will create, identify, review, publish, update, and archive content items within the system.  
As part of its migration plan, Prudential set up roadmaps outlining lists of content items that would be moved, roles and responsibilities for migration, and milestones for completion. Business leaders signed off on their roadmaps, which ensured resources would be available at the right times.
To support content management moving forward, Prudential laid out expectations and accountability for employees, leaders, authors, and the KM team. It defined functional business roles for KM, including content contributor and approver, who must complete their assigned activities within set timeframes. In addition, every level of employee has annual performance objectives for KM. Line employees are measured on using KM tools, whereas leaders are measured on championing KM tools and recognizing employees for adopting them.
4. Train people to play their part.
Content management training is critical across the workforce, but especially for those who must create, review, and maintain content. Prudential has worked hard to ensure these stakeholders are prepared for their roles.
For example, every content author must be certified through a content author certification program, which includes four one-hour sessions. Each session includes writing assignments that demonstrate the participant's ability to convey information and navigate the platform. The program is offered every other month and capped at 10 participants to allow for high-touch coaching. Those who successfully complete the program receive an official certification and their manager—as well as their manager's manager—is notified.
5. Be ruthless about content culling and curation.
It's one thing to manage a Marie Kondo-style cleanout of enterprise content repositories, but quite another to keep the clutter from creeping back over time. The biggest stumbling block is actively managing the content lifecycle in order to minimize duplication and continuously eliminate older, less relevant items.
This is an area where Prudential really shines. All content items have review timelines, and automated workflows alert authors when their content is up for review. If authors do not respond, they receive escalated alerts, and if they still do not respond, their managers receive alerts. If the content is not reviewed after 90 days, the KM team archives it. The KM team worked closely with Prudential's compliance and risk teams to secure buy-in for this approach.
The KM team has also been diligent about eliminating duplicate items from its library. As part of one enhancement project, it met with leads and subject matter experts from more than 30 business functions in order to inventory, review, classify, and archive outdated and irrelevant content. This process removed more than 35,000 duplicate items, reducing the total volume of content by around 20 percent and improving search's ability to return the best, most useful results in response to queries.
Learn more in one of our newest case studies, A KM Strategy to Improve Content Management at Prudential Financial.  
Does your organization have good enterprise content management? APQC is currently seeking participants in its upcoming KM best practices research project, Keep Content Fresh and Findable. If you'd like to be considered or have recommendations for organizations we should contact, please get in touch.