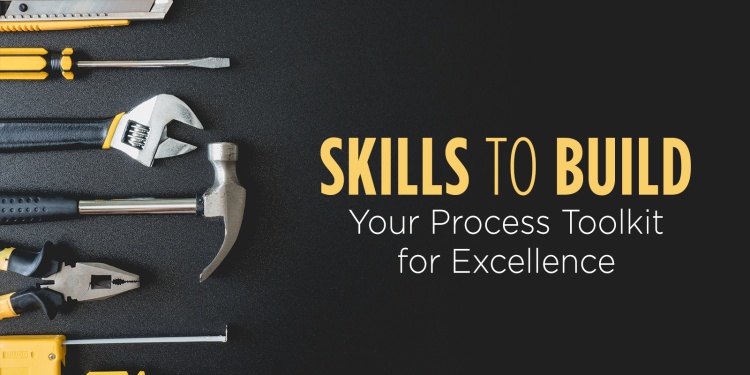 When everything looks like a nail you tend to use a hammer. Process and performance management teams have learned over the last few years a reliance on any single tool or methodology is problematic. Organizations are faced with a myriad of problems, opportunities, and technology-driven solutions that can no longer rely on a myopic view of the single "silver bullet" solution. However, establishing an array of tools requires an array of skills.
So, what are we already good at?
Based on our research, process professional top competencies include a solid mix of deep work, social, and technical skills necessary for their process-related work.
Critical thinking—the objective analysis and evaluation of an issue in order to form a judgment. It's the ability to assess a problem and analyze it objectively to get to the root cause and think through the best fit solution.
Process management—is a management approach that governs workflow in an organization. BPM focuses on work (and flow) across functions.
Communications—the written and oral conveyance of information to stakeholders.
Facilitation—conducting workshops and support people within the business executing process work.
Project management—is ensuring a set of coordinated activities, with a defined start and end, to satisfy organizational objectives or needs is conducted effectively.
In other words, we are very good at the traditional process management skills—problem solving, working with stakeholders, and the technical aspects of conducting and shepherding a process or improvement project.
What do we need to improve?
The same study shows that, overall process people want to extend their tools to ultimately improve the breadth and applicability of their solutions.
Human-centric design—techniques like design thinking and ethnography which are founded on the idea that people design products and services and don't know what the client really wants or needs. Hence organizations can use empathic design methods like observation, interviews, immersion, and guiding concepts to link unknown or intangible needs with the organization's capabilities and provide optimal customer value.
Innovation—the capacity for innovation is the ability to quickly recognize and address emerging needs and opportunities. Individuals with this competency also have the agility to learn and apply new methodologies—like design thinking, systems thinking, and adaptive leadership—for a structured approach to innovation.
Technology fluency—the understanding of new and emerging technologies (e.g., automation and AI). This does not mean we coding prowess code, but instead understanding technologies' features and applications as well as their limitations.
Data management—is a blanket term for the management of the entire data lifecycle in an organization, including governance, integrity, and warehousing. It's of vital importance because we must ensure we have accessible, high-quality data to use in analytics and to support many new technologies like automation and machine learning or AI.
Statistical analysis—is a study, a science of collecting, organizing, exploring, interpreting, and presenting data and uncovering patterns and trends. Statistical analysis allows us to not only support objective decision making in our work, but also identify opportunities for improvements or change proactively.
Process and performance professionals understand that they need to extend their skillsets to stay relevant. This means developing a broad range of skills ranging from using data and analytics for objective and proactive problem identification to methodologies like human-centric design to ensure solutions fit their end-users spoken and unspoken needs.
For more process and performance management research and insights, follow me on twitter at @hlykehogland or connect with me on LinkedIn.