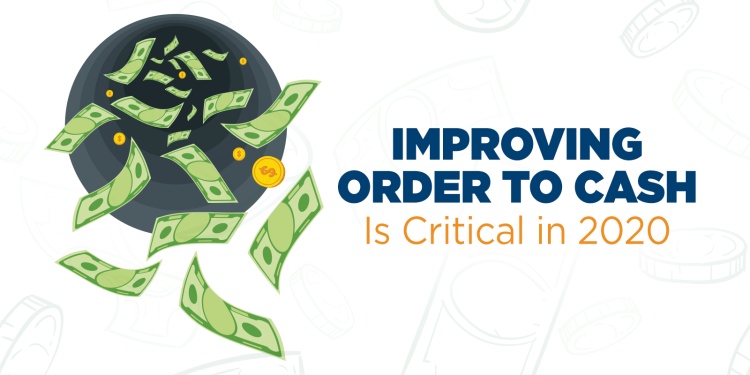 APQC is frequently asked for benchmarks, best practices, and examples for key end-to-end processes, such as order-to-cash (O2C). In addition, O2C content on APQC's Resource Library is consistently some of the most popular content in terms of financial management downloads consistently over the last few years. And our process and performance excellence research has found end-to-end (E2E) process management, such as E2E process management in O2C, to be a best practice in terms of the focus on the entire value stream, and that E2E process management results in better outcomes, including decreased cost and redundancy, more clear accountabilities and handoffs, and the development of focused expertise. And now, more than ever before, organizations need strong, foundational, processes in place (in particular those related to the customer experience and generating much-needed revenue for the business) to help them persevere in these times of disruption and rapid change.
Therefore, APQC has recently engaged in several coordinated, new research projects on the topics of transforming, measuring, and improving O2C. But in order to further study O2C, it is helpful to first understand it; so the intent of this blog is to provide a recap of what O2C is, why organizations seek to manage an E2E process such as O2C, how organizations are measuring O2C, and how they are working to transform and improve this important E2E value stream.
What is O2C?
In APQC's experience, "Order-to-Cash" may mean different things to different organizations; or rather, different organizations may refer to the scope of their work within O2C as different parts of the overall end-to-end value stream. For example, some organizations may consider O2C to be quote to cash, others lead to cash, others invoice to cash, credit to cash, and so forth.
APQC has been studying this topic for a while, and we define O2C as comprised of the following processes: Manage sales orders, process customer credit, deliver products/services to customer, invoice customer, and process payments (AR) and collections.
Visually depicted, it looks something like this (from APQC's perspective): 

At a high level, O2C involves receiving and fulfilling customer requests for goods and services and getting paid for them. The process includes all of the steps an organization will carry out from the time it receives an order to the point at which the organization receives payment for the order.
What are the benefits of end-to-end process management, such as E2E O2C? 
End-to-end processes involve an interconnected set of work that is done by numerous parts of an organization to reach some collective outcome. It is important to be able to manage those discrete pieces of work while at the same time remaining cognizant of how the pieces link together into one end-to-end process. The ability to see and think about this bigger picture is a hallmark of process thinking. In contrast to functional thinking (which is epitomized by the idea of specialization in one area), process thinking looks at the entire value chain and includes thinking about the end goal or purpose of the end-to-end process, handoffs between functions, and the overall wellbeing of the end-to-end process.
How can organizations best measure O2C? 
The health and performance of an end-to-end process like O2C depends in many ways on the health of its component processes. For that reason, APQC recommends that organizations measure and track a balanced set of KPIs for the individual processes that comprise the E2E process as well as total O2C E2E KPIs. For example, in addition to measuring E2E O2C measures such as overall total O2C process cost (per some normalizer, like $1,000 revenue) or total O2C Full-time Equivalents (FTEs) (per some normalizer, such as $1,000 revenue), APQC also recommends companies measure a balanced set of O2C component process KPIs such as:
Days Sales Outstanding (DSO),
Average Days Delinquent (ADD),
On-time delivery performance, and
Perfect order performance
Measuring both the E2E KPIs as well as individual process KPIs will give organizations a holistic picture of the view of performance across the entire value stream, as well as important process-level KPIs that are interconnected.
How do organizations transform and improve O2C?
Organizations that APQC has recently spoken with as part of its "Transformation in Order-to-Cash" study are leveraging multiple tools in the transformation toolkit to improve O2C performance, and a few examples are described below.
Since its acquisition by Berkshire Hathaway, battery and smart power manufacturer Duracell has been on a journey to strengthen elements of the O2C process, particularly in finance. OTC at Duracell is defined as all of the activities that happen "from the time the purchase order comes in the door from the customer to getting that order fulfilled and out the door to the customer, along with the ability to invoice the customer successfully and get the money collected from them." By bringing accounts receivable (AR) back in-house and automating the transactional activities associated with the process, Duracell has seen significant results, such as: 
A 95 percent success rate applying customer payments to invoices
A 75 percent reduction in deductions
Improvement in past dues (excluding deductions) to the latest monthly results of less than 2 percent of total past dues
Similarly, food and bio-industrial company Cargill is on a journey to transform its credit-to-cash process through enhancements in data, process maturity, technology, and people. The organization's progression through each phase of maturity (some of which is still ongoing) is meant to achieve a set of end-state capabilities that enable Cargill to become a global process organization—not only in terms of process management but also process delivery. Cargill's global Credit-to-Cash Process Manager recently joined an APQC financial management webinar to discuss Cargill's journey to transform the end-to-end credit-to-cash process.
Like to learn more? 
Would you like to understand how organizations are transforming and improving their O2C process, in particular how they are managing and improving O2C as an end-to-end value stream? If so, take our new, short, online survey on the topic of "Transforming Order-to-Cash": Click here to take survey. The purpose of this survey is to understand how organizations are working to transform their O2C process, in particular how they manage and improve their O2C process as an end-to-end value stream. In return for participation, survey participants will receive a summary report at the conclusion of the survey effort which will allow them to benchmark and compare their own O2C transformation and create a roadmap for O2C improvement in their organization. The survey should take no more than 10 minutes to complete, and is set to close July 17, 2020. If you haven't already, we would love to invite you to participate in this latest data collection effort, to help your organization see where it stands as compared to other organizations, and steps it can take to move to the next level.