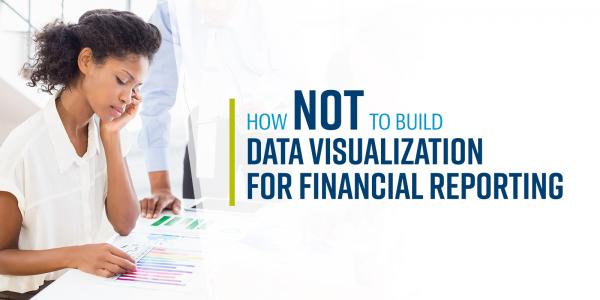 Data visualization is a keen topic of interest for accounting and finance professionals who want to more effectively and clearly communicate their message to their stakeholders. According to a recent study to be released by APQC later this month on "Leading Practices for Financial and Managerial Reporting," the vast majority of survey participants (90%) think that data visualization is a very or moderately important skill for financial and managerial reporting professionals. And more than half (53%) of them are currently leveraging data visualization tools and technologies.
To that end, I recently attended the 2.5 day Fall Learning Lab of the Beyond Budgeting Roundtable North America (BBRTNA) in Dallas, hosted by my colleague and APQC Senior Research Fellow for Financial Management, Steve Player, in order to learn more about best practices for data visualization. The 2019 "theme" for the year of the group was effective data visualization in financial reporting, and to that end the group had read and studied three books on the topic of how to create effective and compelling data visualizations throughout the year. Also during that meeting we had the great privilege of participating in a workshop led by Dr. Steve Morlidge, whose new book Present Sense: A Practical Guide to the Science of Measuring Performance and the Art of Communicating It with the Brain in Mind was recently released this September.
Reflecting back on the meeting, I learned that I had been making five mistakes in previous data visualizations I had been producing. These are practices for finance and accounting professionals to consider that the authors and experts for data visualization studied by the Lab would advise you not to do in your presentations and financial and managerial reports: 
Excessively leverage pictures. At APQC we are always working to make our reports and white papers visually appealing; in fact, this is one of the important tenets in our content quality rubric. We have even taken internally to referring to some of these reports as "Wow" reports, meaning we send them through marketing production and have these reports professionally laid out. While this particular practice is still a work in progress for me, I learned that the best practice in data visualization as advised by the authors and experts is to make judicious use of pictures, and not feel compelled to have a picture on each page of a PowerPoint report, for example. In a nutshell, too many pictures can clutter the file and make it cumbersome/memory-intensive to share via e-mail. Additionally, they can detract from the core message of the slide or report. So, when using pictures, the experts recommend using them judiciously and appropriately. 
Ineffectively use color. As is probably the case in many organizations, our marketing team has provided some guidelines and a color palette as part of our branding standards. Leveraging a standard look and feel for reports is a good practice to present a common face of the brand to the external world, but in the past what I had been doing, particularly in charts, was ineffectively using colors that did not draw the reader's eye to what I wanted them to pay attention to. For example, previously in a bar chart I would leverage one of the colors from the approved palette for all bars. The best practice according to the authors and experts, however, is to use appropriate colors to help the reader easily and quickly understand what the message is that you want to convey. In future reports, I will better think through only using the color from the approved palette (such as a navy blue) for the top three bars or similar (e.g., the ones that I want the reader to pay attention to) and leverage a muted gray color for the rest of the bars, for example.
Use bland or generic headlines for charts. Prior to my lessons learned from the Learning Lab, I had made it a practice in my PowerPoint reports to use generic headlines in each slide, such as "Use of Process Management," or "Tools and Technologies." It probably comes as no surprise that headlines such as these are not particularly helpful or compelling for the reader. Rather, the best practice according to the authors/experts studied in the Lab is to make the most use of your headlines in PowerPoint reports so that the main message clearly comes through and the reader doesn't have to do so much work. So, for example, moving from a headline like "Challenges for Financial Reporting" to "The biggest challenge for effective/impactful reporting is dependence on IT for making changes."
Tend toward too much specificity in data. In past data visualizations, I think more out of habit than anything else, we had gotten into the practice of oftentimes including decimal places in numbers where they really didn't need to be, for example, in frequency responses to options in a survey question (e.g., 59.4% of survey participants selected a particular option). However, the best practice according to the authors and experts is to clean up clutter and enable clarity of understanding. Frequency percentage data of the type that I am usually reporting does not generally require a one or two-decimal level of specificity, so for me reporting out frequency percentages with no decimal points in the future is a cleaner look for the data and also clearer for the reader to understand.
Visually distort charts by allowing the axes to automatically adjust. In past reports, I would generally allow the axes to automatically adjust based on the data that I input. This would then result in differences between options appearing to be over-emphasized on the charts. Going forward, when presenting frequency percentages where the range is 0 % to 100%, it is the leading practice to have both axes always start with 0%, and end at 100%, so that the size of the values in the chart is appropriately reflected.
These leading practices are really just the tip of the iceberg when it comes to data visualization. Those who are interested in further reading on best practices for data visualization in financial and managerial reporting should reference the following authors/books (these were the books studied throughout the year by the Learning Lab):
  Storytelling with Data (Cole Nussbaumer Knaflic)
  Show Me the Numbers (Stephen Few)
  Select Effective Visuals (Dave Paradi)
In addition to the new Present Sense book by Dr. Morelidge. By avoiding simple mistakes such as these and adopting some of the suggested practices instead, financial and managerial reporting professionals can be well on the road to creating more effective and compelling visuals in their reports that are easier to understand for their stakeholders.