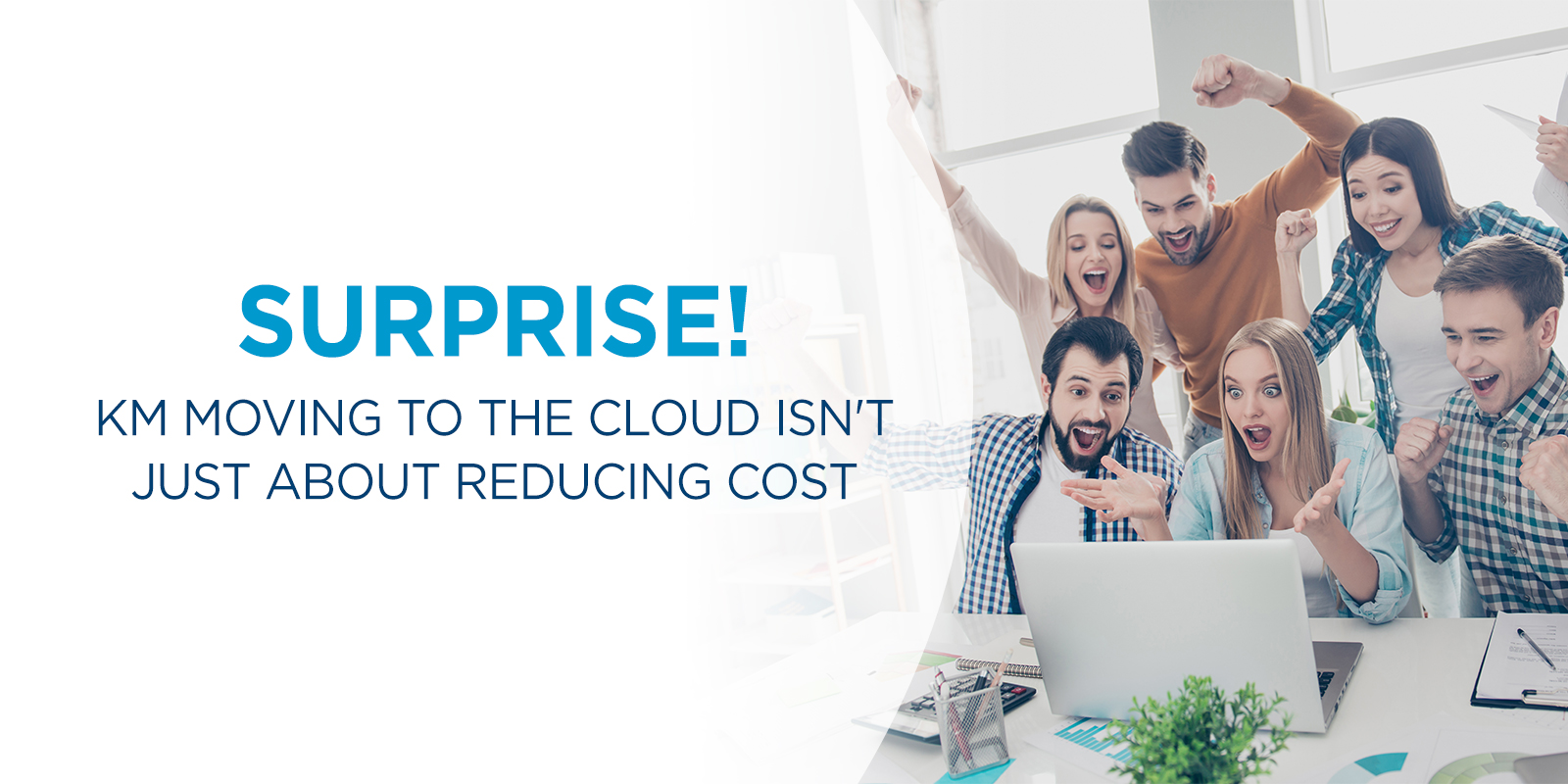 The adoption of cloud platforms is one of the biggest trends in knowledge management, with nearly half of APQC's KM audience in the process of migrating this year. The transition to cloud-based KM has its challenges, including fewer opportunities for customization and the need to reorient users' mindsets. But for the most part, organizations are embracing the advantages of cloud and figuring out how to evolve their KM programs forward in this new technology landscape.
Since so many organizations are making the leap from on-premise to software as a service, we wanted to understand why. What's driving one in every two KM programs to shift content and collaboration to the cloud in 2019, and what benefits do they expect to see? As part of a current APQC research project, "Enterprise Content and Collaboration in the Cloud," we surveyed more than 300 professionals who are directly responsible for their organizations' cloud-based content and collaboration strategies. One of the first questions we asked them was why they are taking the plunge. And their top objectives in moving content and collaboration to the cloud comprise APQC's July KM metric of the month.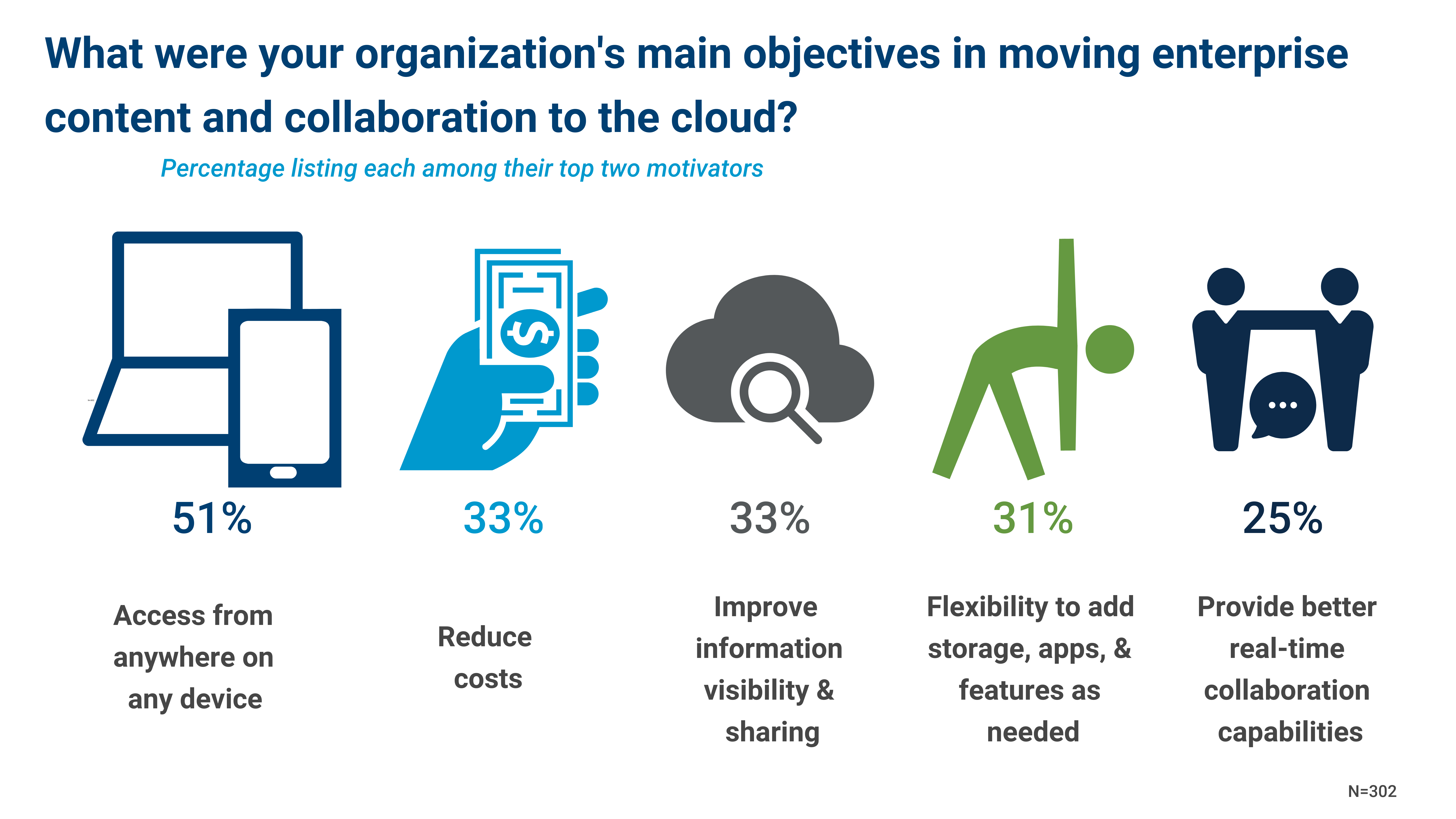 What Motivates Cloud Adoption
Honestly, going into this survey, I expected cost reduction would be the No. 1 motivator for cloud adoption. IT departments are under a lot of pressure to lower fixed expenses, and at least in theory, cloud platforms let you replace expensive software licenses, unpredictable upgrade costs, and on-site personnel with a monthly fee. And cost is a big factor in the migration equation, with 33 percent of respondents citing it among the top two objectives spurring their switch. We have seen anecdotal evidence of this as well: For example, when the global oil market crashed four years ago, several oil and gas companies became early pioneers in the cloud content and collaboration space as part of their belt-tightening efforts. [See this article for an example.]
But the top reason organizations are migrating KM to the cloud is not cost reduction, but rather the opportunity to expand access to enterprise applications. Work systems that are only available on desktops and laptops—or worse yet, only accessible when employees are in the office—simply don't meet the needs of the modern workforce. People expect to be able to work from any location or device, and they expect those transitions to feel seamless. This requirement has existed for many years in industries like consulting, construction, and on-site service where work frequently takes employees away from their desks, but it is becoming the norm across the board. And as low unemployment rates drive employers toward more flexible working policies as part of their recruitment and retention strategies, IT and KM teams are under even more pressure to provide the infrastructure necessary to work anytime, anywhere.
Other objectives are more directly KM-related, including improved information visibility and sharing (cited by 33 percent of respondents) and better real-time collaboration capabilities (cited by 25 percent). Both these drivers point to the affinity between mainstream cloud platforms and traditional KM—even when migration is not led by the KM team—and the cloud's potential to help KM deliver on its age-old promises of superior information access, findability, and cross-boundary collaboration.
Many organizations hope that moving to a single enterprise-wide cloud platform will help them overcome long-established information silos exacerbated by on-premises databases and repositories accessible only to specific locations. The cloud certainly can alleviate technical integration hurdles and aid in enhanced information visibility, but I worry that organizations are not paying enough attention to the people, process, and policy elements needed to make this a reality. The technology may make it easier to avoid silos, but only if accompanied by stronger cross-company partnerships and revamped data-sharing and permissions strategies.
I'm more optimistic about real-time collaboration capabilities, which are a central feature of platforms like Office 365 and G Suite. Most organizations that have transitioned to something like Microsoft Teams are making use of built-in co-authoring, document sharing, and threaded conversations for team-based collaboration. But if you want employees to make full use of what the technology can do, you need a strategy that encourages them to forge new relationships and share ideas and expertise beyond their immediate circle. Organizations that already have strong cross-functional communities of practice, for example, are able to easily incorporate tools like Yammer to make community collaboration faster and more appealing. But if there's no infrastructure or cultural foundation for broadscale collaboration, the technology is unlikely to make a huge difference.
The final objective rounding out the top five is the flexibility to add storage, apps, and features as needed. In some ways, this echoes the aim for cost reduction, in that you can augment your systems as you go and avoid paying for anything you're not using. But it also connects to the biggest trend we see, both in knowledge management and business in general: the need for greater agility. No one's sure what's around the next bend these days or what technology capabilities might be required to meet tomorrow' challenges. Whether the topic is content management, collaboration, or something else, KM and IT leaders want to avoid being locked in so that they can react quickly when the next big wave of change arrives.
Learn More and Get Involved
For more information on how the cloud is affecting KM strategies and programs, I recommend checking out APQC's Excellence in Knowledge Management 2019 collection, which contains profiles of mature KM programs. In their profiles, KM leaders from the award-winning organizations talk about how their teams are leveraging cloud and other technologies to drive KM forward.
And if your KM or content management program is doing something great in the cloud, I want to hear from you! I'm currently screening candidate best-practice organizations to be featured in our "Content and Collaboration in the Cloud" research. Please get in touch and tell me your story.