While no organization likes to admit that a certain percentage of their customer receivables may at some time become overdue, and some even become uncollectible, the reality is that it happens to most organizations. In fact, according to APQC's Open Standards Benchmarking (OSB) Database on Accounts Receivable and Collections, the percentage of active customers that are delinquent at any time during the year ranges from 12 percent (top performers) to 20 percent (bottom performers). Fortunately, the percentage of receivables that actually have to be written off as uncollectible is much lower, ranging from about 0.6% (top performers) to 1% (bottom performers).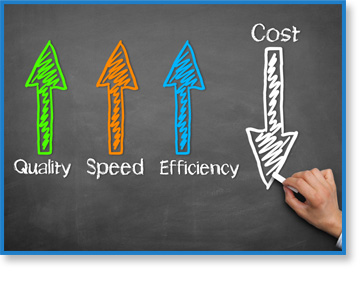 The OSB survey sheds some light on how organizations work both through internal processes and with customers to convert past due accounts back in to cash. Following are the techniques cited in the OSB:
Tolerance limits: One way that organizations focus on what is really important in terms of both the time and effort of chasing after past due receivables is by setting tolerance limits (e.g., a threshold below which the organization won't worry about collecting on the past due amount). According to the OSB data, 47 percent of survey participants leverage tolerance limits as a collections practice. While the tolerance limit amount may vary by company and by industry, this helps organizations try to ensure that they don't spend more time and effort chasing after receivables than the value of the actual receivable itself.

Account stratification: Another collection strategy to try to convert past-due receivables into cash is categorization or stratification schemes. Ways that organizations might categorize or stratify their past due accounts for collection include:

Individual account materiality/Stage of arrears – Certainly one mechanism for prioritizing past due accounts could be the amount past due (e.g., larger amounts past due could rightfully be deemed more important and impactful than smaller amounts) and the age of the receivable. Twenty percent of the OSB respondents leverage this collection technique.

Overall industry or region health/performance – Another mechanism for categorizing past due accounts could be by overall industry or region health performance. Thirty-eight percent of the OSB respondents leverage this collection technique. For example, a company's customers with past due amounts might reside in a particular region that has been recently hit by a severe weather event, and thus be afforded more time to pay than customers with past due amounts without such a hardship. 

Value of the customer/History with the individual account – And certainly, the value of the customer and their history of past payment could play a big factor into how an organization handles the follow up on past due amounts. The past due amounts of customers who have a strong history of payment and/or a high current or potential value may need to be handled as more of an exception and possibly more leniently. 

Customer self-service mechanisms: Sometimes, amounts become past due because there is some disagreement or issue with the delivery of the product or service and/or the amount due. Therefore, many organizations provide a self-service portal or Web site to help customers be able to research the issue and facilitate time to resolution, and ultimately payment of part of all of the past due amount. Almost three-fourths of the OSB respondents leverage customer self-service mechanisms for issue research and resolution.

Diary management and tracking: Certainly, an automated mechanism, such as the CRM system or other customer database or application, is very helpful to facilitate collections professionals to capture and organize their follow up activity, comments, and even workflow to automate the reminders and subsequent steps. In addition, such a practice greatly facilitates the customer experience so that each follow up activity is informed based on previous history and relationship the customer. According to the OSB data, about 27 percent of respondents leverage diary management to prioritize and track collection activities.

Third-party collection agencies: Finally, organizations may want to cut the time and effort that they spend chasing after accounts that are very late by outsourcing this process. A little more than one-fourth of the OSB participants say that they leverage third-party collection agencies for late stage collection activity.
The techniques above are tried and true foundational mechanisms to help organizations collect on past due accounts. Organizations that do the collections process well are informed, organized, and continue to focus on the value of the customer and the customer experience.