4 Key Measures and Tips to Improve your Supply Chain Planning

Knowing where you stand is the first step to finding ways to improve your organization's supply chain planning processes. And once you understand your baseline, benchmarking enables you to identify gaps, find successful practices that drive higher performance, and then establish realistic goals.
For a balanced look at your supply chain planning efforts, APQC recommends four key performance indicators (KPIs).
Cost Effectiveness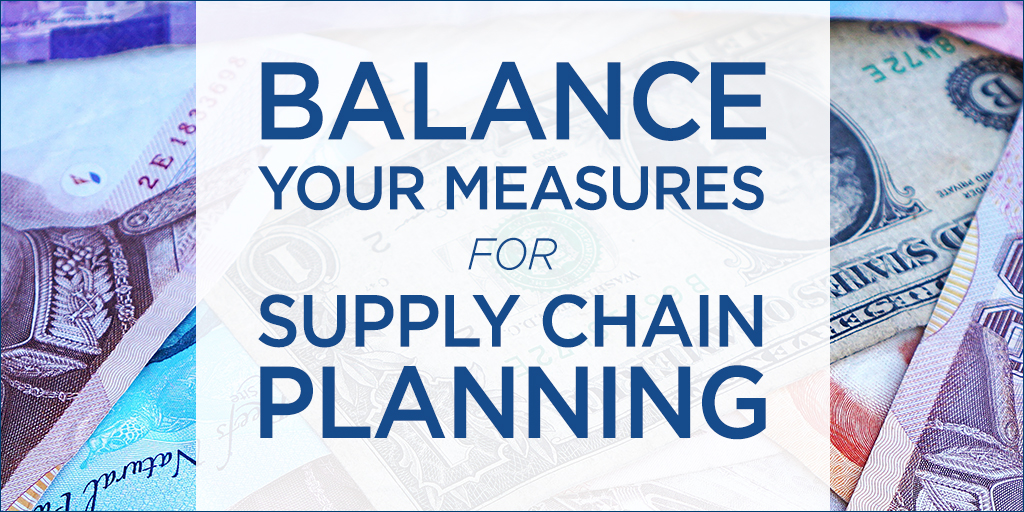 Supply chain planning costs are best measured by the total cost to perform the process group "plan for and align supply chain resources" per $1,000 revenue. It is normalized (or divided) by revenue in thousands of dollars so organizations of different sizes can effectively compare performance. Expenditure varies widely, but there is a sizeable gap in performance, with bottom performers' costs more than four times higher than top performers. By moving from bottom-performer to top-performer an organization with $1 billion in annual revenue can realize a potential cost savings of $17.9 million.
Tips
Top performers with the lowest total supply chain planning costs, share some commonalities in practice:
continuously evaluate all data sources used in key business decisions,
share inventory information with customers in real time or nearly real time,
use statistical process controls to monitor key production processes, and
track asset management data and use it in predictive analysis for preventive maintenance.
Process Efficiency: Staffing
The second key measure is the number of full-time equivalent employees (FTEs) who perform the process group "Plan for and Align Supply Chain Resources" per $1 billion in revenue. The number of full-time equivalent employees involved depends on the productivity of the different functional areas participating in the sales and operations planning team. Top performers and bottom performers vary significantly in terms of the number of full-time equivalents (FTEs) that are involved in supply chain planning. Bottom performers require 78 more FTEs to complete the same supply chain planning tasks as top performers.
Tips
To maximize the output per FTE in supply chain planning, APQC recommends:
Supply chain planners stay in close and proactive contact with their colleagues in marketing, advertising, and other key functions to minimize surprises and disruptions in supply and materials.
Consider technology such as radio frequency identification (RFID) systems and advanced software packages to help drive real-time inventory visibility with suppliers and demand visibility with customers while decreasing the amount of human intervention required.
In addition, to remove redundancies, organizations should explore the possibility of a shared services center or other centralized organization providing supply chain planning services.
Cycle Time
The third KPI is cash-to-cash cycle time, the number of days of working capital an organization has tied up in supply chain management. The faster the cash-to-cash cycle, the fewer days the cash is unavailable for use. Top performers have a cash-to-cash cycle time of 30 days, while bottom performers have a cycle time of 80 days.
Tips
Reducing cash-to-cash cycle time involves eliminating factors that tie up operating capital.
Reduce the amount of excess inventory while not sacrificing the organization's ability to serve customers through a well-designed inventory optimization strategy that aligns roles and responsibilities across the supply chain.
Strike the right balance of sourcing raw materials from lower cost locations versus the additional cost for local sourcing—recognizing the convenience and flexibility of a shorter supply chain and less inventory to carry.
Revisit your invoicing processes to see how they can be streamlined to reduce needless activities, and revise inefficient processes that increase the likelihood of billing errors.
Process Efficiency: Perfect Order Performance
The last of the KPIs is perfect order performance. APQC defines perfect order performance as flawlessly taking and fulfilling a customer order. It includes recording the order correctly, allocating inventory immediately, delivering product on time, and sending an accurate invoice. It spans more activities than other traditional, functional metrics that look at performance in a silo.
Tips
APQC's research has found that top performers in perfect order performance:
Align supply capabilities with customer demand,
Collaboratively plan, forecast, and replenish supplies,
Implement network optimization tools to model the supply chain network,
Provide real-time information on the status of production processes to partners,
Examine and analyze transportation spend across the enterprise, and
Automate routing and scheduling across the organization.
Take Action
After your organization establishes its measures, collects data, and sets baselines, you are ready to begin working on closing your gaps on these critical KPIs.
Read more
APQC's new Blueprint for Success: Supply Chain Planning provides a roadmap for improving supply chain planning with the processes, the measures, the benchmarks, and performance drivers for success. Available to APQC members.
Non-members may read an overview.
Additional recent supply chain planning content is located in this collection: Supply Chain Planning (Collection)
Contact Me
I would love to hear from you. You can email me at mbrown@apqc.org, find me on Twitter @MB_APQC, or connect on LinkedIn at https://www.linkedin.com/in/marisabrown1/.
Tweet