---

5 Days of the Latest Thinking, Best Practices, and Leading Trends from Top KM Experts and Practitioners
Join more than 350 KM practitioners and business professionals at the 23rd annual APQC Knowledge Management Conference, April 16-20. Get proven tools and tactics to communicate the value of KM, inspire employees to share and use knowledge, and sustain behavior change so that it becomes part of your organization's DNA.
This Year's Theme: Making KM Smart, Digital, and Engaging
The 2018 conference will focus on the opportunities and potential pitfalls presented by emerging technologies. How can we use these technologies effectively complement the foundational KM best practices refined over 22 years? Digitization opens new possibilities for data collection, analysis, and targeted delivery, but there are downsides. And even the coolest new tools will fizzle unless backed by a solid strategy and game plan.
meet the keynote speakers: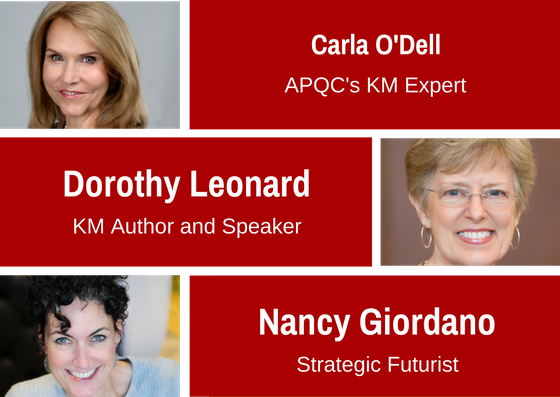 ---
Why Should You Attend?
World-Class Content
APQC's Knowledge Management Conference has, and always will be at the forefront of KM, providing you the most choices for your professional development. Learn what strategies your peers are implementing and discover how they are tackling similar issues you are facing. You'll learn new strategies and solutions to solve some of your toughest problems.
Endless Networking
The KM Conference brings together the brightest minds from the world's most reputable organizations, and the networking opportunities are unparalleled to any other event. You'll have unlimited opportunities to network with your peers, whether it's during a lunch, during the sessions, walking the halls, or even at the two networking receptions. You'll come away with an expanded network of peers.
Stay Relevant
If you want to stay relevant in your profession, you have to know the latest trends and how to implement them. With several sessions focused on innovation and trendsetting keynote speakers, there is no better place to take the pulse of the industry.
---
2018 Steering Committee
Thank you to our 2018 steering committee for help us guide this year's conference program.
Bob Armacost, Engagement Director, Iknow LLC
Lynda Braksiek, Change Management Consultant, Rockwell Collins
Darin Brogan, Knowledge Management Director, The Chartis Group
Kim Glover, Knowledge Management Manager, TechnipFMC
Marty Lipa, Executive Director of Knowledge Management, Merck
Suzan Pickels, Knowledge Advisor, ConocoPhillips
Michelle Prestidge, Knowledge Manager, Deloitte & Touche
Michael Regan, Knowledge Management Director, Milliman
Rebecca Rhodes, Knowledge Manager, Cigna
Danielle Spudich, Content Strategist, Allstate
Matt Van Ravenhorst, Carrier Team One Executive Assistant, US Navy
---
What Past Attendees Have Said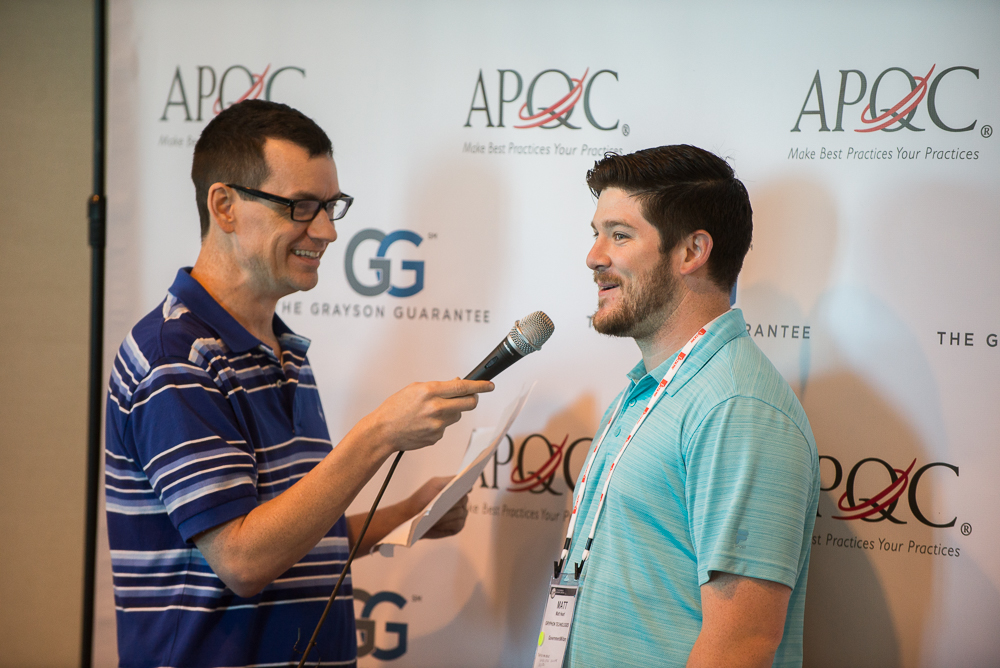 "This is THE source for KM professionals, education, and best practices. You come to the APQC conference to learn more about the discipline, not just tools. All the keynotes were engaging, thought-provoking, while also immediately useful in their content. The conference brochures, printouts, communication prior to the event and availability of an app are wonderful. Additionally, having so many APQC staff present and clearly identified is a wonderful "help" to conference attendees with questions etc."
Melissa Dahm, Rockwell Collins
"The supportive nature of everyone participating helps us share our common journeys. The staff did an excellent job at creating and managing this event. It was done so well, down to the details. Well done!"
Lynnette Gulley, FMC Technologies, Inc.
"The quality of the presentations and keynotes were top-notch. I fee like I had good exposure to current thinking, practices, and trends in the KM industry."
Mary Maida, Medtronic
"This was a great opportunity to network with individuals from other organizations. Good mix of companies and industries. The keynotes were excellent and provided lots of value. APQC did a very nice job of balancing full group activities with breakout sessions."
Darrin Brogan, The Chartis Group
"Learning from both APQC experts and industry practitioners was exceptional; the combination adds credibility."
Ed McKinley, Flint Hills Resources
"The pre-conference workshops were very informative and useful. The conference sessions were applicable and varied. I appreciated that the conference demonstrates the value of APQC membership, without a heavy vendor/sales component."
Kelly Knight, CSAA Insurance Group
"Excellent choice of topics and speakers. I particular liked the keynotes. As a new KM director in an immature organization, I am leaving with many useful and profound takeaways."
Martha Espeset, DEKRA Insight