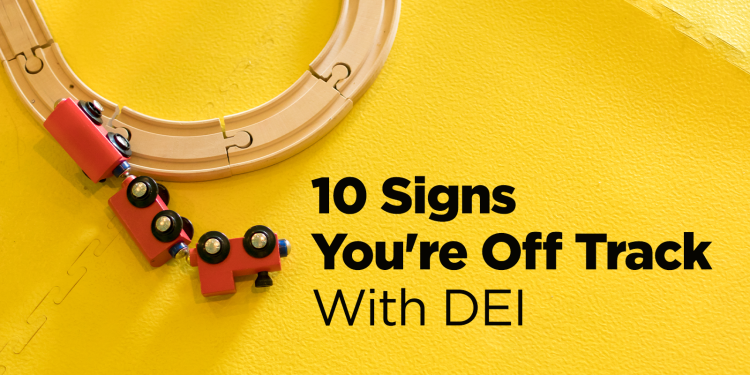 Your organization has made public diversity, equity, and inclusion (DEI) commitments. It's issued a comprehensive DEI report, avoided costly DEI missteps, and received some positive DEI press. These are important and promising developments—but there are still things that can stand in the way of your organization moving the needle on DEI. Following are 10 signs to watch for because they indicate that your organization is off track in its approach to DEI.

#1 DEI is synonymous with demographics. A common approach to DEI involves increasing representation and opportunities for the most visible and historically underrepresented demographic groups. Yet experiential, cognitive, and neurodiversity should not be overlooked. These 'secondary characteristics' including family status, socioeconomic status, education, religion, military experience, work style, and neurological variation, among others are important for building a truly diverse workforce. 

#2 DEI is one-dimensional. Underlying much discussion and activity around demographic representation is an unstated assumption that one person equals one diversity dimension. But when it comes to representation, organizations need to recognize that individuals can embody complex identities that combine to create different degrees of discrimination and privilege. 

#3 DEI's principal aim is representation. While representation matters, it is only a starting point. Without equity and inclusion, progress towards representation will be short lived. Employees will face barriers to doing their best work and reaping the associated rewards. Given the opportunity, they will leave for a more equitable and inclusive work experience.  

#4 DEI is a hiring activity. When representation is the goal, recruiting, more often than not, is the solution. Yet recruiting diverse candidates only drives substantive gains when there are structures in place to retain diverse talent. Organizations need to address DEI with the full-spectrum of talent management practices, from hiring and promotions to health and safety, employee development, and beyond.

#5 DEI is about numbers. Organizations can become overly focused on DEI numbers. Numbers—such as female leadership percent—are important for understanding DEI challenges and assessing DEI progress. But they do not tell the whole story. To address root causes and take appropriate and sustainable actions, organizations need ongoing, qualitative feedback from employees. 

#6 DEI is a job. A quick LinkedIn search shows that Chief Diversity Officer (CDO) is an in-demand job. However, the impact that dedicated DEI staff can have is limited without organization-wide commitment and participation. A formal DEI plan outlining roles, goals, and measures is a key starting point for driving DEI participation and accountability across an organization.  

#7 DEI is a competition. The positive publicity generated by "great companies for DEI" lists has many organizations keen to secure top spots. However, DEI is about much more than outranking the competition on the latest DEI list. When everyday employee experiences fail to live up to the organization's DEI list position, employees grow disengaged. This can leave the organization worse off than if it had not been on a DEI list at all. 

#8 DEI is about avoiding the negative. Discrimination is expensive—involving fines, loss of customer trust, declining sales, and falling share prices. While discrimination is a bad look, looking at DEI primarily through a financial and reputational risk lens is limiting. Without a focus on the benefits that DEI can bring, an organization is unlikely to take the steps required to tap a broad range of ideas, work approaches, life experiences, and ways of thinking to solve problems and achieve objectives. 

#9 DEI is a U.S. thing. The media can give the impression that DEI is primarily a concern for U.S. organizations. While the U.S. has its own set of serious DEI issues to address, DEI is still important and challenging for organizations operating outside the United States. The specific DEI history and issues can vary significantly, but the risks and rewards associated with DEI are significant everywhere. The importance of taking a strategic, holistic, and planful approach to DEI spans geographic boundaries.

#10 DEI is a box-checking exercise. After making public commitments to DEI, it's easy to treat DEI as a current initiative. But this sets an unhelpful expectation that DEI work will be complete when the "right" DEI policies and programs are in place. To achieve the benefits of DEI—empowered employees bringing diverse identities and perspectives to the table—organizations must do the ongoing, and sometimes difficult work, of self-examination, learning, and experimentation in service of a work experience that is equitable and inclusive for all. 
Do any of these 10 signs sound familiar? Is your organization on the right track with its approach to DEI? Gain more insights by taking APQC's Workforce Diversity, Equity, and Inclusion survey. There is no cost to participate, and all participants will receive a copy of the blinded and aggregated survey report upon study completion.  

Use your complimentary survey report to assess, track, and benchmark your organization's DEI progress and to identify ways to improve. If you are not the appropriate person to answer questions about your organization's DEI practices, challenges, and outcomes, we would appreciate it if you would forward the survey link to someone in your organization who can. Thanks in advance for helping move the DEI needle across organizations.