Why Digital HR is a Big Deal for All

On a recent APQC webinar, Georg Lange described his experience digitalizing the HR function at global agribusiness Syngenta. I asked Georg to answer some basic questions on this emerging topic. Following are his answers about why HR digitalization matters to all.
APQC members can learn more by downloading the webinar recording and slides.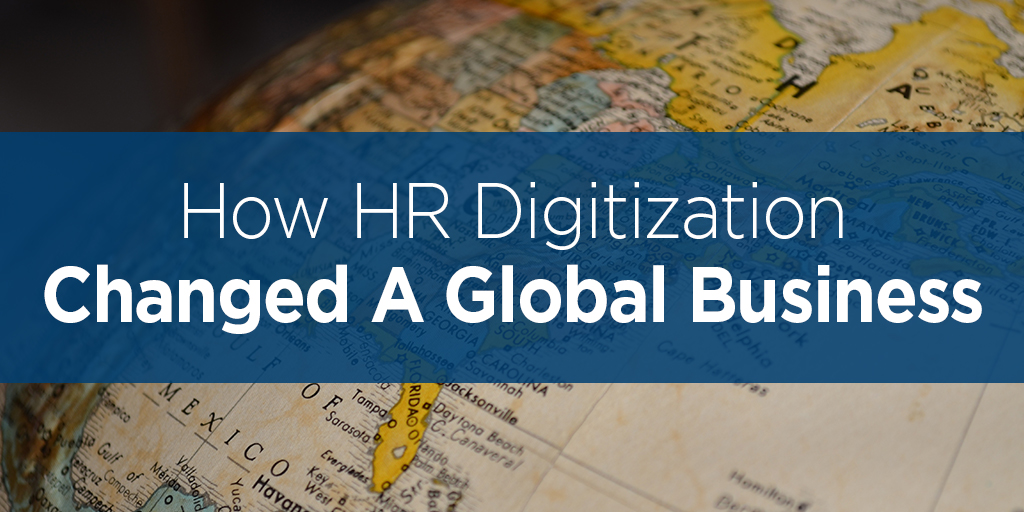 Could you describe at a high level what digitalization of HR entails?
The digitalization of HR means that the client experience, (i.e. the experience for all leaders and employees of an organization) comes at least close to the user experience provided by smartphones and the latest PCs or Macs. For example, an invoice can be payed these days just by taking a picture of it within a banking app. Similar to this experience, a birth certificate can be photographed within an HR app and the relevant benefits will be granted immediately. In both examples, a lot of processing and validation checks are performed in the background using Artificial Intelligence and in some cases blockchain technology. The digitalization of the HR function means therefore that processes and validations are performed automatically and virtually no manual (i.e. human interaction) is required. This frees resources to focus on those tasks in HR which can only be performed by humans like strategic consulting, support in critical situations, learning and development measurement, and so forth.
Why would an organization want to digitalize HR?
The digitization of HR has a big impact on the whole function. Ideally, the service for the organization and the employees will be improved, as HR services will be easier to access, delivered faster, and with greater accuracy (i.e. error free). The work of HR business partners becomes easier. HR business partners are relieved of administrative tasks and can improve their strategic impact by receiving better analyses, especially when these are predictive. For recruiting, digitalization significantly simplifies the workload in all administrative tasks. For applicants, the application process is much quicker and more intuitive, which increases the organization's attractiveness as an employer. For the organization itself, digitalization usually means a reduction of operational costs by half and an improvement in the ratio of HR people to employees of up to 1:1,000. And, digitalization can make the whole HR function, to a certain degree, future-proof as new forms of working and collaboration evolve. Last, but not least, a huge step towards compliance can be expected. These are just a few points, however, and the list can be continued.
Who within organizations needs to understand HR digitalization and why?
Despite the many organizational advantages and a positive business case that can be realized within two years, HR digitalization does bring challenges. A lot of amendments are required within the HR function as well as in the organization.
A personal experience can demonstrate this. I am currently looking for a new position. During my search, I was invited for an interview with the CEO of a British group. When I came into the room, I immediately recognized that HR had just given the CEO my CV. He hasn´t read it beforehand. The CEO recognized that I was working for Syngenta and told me, he has somebody now working for him who had been with Syngenta as well. He commented that he will ask her to get some references.
What would have been the difference in this situation if the recruiting process was already digitalized, ideally using Artificial Intelligence? Recruiting would have prepared a candidate experience story-line, in which relevant information about me, my personality, and my working experiences would have been collected, appraised, and verified. For all my interview partners, a dashboard with relevant information as well as a questionnaire would have been primed. This would give me as a candidate a good interview experience and the interviewers the information they need to make a hiring decision.
Obviously, this implies a huge behavioral change, and most possibly cultural transformation. Therefore, in my experience, the C-suite members have to drive HR digitalization. The HR centers of expertise need to make it happen. And, the HR business partners have to make it operational. Business leaders, line managers, and employees usually can´t wait until digitalization of HR happens, and in fact after going through the transformation, they are already used to the new technologies and systems.
APQC members can learn more by downloading the webinar recording and slides. Following are some of the key takeaways from the webinar.
Key Takeaways from the Webinar
HR digitalization involves automating HR processes and workflows so they are performed more efficiently.
Any size organization can digitize HR.
Standardized and optimized HR processes are a prerequisite.
Digital transformation also requires a paradigm shift in which HR centralizes administrative and transactional services and focuses on enhancing core competencies such as recruiting, training, and compensation.
Lengthy, transactional or data-based, and costly HR processes (compared to peers) are "quick win" areas for starting digitalization.
Digitalization enhances HR's reporting capabilities allowing it to make value-added contributions to the business.
HR digitalization improves the candidate/employee experience and delivers HR cost savings of up to 40% within two years.
Share your thoughts and questions on HR digitalization on twitter @ElissaTucker or LinkedIn www.linkedin.com/in/elissatucker.
Tweet