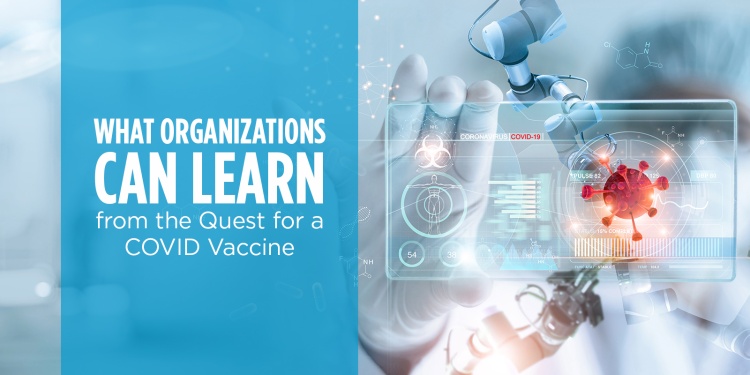 Operation Warp Speed (OWS), the race to create and distribute vaccines against COVID-19 in months instead of years, is a breathtaking example of cutting through red tape. OWS is a public-private partnership between the U.S. National Institutes of Health (NIH), the Pentagon and seven private sector pharmaceutical/biotech firms.  It has illustrated that, with enough brains, science, skill, money, resources and will, we can cut through time-wasting and mind-numbing bureaucracy to achieve breakthroughs. 

Having an operation this massive with no constraints on budget was a unique peacetime effort. Nonetheless, it provides lessons that we can adapt to our less well-funded or life-threatening business processes and rules. Whether your processes are in your department or function or across your entire ecosystem of suppliers, partners and customers, you can extract these lessons and use them to streamline your processes and get better outcomes in record time.

There are three big reasons that OWS is proving to be so successful.  The first of these reasons: the OWS initiative addressed the end-to-end process from R&D, to tests, trials, policies, production and distribution.  It would not have been enough to simply improve the science of the project if production and distribution were left out of an integrated plan.  Even as this is being written, distribution systems are being created and tested in four states to ensure the vaccine can be distributed to essential front-line workers as soon as it is approved and produced.  All of this was accomplished without sacrificing the science and peer reviews that could have undermined the safety, effectiveness and public confidence.

Second, what was stripped from the timeline were the non-value-added and paperwork aspects of the processes: the hunt for grants, labs, money, markets, distribution systems and enough volunteers to run robust double-blind Phase 3 and 4 trials.  Unfortunately, further expediting the process was a virus so contagious and widespread that enough subjects could be exposed to test the effectiveness of the vaccine candidates in large trials. 

The third equally important lesson from OWS is that capabilities that would enable the pivot were already in place.  Fortune favors the prepared.  The mRNA technology used in the front-runner vaccines going into distribution in December 2020 had already been developed before COVID-19 hit.  It was just waiting for this opportunity to be applied to a real-world disease.  Reaching back even further, it was possible because of gene mapping and manipulation such as CRISPR technologies. 
By analogy, the same thing happened to so many businesses and workers.  Overnight in spring 2020, COVID hit, we went home and into lock-down.  Managers scrambled to get workers what they needed to be productive.  They had to delegate and let workers improvise.  Suddenly remote, knowledge workers used their judgment to make decisions.  Decisions took less time and worked just as well. As managers witnessed this first-hand, multiple levels of approval and signoff that had snarled processes over the years often dropped away.  
Let's use the lessons of Operation Warp Speed to reinvent how we do things.  By cutting out red tape, but not the safety and science, promising vaccines have come to market in record time.  Surely, we can redesign a more agile supply chain or curb-side delivery.  Let's cut out the unnecessary steps and have enough diverse options and capabilities to be resilient when new conditions emerge.  Let's use this window of opportunity to hone our digital skills and automate steps and processes where we can. 
In future blogs, I will share lessons from recent APQC research on how organizations are coping and building resiliency into the new processes. 

This may be our first global pandemic, but it may not be our last.   Let's do better next time.
This is the first in a series of blogs about why now is the perfect time to rethink and rejuvenate our business rules and processes and the ways we share knowledge.  Throughout the series, I will lay out fundamental process and change management principles, as well as cases and how-to's from APQC's recent research.