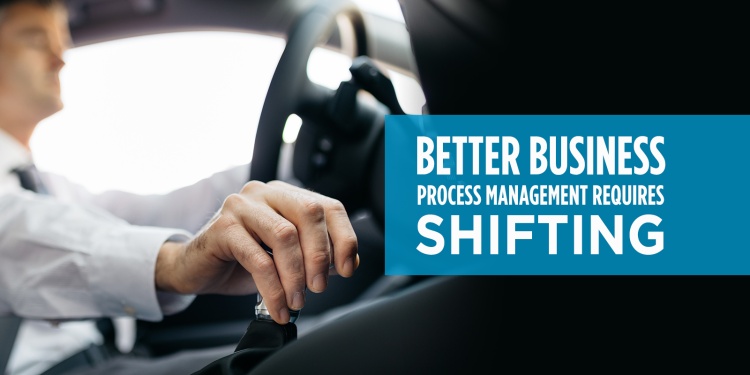 Business process management (BPM) is a broad set of management approaches that encompass process redesign and innovation, process sourcing, and process improvement. In a nutshell, BPM is how organizations ensure they're getting the most out value out of the work that happens across the enterprise. With BPM, you can standardize processes so work flows more smoothly, improve processes so that work delivers more value, automate processes so humans can focus on value-added work, and eliminate processes that create waste.
BPM is the way best-practice organizations conduct business. By integrating process thinking with organizational structures, business objectives, and people that drive changes in work, leaders shift their management focus from hierarchal to horizontal. In process-focused organizations, leaders integrate design and management of end-to-end, customer-driven processes with functional activities and goals. The result is a seamless, unified approach for providing customer value through daily work.
One thing that BPM is not is a technology tool. There are some powerful BPM suites out there, and many organizations find them useful. But none is a standalone solution you can just plug in for "automatic BPM." Ultimately, BPM is about understanding how your organization works, what makes it tick, and how all the cogs and wheels make everything function. Technology can help analyze and keep track of that stuff, but humans need to put in the legwork first. 
BPM almost always requires a fundamental mindset shift across the enterprise. From day to day, employees and executives alike are accustomed to focusing on what's in front of them: their own tasks. In a process culture, though, each individual thinks about what occurs upstream as well as downstream from his or her individual activities within the process. Sure, a few people—those who have a natural inclination towards systems thinking—might already have this mindset within your organization. But it will take more work to shift the entire culture toward process. 
Through years of researching process management, APQC identified Seven Tenets of Process Management that best-in-class organizations use to enable the success of BPM programs and initiatives:
Strategic alignment
Governance
Process models
Change management
Process performance
Process improvement
Tools and technology
APQC has consistently found that if leaders focus on building strengths in these seven areas, they will increase the workforce's support of process management, the organization's maturity, employees' ability to get work done, and overall performance.
The best way to understand the Seven Tenets and how to apply them is through APQC's new Process Management Essentials training course. You'll learn about the process lifecycle, how the seven tenets guide mature process practices, details and examples for each of the seven tents, and how all the tenets work together to build a strong BPM approach. This course is self-paced and designed to help even complete beginners learn how to be "process people." Get started today!