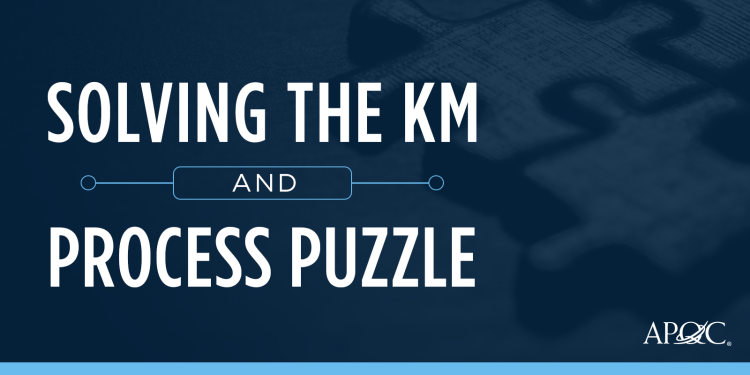 As we began thinking about ideas around this year's APQC 2023 Conference, we asked ourselves "What problems are people in process and knowledge management trying to solve?'
Well, as can be imagined, this question elicited many answers ranging from inefficient knowledge transfer to process design challenges. As we dug deeper, we began to understand that process and knowledge management have more in common than we knew. At the core, Process and KM teams both value planning, productivity, and results that ultimately line up with the organization's overall strategic priorities. 
So, our initial question shifted to "How does process and knowledge management work together to solve challenges?"
The answer became clear: People.
We have learned over the years how neither process nor KM can truly thrive without the work and engagement of people. So, at this year's conference, we will look with an advanced lens at emerging trends and best practices for navigating current and evergreen issues within organizations encompassing people, process, and knowledge management (KM). 
But as we know, in this digital era, it can become impossible to get anything done without the help of technology. Many of our conference sessions and tracks will explore digital transformation, the increased implementation of AI, the emergence of new work environments, the evolution of work culture, and, ultimately, the necessity for improved and better operational performance that organizations need to remain agile and resilient. 
What practitioners are saying about the importance of people, process, and knowledge working together:
"Organizations are complex systems with people not just at the heart but as the heart of them. The best of processes and knowledge cannot fulfill their promise of value without people as their life force putting them to optimal use."—Laura Nespoli, Meshin Movement
"While our work is custom, and seemingly individual, it is crucial for people, process, and knowledge to work together to enable consistent success. It is important to our clients, and it creates project efficiencies for our workforce. By leveraging standardized processes to deliver consistent client experiences, our employees are able to continuously improve by applying their earned knowledge and experiences back into those processes. The resulting learnings help us avoid risk, inconsistency and repeating mistakes. When our people are living process and sharing knowledge, we are increasing profitability while delighting our clients."—Suzan Pickels & Rebecca Jahn, CRB
"We always start with what problem we are trying to solve. First, we evaluate the process while considering the people, and then see what technology is available to us. Our strategy depends on us knowing when to use the right tool at the right time so we can enhance end-user experience to set our people and organization up for success."—Grace Chen & Melanie Adams, Merck and Co., Inc.
Join us April 19-20 in Houston, TX and delve deeper into people, process, and knowledge with like-minded leaders and practitioners through solution-focused sessions, enlightening keynotes, and targeted networking.